A Grand Monday: Volvo 240 GLT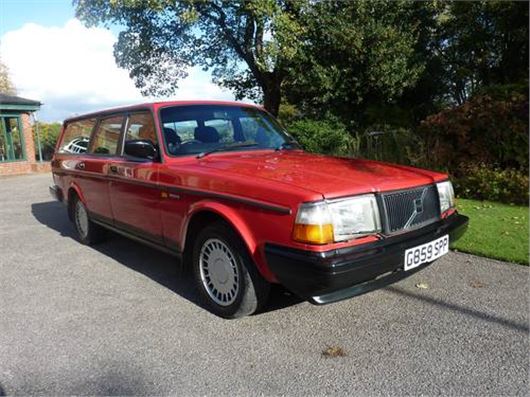 Published 20 October 2014
With the summer well and truly gone, our thoughts are turning to a nice, reliable winter classic to much up those miles. And we reckon this 1989 Volvo 240 GLT is the perfect candidate, especially as it's only up for £1695.
And while that might sound steep, remember that Volvo 240 prices have shot up over the past five years. So we reckon it's not bad for this one, a top of the range GLT with the manual five-speed gearbox and 2.3-litre 'redblock' engine.
It's clearly been well looked after over the years and the history shows the car's had regular oil and filter changes every few thousand miles. With 145k on the clock, the cambelt was changed at 118,250, so you've got another 20,000 miles or so before it needs doing again.
Body-wise it's in good nick. It's never been welded and the wheelarches look to be solid, as do the sills. Paintwork looks good, as does the interior – for once the boot carpet is relatively undamaged and up front it's even got the original black Volvo floor trays. There's a bit of wear to the leather on the driver's seat but the black door pockets are unbroken… which is pretty rare for one of these old buses.
As well as leather interior, the car boasts electric windows, electric mirrors, power steering, central locking, heated seats (both working) and a set of original Volvo 15-inch Omega alloy wheels with good tyres. The vendor also has the original Volvo GLT Virgo alloy wheels, which will be included with the sale.
It comes with an MOT until 29 April, 2015. The vendor says, 'It does have some early stamped service history from HR Owen, Regent's Park, London up until 2006 and then from 2009 until 2012 when it had its last oil change at 143,088 miles.'
As well as the service history it comes with an owner's manual book pack and two sets of keys. If it's as good as it sounds, then this could be a really smart buy.
Comments
Author

Keith Moody
Latest