Three-wheeler values rising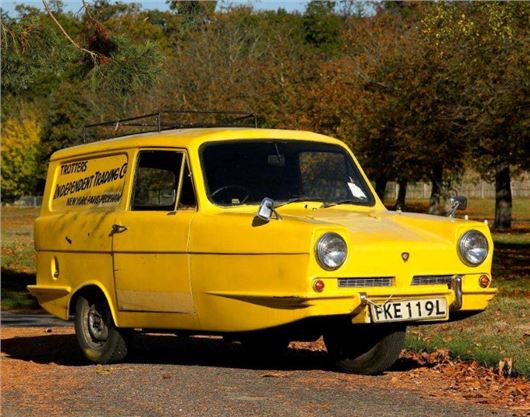 Published 24 September 2014
It looks like the humble three-wheeler – beloved transport of motorcycle licence holders for decades, not to mention Derek Trotter throughout the Eighties and beyond – is having the last laugh in the 21st century thanks to a dramatic increase in values. The most iconic Reliants are now seriously sought after, with demand even increasing from overseas buyers according to one of the UK's leading specialists.
'A Supervan rolling chassis and bodyshell alone will fetch £2000 these days,' says Reliant specialist Joe Mason of Reliant Spares. So which three-wheelers does Joe reckon currently offer the best value? 'The MkI Robin hasn't seen soaring values yet, so now's a good time to buy one. Last year I was selling a 1973 tax-exempt Robin – probably the oldest one left – for £3000. But I'd say the 1981-on Rialto is the one to watch. You can pick up a decent Rialto now for as little as £800 or as much as £2000, and I'm confident those prices will start to rise in line with later Robins.'
Ever since Reliant shut up shop in 2001, bringing to an end more than 65 years of three-wheeler production, values of the most popular models have been strengthening, with late-model cars becoming increasingly sought after. The final Robin of the late-Nineties is attracting particular interest, with asking prices of £4000-6000 not unusual for excellent, low-mileage cars. 'Values are only going one way,' reports Joe Mason, who is also seeing high demand from overseas buyers intent on exporting Reliants from the UK.
With such a long history of three-wheeler production, there's inevitably a good range of classic Reliants to choose from. Sidevalve-engined Series I-VI Regals are now rare, while the more useable 3/25 and 3/30 of 1962-on are also getting scarce – and that means you'll pay more when one does come up for sale, with £3000-4000 not unusual for a top example. This week saw a top bid of £2260 being achieved online for a 1970 Regal 3/30 that, although MoT'd, came with less than perfect paintwork and a gearbox whine.
Values of the Regal-based Supervan have shot up too, with standard ones in superb order fetching £5000-plus and immaculately presented Trotter-replica vans (restored to a high standard and with updated mechanical spec) going for as much as £7000-8000 in some cases.
Happily, however, there are plenty of three-wheeled options for those with smaller budgets. Anybody looking for some '60s-style fun might be tempted by a Bond Minicar, with the two low-mileage Series F examples we saw earlier this year at a shade under £4000 each seeming excellent value considering their impressive condition. Meanwhile, the futuristic looking 1970-74 Bond Bug (produced once Reliant had taken control of Bond, and based around the chassis of a Regal) is now something of a cult, with excellent cars changing hands at £5000-plus (or up to £10,000 for the best examples), with around £2000 buying a restoration project. 
WHAT DO YOU THINK?  Are you a fan of three-wheelers, or maybe you've owned one in the past? Share your comments below or email: keith.moody@honestjohn.co.uk
Comments
Author

Paul Guinness
Latest