Masters Pre-66 Touring Cars grid set for MGLive!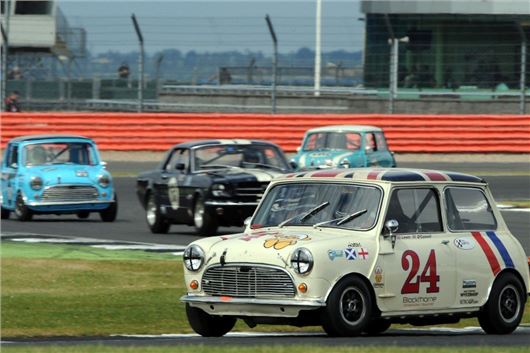 Published 05 April 2017
The Masters Pre-66 Touring Cars will be racing at MGLive! alongside the MG Car Club's championships at the Silverstone circuit in June. Racing at the home of British motorsport on Sunday, 18 June, the Masters will include an outstanding line-up of cars.
Like all of the races across the weekend, the Masters will be using the Grand Prix circuit. Broken down into several classes, visitors will get the chance to see BMW 2002s, Alfa Romeos, Lotus Cortinas, Ford Falcons and Mustangs battling it out against the ever-competitive Mini Coopers. All of the MG Car Club's seven championships will also be in attendance with some iconic MGs on show. MGBs, MG T-types and more modern MGFs and MG ZRs are just a few of the cars that spectators can expect to see across the weekend.
John Hutchison, race competitions secretary, John Hutchison said, 'We truly believe the Masters offer something completely different for motorsport fans of all ages. From brutish V8 Fords to classic Minis, visitors should enjoy an eclectic grid of cars that will provide some very exciting racing that will keep them on the edge of their seats.'
MGLive! is just one of six venues the Masters will be attending in 2017, racing across Europe at destinations such as the Espiritu de Montjuic in Spain, Spa in Belgium, and Zandvoort in Holland. For more information on the Masters you can visit their website by going to www.mastershistoricracing.com.
If you would like to find out more about MGLive! visit www.mglive.com, and for information on MG Car Club racing go to visit www.mgcc.co.uk/motorsport.
Comments
Author

Keith Moody
Latest