Unrestored, low-mileage Ferrari 'Dino' heads to auction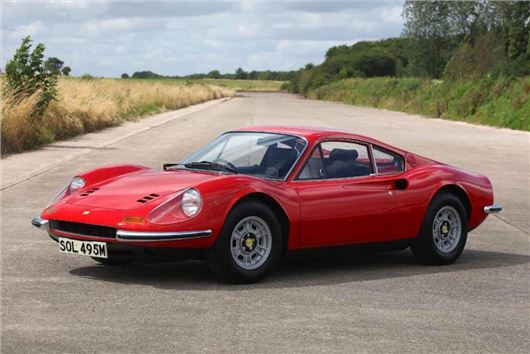 Published 12 September 2019
An unrestored, low-mileage Ferrari 'Dino' that's been in the same family for the past 41 years is set to go under the hammer. The 1974 Ferrari 246GT has covered 10,000-miles from new and is part of H&H Classic Auctions' sale next month.
Damian Jones of H&H Classics, says, This Dino is the last Ferrari to be dispersed from a significant private collection.' He added , 'It is a simply exceptional Dino and an unrepeatable opportunity for collectors everywhere. Remarkably it has been in the vendor's family for forty-one of its forty-five years and has only covered 10,000 miles from new.'
This example comes with a history file that stretches back to the original factory order form - No. 652. The request for 'One "Dino" 246/GT - Coupe Gran Turismo automobile, complete with five wheels and tyres, toolkit (RHD), electric windows and Daytona type central seat panels', to be finished in 'Ferrari Light Red 20.R.190 Salchi' with 'Black 161' (vinyl) upholstery was placed by Maranello Concessionaires of Surrey on 12 November, 1973.
Dick Lovett Specialist Cars of Wroughton, Swindon - Ferrari Dino Distributors for Wiltshire, Gloucestershire and Somerset - took delivery of Chassis 07420 on 28 March, 1974, and sold it new to Michael Howard Hoskison of Sutton Coldfield six days later for £5563. A director of Bee Bee Bros Ltd - his family's successful non-ferrous scrap metal company - Mr Hoskison soon applied the number plate 'MHH 1' to the Ferrari.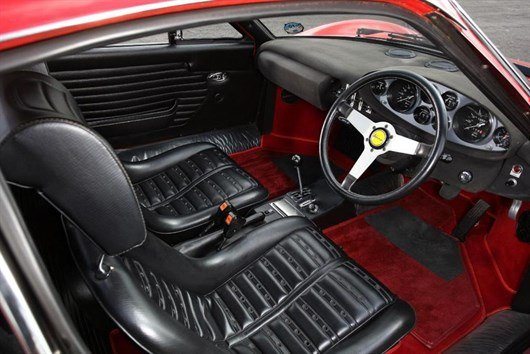 Stamps in the Dino's original Warranty Card booklet show that it had Coupon A and Coupon B services carried out by supplying dealer Dick Lovett Specialist Cars on 24 July, 1974, (amazingly a tax disc holder from the same company is still affixed to the windscreen). Purchased by the vendor's late husband on 10 January, 1976, for £7000 - a substantial uplift on its new price but understandable given the ultra-low warranted mileage of 1716 - the 246GT's sale coincided with Mr Hoskison and his brother injecting further capital into the Bee Bee Bros motorcycle racing team (their grandfather had been a constructor in his own right but went bankrupt in 1922).
Despite dividing his time between several Central London residences and properties in the South of France, the vendor's late husband ensured that Chassis 07420 was regularly maintained. Accompanying service invoices detail attention paid to the Dino at 2377, 3681, 4168, 5802, 7277, 8173, 8210, 8425, 8784, 8960, 9006, 9308 and 9711 miles. In addition to stating: 'I have made it clear to everyone that your car is not to get wet', a letter from Michael Scott of Modena Engineering dated 5 January, 1981, also comments, 'Having gazed into the innermost sections of the car, I can confirm that it is in exceptionally good condition'.
Modena Engineering were tasked with waxoyling the Ferrari, a task repeated by Fosker Engineering during 1990 whilst it briefly belonged to renowned property developer and marque aficionado David Boland. As well as removing the door panels, front arch panels, rear arch panels, road wheels and front undertray, Fosker Engineering drilled the main chassis tubes so as to be able to wax fill them too.
A general report on the Dino issued by the respected Kent-based marque specialist in September 1990 noted that, 'During the course of the work we found the concealed areas, fittings and fixings to be in a condition expected of a car which had a recorded mileage of 7500 miles . . . The car body is in excellent condition, still fitted with the original sills . . . The replaced tyres were Goodyear G800 GP. We believe these may be the original factory fitted tyres, although Michelin XWX were more common. The original tyre wear was limited, replacement considered necessary in view of their likely age . . . A compression ratio test gave high, even readings consistent with a low mileage engine'.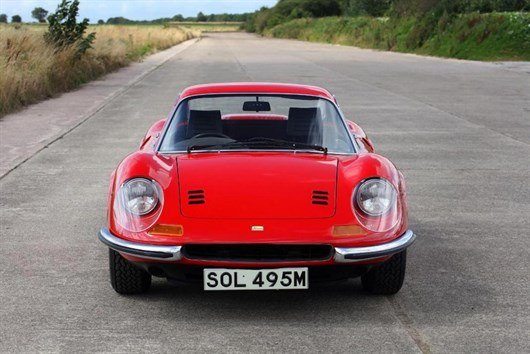 Mr Boland paid £100,000 on March 14, 1990, to acquire Chassis 07420 but kept it for less than two years. Apart from having the Ferrari fettled by Fosker Engineering, he also confirmed its early history (and warranted low mileage) via correspondence with Mr Hoskison. Re-entering the current family ownership during February 1992, the 246GT has been in their care for forty-one of its forty-five years. Garaged alongside various significant motorcars, including one of the four alloy-bodied, right-hand drive Ferrari 250 GT SWB made (Chassis 3067GT), the Dino earned a special place in their affections and has outlasted all its other stablemates.
Entrusted to Graypaul Nottingham on 24 September, 2018, for a thorough service, Chassis 07420 also had its fuel system flushed, brake system fettled and cylinder head gaskets replaced (the latter an engine out job). The work was completed at 9968 miles and cost £14,091.76. Now showing just 10,000 warranted miles to its odometer, the Ferrari has never been allowed to deteriorate to the point of needing restoration. Although it has received remedial paintwork over the years, the 246GT has yet to be fully resprayed. The inner sills and transmission tunnel still wear their original polyethene protective covers from the factory. The Daytona Seats (or 'Chairs') and 'mouse fur' dashboard show little sign of fading and the instrument binnacle remains sharp and crisp.
The headlamp covers were fitted by Fosker Engineering in 1990 but aside from the addition of a battery cut-off switch they remain the only known modification from standard. A reference car that still has that air of factory fit and finish about it which so many restored examples lack, Chassis 07420 is accompanied by its original owner's wallet (handbook, spares catalogue, warranty booklet), jack, tool roll, copy factory order form, first MOT certificate (and numerous subsequent ones), assorted period photos and an extensive history file.
This 10,000-mile 1974 Ferrari 'Dino' 246GT has never been restored and is thus a true reference car say H&H Classics who are offering it with an estimate of £225,000 to £275,000 at its next Imperial War Museum Duxford sale on 16 October.
Comments
Author

Keith Moody
Latest