Elizabeth Taylor's 1961 Rolls Royce Cloud II DHC Comes up for Auction on 6th August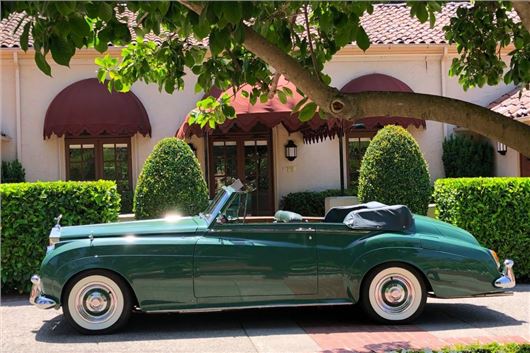 Published 17 July 2019
Elizabeth Taylor's 1961 Rolls Royce Silver Cloud II DHC known as the "Green Goddess" comes up for auction at no reserve on 6th August at Guernsey's Auction House, Pierre Hotel, New York City.
Elizabeth Taylor and Eddie Fisher married in 1959 and one year later travelled to England to order the HJ Mulliner coach-built Rolls Royce.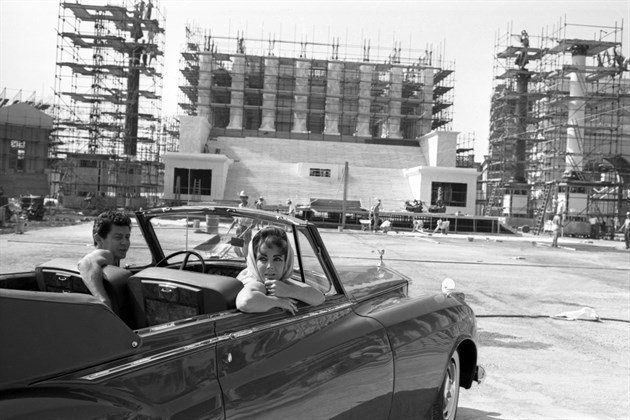 (Photo courtesy of Ken Hayman)
It features Left Hand Drive and the colour was originally called "smoke green." Elizabeth Taylor selected it to match her favorite colored dresses. The couple used it to travel to the Cleopatra set at Cinecitta in Rome. 
In the week leading up to the auction 'The Green Goddess' will be parked outside the Pierre Hotel where the star lived with husband Eddie Fisher.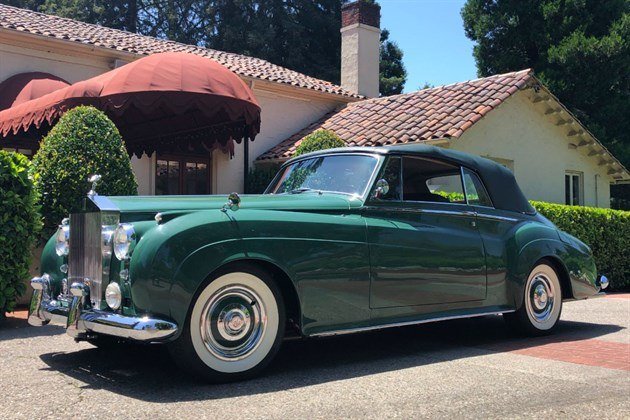 In 1962, the actress travelled to Rome where she played lead in 'Cleopatra'. She fell in love with her co-star Richard Burton, left Eddie Fisher and married Richard Burton in 1964. 'The Green Goddess' with Taylor and Fisher was featured on covers of various magazines, including Vanity Fair.
1960 Rolls Royce Silver Cloud II HJ Mulliner Drophead Coupe, #LSWC278.
Left Hand Drive.
"Matching Numbers", 40,644 miles;
Beautiful Condition with rebuilt engine, new leather interior and new convertible top;
Two owners since built
One of approximately 25 LHD Silver Cloud II drophead coupes ever built
Known globally as the "Green Goddess" due to its unique custom green colour
The smoke green colour matched Taylor's wedding dress and many other outfits she was photographed wearing throughout the rest of her career. This green was her favorite colour.
Elizabeth Taylor ordered the car shortly after her widely publicized wedding to popular singer Eddie Fisher. The couple travelled to England to take delivery. Once imported to the USA in 1963, the "Green Goddess" spent its entire life in California.
Also in the auction: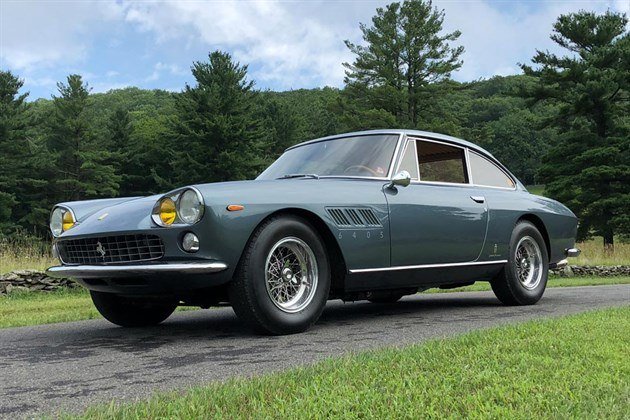 1964 Ferrari 330GT
The most expensive Ferrari of its day, the 330 GT represented the ultimate in high speed Continental touring. It's twelves cylinder engine, a direct result from Ferrari's unprecedented success in international racing, made it one of the fastest 4-seater cars of its day.
Approximately one thousand 330 GTs were built, the first half of which were designated "Series I". These cars wore a distinctive four-headlamp design which was criticized by some when they first left Maranello more than half a century ago. Today, enthusiasts view the Series 1 body design as truly evocative of the era. While many 2-seat 1960s Ferraris command seven, and even eight figure amounts at auction, because of the addition of the small back seats prices for 330s have lagged behind. Nevertheless, the model is widely praised (the online "330 Registry" lists hundreds of media articles and news videos in praise of the model), and values are rising. For many, the wildly elevated prices achieved of other 12 cylinder, early 1960's Ferraris are such that the 330 GT is indeed the car to buy before it too elevates to unaffordable levels.
Correctly restored, fully sorted.
29,000 original miles.
Leather seats unrestored due to fine patina.
Complete engine re-build by noted Ferrari specialist.
All brightwork re-plated.
Rebuilt original Borrani wire wheels, new tyres.
Finest Becker radio.
Most tools, owner's manual.
Beautiful two-tone paint.
Won "Best Ferrari" at two concours.
Current owner an enthusiast and concours judge.
A third car in Guernsey's 6th August auction is to be announced.
Comments
Author

Honest John
Latest