E-type project could make 'purfect' Christmas present
Published 24 November 2017
If you spent your Christmas mornings happily gluing together Airfix models of classic cars, then this life-size E-type assembly kit might be just what you're after. The 1963 Jaguar has been stripped and stored for the past 20 years, but now needs a new owner to start the restoration process and get the car back on the road.
The parts kit is expected to sell for between £35,000 and £45,000 when it goes under the hammer at Barons' Christmas Classic sale at Sandown Park, Surrey, on Tuesday, 12 December. But if you fancy something a bit more road ready, then don't worry because there's a restored 1962 Series 1 fixed-head coupe for sale with an estimate of £130,000-£150,000.
Also going under the hammer is a 1961 Frisky Prince - one of just two known to exist, the other being in the USA. The vendor's father bought the little three-wheeler new, but laid it up in 1963 when a Trojan bubble car caught took his fancy.
The Frisky was stored for the next 50 years until the original owner passed away and his son decided to get the car back on the road. This could well be the first time one had gone under the hammer at public auction, so expect to pay £13,000-£16,000 for this one family-owned car.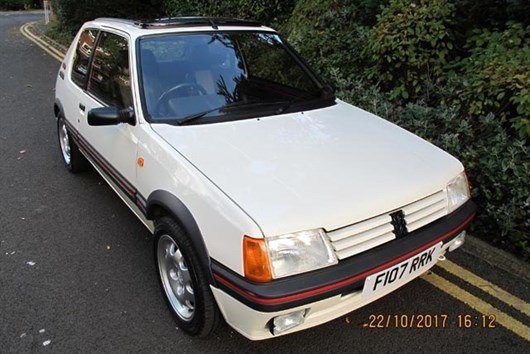 Prices for Peugeot 205 GTis have been increasing for the past few years. So the low-mileage 1.9-litre 1989 example in Barons' catalogue is expected to go for £18,000-£22,000. The vendor was given the hot hatch as her company car and purchased it from the 1997 when she left. It is in good condition, having been garaged and well looked after.
Other interesting lots include a 1954 Morris Minor 1000 project (no reserve). The car has spent some 30 years hidden under a dust sheet in a farm shed. While a 1972 Mini Pick-up is an ideal promotional vehicle for a business (estimate £8000-£12,000).
For more information, visit www.barons-auctions.com.
Comments
Author

Keith Moody
Latest