Auction results: E-type is top of the lots at Brightwells sale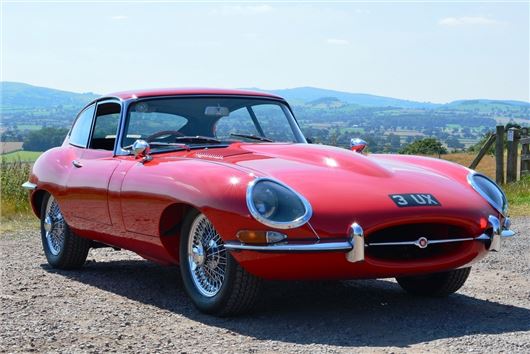 Published 02 October 2017
A 1996 Jaguar E-type was the best seller at Brightwells latest sale. The car, a UK market Series One 4.2-litre coupe which looked almost showroom fresh, sold for £101,200 at the 27 September auction.
Meanwhile an ex-USA 1974 E-type Series Three V12 Roadster finished in turquoise with a manual gearbox and recently converted to right-hand drive also fetched a healthy £63,800. And a left-hand drive 1969 E-type Series Two 2+2 Coupe that was a dismantled restoration project made £12,650.
Other Jaguars for sale included a 1969 Mk2 240 with manual overdrive and a recently rebuilt engine fetched £14,300, while a stunning 1975 XJ6L Series 2 with fewer than 10,000 miles on the clock went for £16,500. Like the E-type, it was also said to be in showroom condition.
Another British sports car to do well was a 1965 Sunbeam Tiger MkI with only 200 miles on a rebuilt 289ci engine. Restored over a ten-year period by its owner of the past 28 years, bidding went beyond the estimate to finish on £53,900 - strong money for a MkI but still a good buy because the car also had the honour of being the first Tiger ever registered in the UK.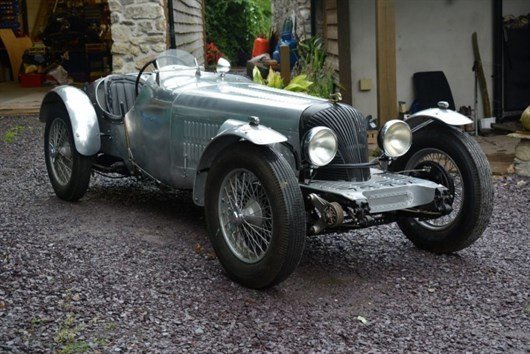 There was lots of interest in a one-off special created by the late Chris Compton of Alvis specials fame (pictured above). Based on a 1937 Triumph Dolomite 14/60 Saloon, it sported lightweight aluminium open bodywork and had a supercharged engine fitted for the Vintage Sports Car Club sprint and hill climb events. It sold for £37,400.
Also causing a stir was a rare 1939 Sunbeam-Talbot 4-Litre Sports Saloon, one of only 44 made and just two known to survive worldwide. In good order, keen bidding finished at £30,800.
Also hotly contested was a 1936 Lagonda LG45 Saloon, one of the fastest road cars of its era. It didn't look much like that, though, as the car had been left outside for 45 years - during which time the bodywork had completely collapsed as the ash frame rotted away to nothing.
Crucially, it retained its 4.5-litre Meadows engine and four-speed gearbox, the chassis was probably saveable and it still had registration documents. Estimated at an ambitious £18,000-£20,000, it sparked a bidding war that eventually saw it hammered away for £33,000.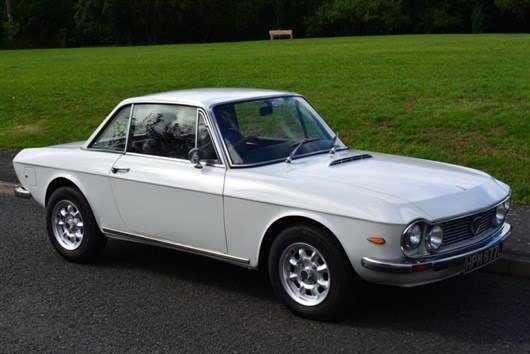 A restored 1966 Mini Cooper S MkI which was so spartan it didn't even have wind-up windows fetched an impressive £35,200. Which was about £34,500 more than it cost its first owner 50 years ago. Meanwhile, a 1990 Mini City E Automatic that had travelled less than 12,000 miles in the hands of one lady owner, also fetched a top estimate £8800.
Among the sportscars on offer, a 2005 Morgan 4/4 Two-Seater with only 38,500 sold for an above-estimate £24,450, as did a freshly restored 1974 Datsun 260Z 2+2 which raised £21,350. An original 1967 Triumph TR4A with desirable Surrey top also exceeded predictions at £19,250 while a restored 1969 MGC Roadster fetched £20,900.
The 1973 Lancia Fulvia 1.3S Coupe also deserved to exceed its estimate at £13,970 as did a very smart 2001 Maserati 3200GTA with fewer than 55,000 miles on the clock, which raised £14,300. In total, more than 190 classic cars and motorcycles went under the auctioneer's hammer - 80% of which were sold for a total of £1.2m.
Comments
Author

Keith Moody
Latest