1930s Aston set to fetch £110,000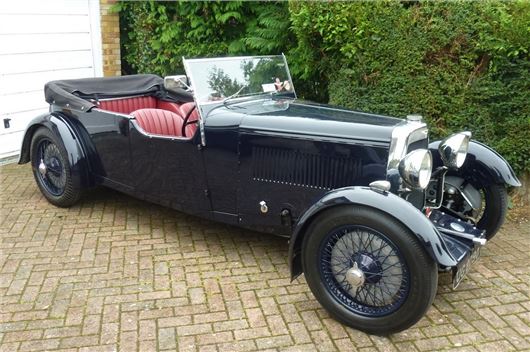 Published 04 October 2017
A 1934 Aston Martin is heading to auction. The car is one of only 20 or so 'second series' cars to be built on the 'standard' (10ft) wheelbase chassis. Experts suggest it could make as much as £110,000 at H&H Auctions' Duxford sae on Wednesday, 15 November.
Previous owners Richard and Sandra Loveys used the car extensively over 35 years at Aston Martin events and also took part in the Norwich Union Classic Run on numerous occasions. In 2005, the car formed part of the St George's Day parade at Windsor in front of the Queen.
In 2016 the car was repainted in dark blue and trimmed with burgundy leather. A new hood, tonneau and sidescreens were also fitted.
The Aston Martin Owners' Club records the car as participating in the 1938 International Scottish Rally with Christopher Angell behind the wheel. Angell modified the car with 'helmet' front wings and twin outside exhaust pipes, and repainted it white.
Damian Jones, head of sales at H&H Classics says, 'This lovely old Aston Martin is a rare survivor that has led a fascinating life including contesting the International Scottish Rally in period and appearing before the Queen.'
Comments
Author

Keith Moody
Latest