Mini with celebrity past heads to auction
Published 13 July 2017
A Mini that used to belong to a famous London-based celebrity hairdresser is heading to auction. The Mini Cooper S was once owned by Leonard Albert Lewis - better known as 'Leonard of Mayfair'.
Famous clients included President John F. Kennedy, Jacqueline Kennedy, The Beatles, The Rolling Stones, Tony Curtis, Elizabeth Taylor, Bob Marley, Marie Helvin, Jerry Hall, David Bowie, Warren Beatty, and Audrey Hepburn to name but a few.
Transformed by the coachbuilder Wood & Pickett to Margrave specification when new, it is for sale with auctioneers H&H Classics on Wednesday, 26 July, at the Imperial War Museum.
Damian Jones, head of sales at H&H Classics, says, 'This Mini is a wonderful example of a car that became a British automotive style icon; an exhilarating drive and with links to celebrity London in the 1970s. These coachbuilt Mini's were the preferred transport of many celebrities, both Peter Sellers and John Lennon had one as did so many others.'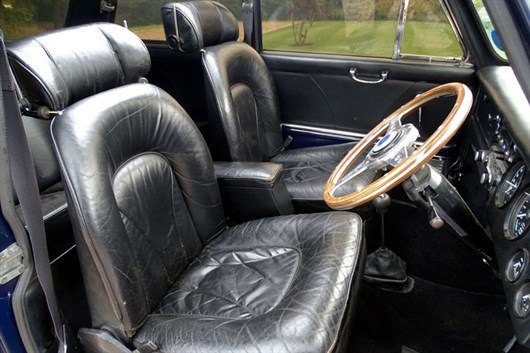 The Mini was also previously owned by the musician John Hammel (perhaps best known as Sir Paul McCartney's guitar technician) and Denny Laine (formerly of The Moody Blues and then a member of Wings).
Reputedly the only Morris Mini Cooper S to be converted to Margrave specification by coachbuilder Wood & Pickett, chassis K-A2S6/1321285 was despatched to dealer Stewart & Arden Ltd of Acton, London on 9th December 1969 but not road registered as 'YYU 292H' until 11 September, 1970, when the conversion was finished.
Margrave spec includes a subtly reworked exterior and thoroughly remodelled interior. Both front wings were given modest peaks, the headlamps gained hooded chrome surrounds (Riley 1.5 litre items) and the doors were modified to accept James Young-fabricated opening quarterlights, Piper electric windows and repositioned Princess 1100 handles.
The Benelite front grille played host to Lucas LR9 spotlights, while a full-length Webasto sunroof and sleeker MkIII Mini boot lid were both added.
A more aggressive stance came courtesy of wheelarch extensions housing wider wheels and tyres. Inside, the Mini was treated to Aston Martin DB6-style black leather seats to complement its Aston Martin electric window switches, Rolls-Royce cigarette lighter and door handles, plus Jaguar/MG instruments.
A drop bracket allowed the steering column to be repositioned and a padded central armrest with cubby nestled between the front seats. Left in standard Cooper S tune, 'YYU 292H' boasted a twin-carburettor fed 1275cc engine. It is expected to fetch between £40,000 and £50,000 at auction.
Comments
Author

Keith Moody
Latest