Today's Auction Prices at Historics Brooklands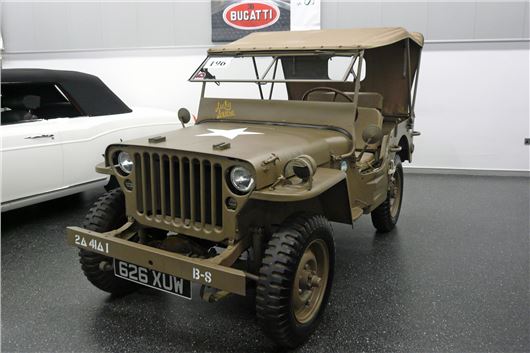 Published 26 November 2016
Provisional results at Historics Classic Car auction at Mercedes Benz World, Brooklands on 26-11-2016.
10% commission + VAT has been added to SOLD prices.
Commission has NOT been added to provisionals and no sales.
As more information comes in, the gaps will be filled. (Some minor updates 29-11-2016.)
For information on each lot, click on the blue lot number.
Lot 101 1976 Benelli Trials Bike  £1,960 sold
Lot 102 2007 Honda Monkey Moped  £5,600 sold
Lot 103 1995 BMW 840 CI  £5,040 sold
Lot 104 1969 Alfa Romeo Berlina 1750  £7,840 sold
Lot 105 1948 Peugeot 202 Pick-Up  £8,400 sold
Lot 106 1986 Bedford Rascal Pick-Up  £5,040 sold
Lot 107 1968 Daimler V8 250  £14,280
Lot 108 1962 AEC Militant Flatbed Lorry  £6,720 sold
Lot 109 1952 Chevrolet GMC Styleline   £12,880 sold
Lot 110 1973 Alfa Romeo 2000 GTV  £17,920 sold
Lot 111 1966 Triumph Spitfire  £17,920 sold
Lot 112 1979 Mercedes-Benz 350 SL  £15,680 sold
Lot 113 1995 BMW Alpina B3 Coupé  £3,500 not sold
Lot 114 1959 Mercedes-Benz 220 S Ponton  £20,720 sold
Lot 115 1970 Triumph TR6 PI  £12,600 sold
Lot 116 1958 Rover 90  £8,960 sold
Lot 117 1938/1947 Dellow Prototype  £16,800 sold
Lot 118 1980 Mercedes-Benz 280CE  £11,760 sold
Lot 119 1986 Porsche 928 S2  £7,840 sold
Lot 120 1963 Mercedes-Benz 220 SE  £32,200 sold
Lot 121 2013 Mercedes-Benz SLK 500 AMG  £17,000 n/s
Lot 122 1969 Jensen Interceptor Mk 1  £40,880 sold
Lot 123 1981 Volkwagen Golf GTI  £7,280 sold
Lot 124 1967 MG Midget  £10,000 sold
Lot 125 1969 Triumph TR6  not sold
Lot 126 1966 Ford Anglia  £2,464 sold
Lot 127 1991 Range Rover CSK  £15,000 provisional
Lot 128 1978 Rolls-Royce Silver Shadow II  £11,200 sold
Lot 129 1961 Bedford JO Pick-Up  £50,400 
Lot 130 1969 Mercedes-Benz 280 SL  £48,720 sold
Lot 131 2003 Aston Martin DB7 GTA  £56,000 sold
Lot 132 1967 Bentley T1 Two-Door  £29,000 not sold
Lot 133 1998 Mercedes-Benz C 43 AMG  £8,960 sold
Lot 134 1999 TVR Cerbrera  £22,960 sold
Lot 135 1984 Bamby  £4,592 sold
Lot 136 1962 BMW Isetta RHD  £7,392 sold
Lot 137 1957 BMW Isetta 300 Plus LHD  £19,600 sold
Lot 138 1959 Heinkel Trojan 200  £7,500 provisional
Lot 139 1957 Berkeley SE 328 Sport  £4,256 sold
Lot 140 1957 BMW Isetta LHD  £19,040 sold
Lot 141 1958 BMW 600 Limousine  £25,000 provisional
Lot 142 1957 Tourette Supreme  £31,360 sold
Lot 143 1959 Frisky Family Three  £16,800 sold
Lot 144 1974 Zagato Zele 1000  £13,440 sold
Lot 145 2008 Carver One  £29,680 sold
Lot 146 1984 Bamby   £4,032 sold
Lot 147 1956 Austin A50 Cambridge  £2,800 sold
Lot 148 1994 Ferrari 456GT man LHD  £49,000 sold
Lot 149 1982 Jaguar SS100 - Suffolk Spec  £47,040 sold
Lot 150 1990 Lotus Esprit Turbo SE  £20,160 sold
Lot 151 1990 Aston Martin Virage  £30,800 sold
Lot 152 1973 Aston Martin V8  £40,000 not sold
Lot 153 1951 Jaguar XK120 Roadster  £66,000 not sold
Lot 154 1965 Jaguar E-Type SI Roadster  £125,440 sold
Lot 155 1968 Jensen Interceptor  £30,740 sold
Lot 156 1972 Fiat 500 F  (Green)  £6,944 sold
Lot 157 1973 MG B Roadster  £11,200 sold
Lot 158 1990 Lamborghini Countach Anniv.  £238,560 sold
Lot 159 1971 Citroen SM  £24,000 provisional
Lot 160 1992 Lamborghini Diablo Rec.  £14,000 not sold
Lot 161 2004 Mercedes-Benz SL 55 AMG  £20,720 sold
Lot 162 1976 Daimler Sovereign Series II  £30,800 sold
Lot 163 1973 Aston Martin V8  £43,680 sold
Lot 164 2006 Mercedes CLK DTM AMG  £170,000 prov
Lot 165 1985 Ford Escort 1.3 GL  £6,048 sold
Lot 166 2001 Porsche 911 996 Turbo  £34,720 sold
Lot 167 1962 Jaguar E-Type Series I  £94,080 sold
Lot 168 1960 Jaguar XK150SE DHC  £79,000 not sold
Lot 169 1968 Lotus Elan Plus 2  ex G. Hill  £23,520 sold
Lot 170 1995 Toyota Supra TRD  £10,000 provisional
Lot 171 1963 Innocenti 1100S Spider  £7,500 provisional
Lot 172 1978 Aston Martin V8 'Volante'  £113,120 sold
Lot 173 1973 Range Rover Series I  £22,960 sold
Lot 174 1991 Honda NSX  £26,320 sold
Lot 175 1969 Rolls-Royce Mulliner DHC  £34,720 sold
Lot 176 1966 Austin Mini Cooper S Mk I  £48,720 sold
Lot 177 1971 Volvo 1800E  £19,600 sold
Lot 178 1972  Chevrolet Fleetside C10   £8,400 sold
Lot 179 1953 AC Buckland Sports Tourer  £44,240 sold
Lot 180 1964 Mercedes-Benz 230 SL  £51,520 sold
Lot 181 2000 Rover Mini Cooper Sport 500  £23,800 sold
Lot 182 1980 Porsche 930 Turbo Flatnose  not sold
Lot 183 1975 Ferrari 365 GT4 BB  £285,000 provisional
Lot 184 1968 Ford Mustang Shelby GT500  £87,360 sold  
Lot 185 1994 Land Rover Defender 90  £14,000 sold
Lot 186 1963 Studebaker GT Hawk   £20,720 sold
Lot 187 1966 Shelby Mustang 350GT Hertz  £93,240 sold
Lot 188 1971 Aston Martin DBS 6  £101,920 sold
Lot 189 1993 Ferrari Testarossa  £107,520 sold
Lot 190 1987 Bentley Continental Conv.  £62,720 sold
Lot 191 2002 Ferrari 360 Modena  £56,560 sold
Lot 192 1975 Rolls-Royce Silver Shadow I  £17,360 sold
Lot 193 2002 Aston Martin Vanquish  £77,280 sold
Lot 194 1968 Rolls-Royce Two-Door FHC   £21,000 not sold
Lot 195 1967 Mercedes-Benz 250 SL  £42,000 sold
Lot 196 1942 Willys MB Jeep  £21,2809 sold
Lot 197 1930 AC Magna Boat-Tailed Sports  £19,000 n/s
Lot 198 1971 Mercedes-Benz 280 SE Coupe  £89,600 sold
Lot 199 1972 Ferrari 246 GT Dino  £285,600 sold
Lot 200 1993 Lancia Delta HF Integrale  £40,320 sold
Lot 201 1935 Alvis Speed 20  £54,000 not sold
Lot 202 2007 Bentley Flying Spur  £30,800 sold
Lot 203 1954 Cooper Mk. VIII  £19,000 not sold
Lot 204 1950 Bristol 400  £40,320 sold
Lot 205 1988 Porsche 911 Carrera Sport  £107,520 sold
Lot 206 1998 Ferrari F355 F1 Berlinetta  £42,000 provisional
Lot 207 1963 Porsche 356 B Coupé  £47,000 not sold
Lot 208 1992 Alfa Romeo Spider LPG  £9,000 not sold
Lot 209 2006 Aston Martin DB9 'Volante'  £39,200 sold
Lot 210 1966 Mercedes-Benz 230 SL  £69,440 sold 
Lot 211 1996 Bentley Continental R  £38,080 sold
Lot 212 1969 Fiat 500 L (Red)  £8,736 sold
Lot 213 1996 Aston Martin DB7 i6 Auto  £24,640 sold
Lot 214 1968 Daimler 250 Saloon  £13,440 sold
Lot 215 1976 Ferrari 308 GT4  £32,000 not sold
Lot 216 1936 Bentley 4¼ litre Saloon  £70,000 not sold 
Lot 217 1970 Mercedes-Benz 300 SEL  £24,080 sold 
Lot 218 1968 Aston Martin DB6 Mk I  £190,000 not sold
Lot 219 1940 Alvis 12/70 Special  £64,000 nit sold
Lot 220 1998 Ferrari 550 Maranello  WITHDRAWN
Lot 221 1981 Ferrari Mondial  £26,320 sold
Lot 222 2015 Bentley Mulsanne Speed  £95,000 + VAT prov
Lot 223 2001 Aston Martin DB7 V12 'Volante'   £23,000 sold
Lot 224 1998 Land Rover 90 Wolf  not sold
Lot 225 1937 Ford 78-770 Coupé 85HP  £19,040 sold
Lot 226 1983 Ford Capri 2.8 Injection  £10,080 sold
Lot 227 1966 Mercedes-Benz 250 SE Coupé  £22,960 sold
Lot 228 1990 Jaguar V12 Convertible   £15,400 sold
Lot 229 1967 Jaguar Mk. II 3.4  £17,500 not sold
Lot 230 1997 Renault Sport Spider  £20,500 not sold
Lot 231 2001 Subaru Impreza P1  £14,840 sold
Lot 232 2000 Mercedes-Benz E 55 AMG  £9,520 sold
Lot 233 1998 Austin Maestro 1.3 9,600 miles £3,472 sold
Lot 234 1966 Daimler 250 Saloon (V8)  £12,500 provisional
Lot 235 1988 Ford Escort XR3 'Rattlesnake'  £14,000 prov
Lot 236 1969 Austin 1800 Utility  £18,200 sold
Lot 237 2004 Mercedes-Benz CL55 AMG  £6,720 sold
Lot 238 1987 Bentley Eight  £4,816 sold
Lot 239 1967 Ford Anglia 39k miles £5,600 sold
Lot 240 1987 Citroen 2CV6 Dolly  £53,300 sold
Lot 241 1998 FIAT Barchetta 2.0 T/S RHD  £2,128
Lot 242 1970 Austin 3 Litre Saloon  £7,952
Morer at Historics
Comments
Author

Honest John
Latest