Two Jaguar E-type restoration projects head to auction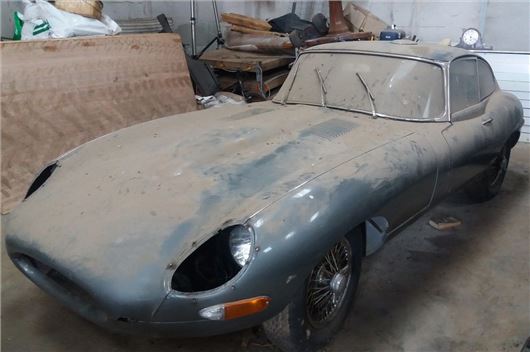 Published 15 June 2016
Two early Jaguar E-type 'barn finds', both ideal candidates for restoration projects, are going under the hammer. The cars will be auctioned by Classic Car Auctions on Saturday, 18 June, at the Warwickshire Exhibition Centre in Leamington Spa.
The first is a 1963 3.8 Series 1 Fixedhead Coupe with a manual gearbox (pictured above). A much-loved car, it was tucked away in a barn in 1995 before being discovered 20 years later. Partially dismantled, it has the bumpers, headlamp covers, engine air filter and interior carpets removed.
Bodywork is sound and it comes with the glass and wheels still in place. It carries an estimate of between £25,000 and £30,000.
The second E-type ready is a 1966 Jaguar E-type Series 1 4.2 Coupe 2+2. The right-hand drive, manual example with a four-speed gearbox is an abandoned restoration project which ran out of steam 15 years ago.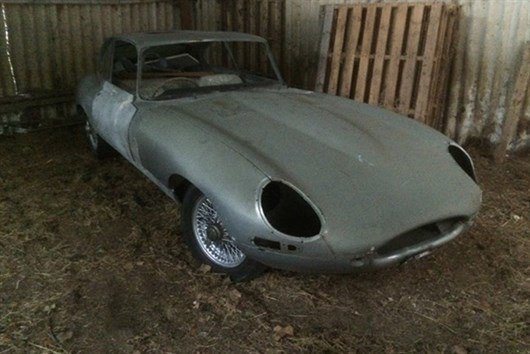 1966 Jaguar E Type Series 1 Coupe 2+2 (est. £12,000 and £15,000).
As such, it is partially stripped with the bodyshell described as solid and in good order and some of it has been painted in a grey oxide undercoat. The interior has been restored at some stage, though the Webasto roof is in a poor state.
The car is up on its wheels with the engine, exhaust, gearbox, and steering all fitted. This unfinished project car comes an estimate of between £12,000 and £15,000.
Comments
Author

Keith Moody
Latest