Rare 'barn find' Aston Martin show car heads to auction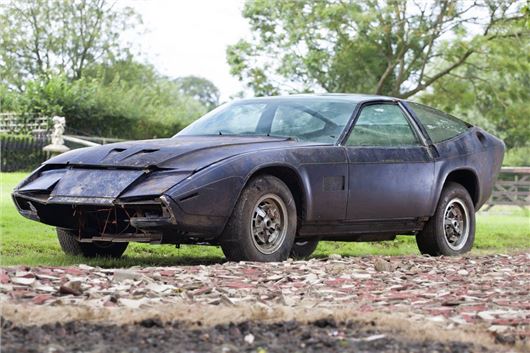 Published 11 September 2015
A futuristic-looking Aston Martin show car nicknamed the 'Sotheby Special' could make up to £120,000 when it goes under the hammer next month.
The car, which was designed by Ogle, is based on a DBSV8 and is in the catalogue for H&H's 14 October sale at Duxford Imperial War museum.
First seen at the 1972 Geneva motor show, it is one of only three cars commissioned by the WD & HO Wills tobacco company to promote 'Sotheby's Special Reserve' cigarettes.
This is the first time in 40 years that we've seen the car's dark blue paintwork, gold pinstriping and green Moquette upholstery. Up until now, it's been hidden away.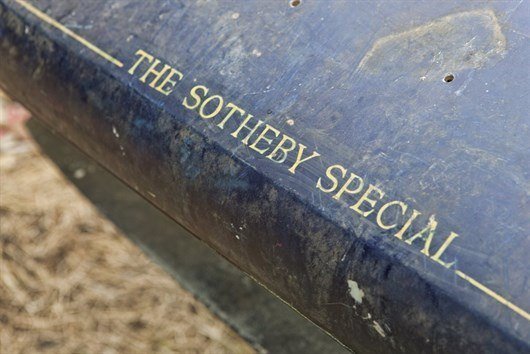 A striking feature of the rear of the car is the strip of 22 rear lights. The harder the driver pressed the brake pedal the more lights were lit up.
The car was built purely for show and was never road-registered. It will require much loving care to bring it back to show condition.
A second, fully-functioning car was made for promotional duties (later to be repainted in Embassy colours for use by Graham Hill's Grand Prix team).
A third example was commissioned by a private individual who, once seeing the car on BBC TV's Tomorrow's World, simply had to have one - even at a cost in 1973 of £28,750 (at the time, the standard V8 Saloon's list price was £8749).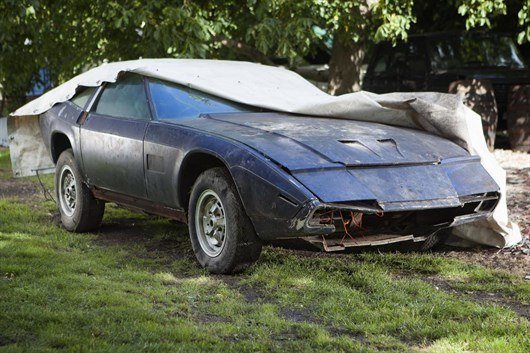 The original Sotheby Special, thought lost for so many years, or confused with the second chassis, was disassembled after it left the show circuit and was then sold and placed in long-term storage.
Damian Jones, H&H Classics sales director, said, 'This car will certainly 'light up' our Duxford sale. It's a remarkable car for three reasons: its futuristic design and engineering, it's very of-the-period tobacco connection, and the fact that as 'barn-finds' go, this one is pretty special.
'It is a fascinating part of automotive history and we are delighted to place it back in the limelight for which it was designed,' Jones said.
Comments
Author

Keith Moody
Latest