Report: Jaguar MkI sets record price at Brightwells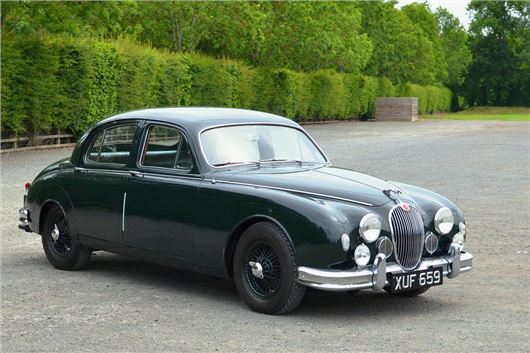 Published 29 July 2015
It was another action-packed day at Brightwells on 15 July as a large crowd descended on the Leominster salerooms to see more than 170 classic cars come under the auctioneer's hammer. After five hours of intense bidding 84% of the entries had found new homes in a sale which totalled over £1.3m.
Top price of the day went to an imposing 1935 Alvis 3.5-Litre Drop Head Coupe by Charlesworth, which had been first owned by the Earl of Inchcape and had been in the vendor's possession for 52 years. A well-maintained car in regular use, it shot past its £50,000 pre-sale estimate before finally going to an Australian phone bidder for an impressive £81,400 after a prolonged bidding war that raised a spontaneous round of applause from the room.
The other Alvis in the sale, a 1935 Silver Eagle SG Cross & Ellis Tourer with a good history file showing that the engine had been rebuilt less than 6,000 miles ago, was also sold for £38,500 but to somewhat less fanfare from the crowd.
However the most noteworthy result came halfway through the sale when a 1959 Jaguar MkI 3.4 saloon popped up on the banks of TV screens in the saleroom. A beautiful car that had previously been treated to a £28,000 'refreshment' at renowned Jaguar dealership JD Classics of Essex, it carried a hefty pre-sale estimate of £35,000-£40,000.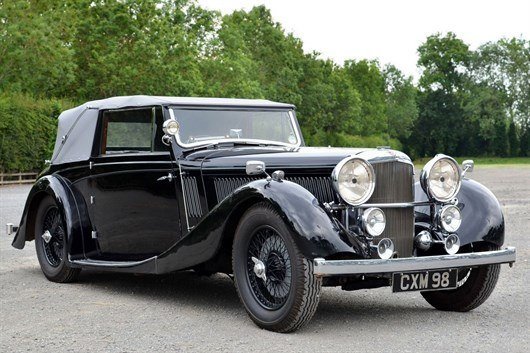 1935 Alvis 3.5-Litre Drop Head Coupe made £81,400.
This was quickly proved conservative and sparked off a fierce battle that eventually came down to a phone bidder and a collector in the room, the latter finally emerging victorious at a cost of £66,000 – a new auction record for the model by a very substantial margin, but still thoroughly deserved as it was an exceptional car and one of perhaps only 200 remaining in right-hand drive.
Equally arresting was the figure ultimately required to secure the last car in the catalogue, a six-cylinder 1969 Aston Martin DBS Automatic that had been in storage for almost 30 years. Coming from a deceased estate and clearly requiring a fair amount of work, the car had been conservatively estimated at £25,000 - £30,000.
The final price of £66,000 was still enough of an eye-opener to raise another spontaneous round of applause from the room, this being a sum that would have bought an up-and-running example not 12 months ago. However, with prices of this once-overlooked model being dragged up of late by the seemingly relentless march of DB4, 5 and 6 values, it will no doubt look well bought in the fullness of time, with DBS prices already knocking on the door of £150,000 in the London trade.
Also looking well bought was the 1973 De Tomaso Pantera on Spanish numberplates and barely used since a thorough overhaul in the late 1990s. Although possibly not the sharpest example on the market, it was a nicely original car that just oozed muscle car charisma and the mid-estimate £45,100 required to secure it looked modest compared to the £100k+ commanded by GTS models and the £200k+ now needed to bag a Mangusta.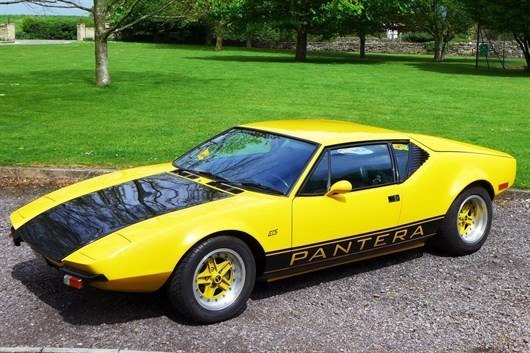 1973 De Tomaso Pantera fetched £45,100.
Another Italian exotic also performed well, a 1972 Lancia Fulvia Sport Zagato 1.6, one of only 62 made in right-hand drive and with just two owners and 56,000 miles behind it raising an above-estimate £20,350 – almost certainly a new record price for this quirky model.
An original right-hand drive 1964 Mercedes-Benz 230SL Pagoda on offer from a deceased estate and unused for the last six years also looked a worthwhile gamble at £38,500, this being another 'blue chip' model that has risen relentlessly in value over the last few years with the very best examples now approaching six figure sums.  
Jaguar E-types are always sought after and four of the five on offer were successfully hammered away, the top price of £60,500 going to a smart silver 1972 V12 Roadster, while a rather less smart 1973 V12 Coupe made £29,700, a very original left-hand drive 1970 Series 2 Roadster raised £47,300 and a tidy 1971 Series 2 Coupe on D-Type alloy wheels fetched £37,400.
The £9900 required to secure a 30,000 mile 1990 XJS 3.6 Coupe was also a noteworthy result, showing how this once-unloved model has gained in market favour of late and is widely tipped for future growth.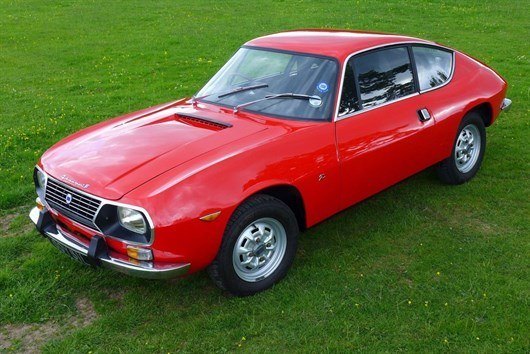 1972 Lancia Fulvia Sport Zagato 1.6 made £20,350.
Classic MGs have always inspired a loyal fan base and all 18 models in the sale were successfully sold, top honours going to a lovely ex-USA 1954 TF 1500 which had been fully restored and converted to right-hand drive in the mid-1990s and fetched a well-deserved £25,600.
A smart but still left-hand drive 1952 TD 1250 made £19,250 while a very nice 1961 MGA 1600 Mk2 Roadster with a five-speed gearbox conversion made £22,000. A somewhat scruffy but mechanically excellent 1960 MGA that had been expertly fitted with an Alfa-Romeo 1750 twin-cam engine over 20 years ago raised £14,300 and will no doubt be greatly enjoyed by its fortunate new owner (the MGA being one of those cars whose looks wrote cheques the engine couldn't cash).
A rare 1966 MGC GT pre-production development car also looked a good buy at £18,700 despite being almost twice the price of a comparable production GT with no such history, as did a 1973 MGB GT with less than 1000 miles on the clock and in need of recommissioning after almost 40 years in storage which raised £11,000.
Five of the six Lotus models on offer also sold well, a charmingly patinated and highly original 1972 Europa Twin Cam with later 'big valve' head leading the pack at £19,800. A similarly race-derived 1971 Marcos GT with a 3.0-litre Volvo engine comfortably exceeded its pre-sale estimate at £13,200 thanks to its wonderful 'E-Type from the darkside' looks.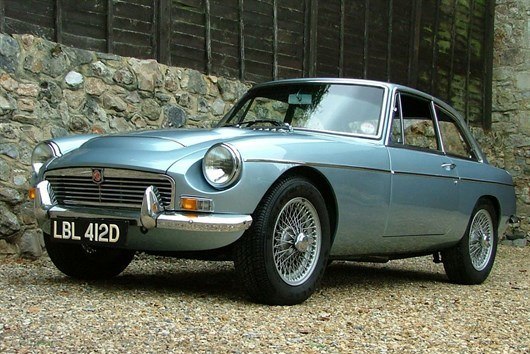 1966 MGC GT pre-production development - a good buy at £18,700.
Other English sportscar results of note included £33,000 for a largely original 1968 Triumph TR5 with attractive Surrey top and £18,700 for a fully restored 1972 Triumph TR6 let down only by some cosmetic issues with the paintwork. An immaculate 15-year-old TVR Chimaera with only 25,000 miles on the clock looked a good buy at £11,000, as did a 20-year-old TVR Griffith 500 with a Category D insurance claim in its past at £13,200.
Among the more aristocratic machines on offer a nicely mellowed 1973 Rolls-Royce Corniche with less than 63,000 miles under its wheels looked like a lot of motorcar for £17,700 as did an imposing 1954 Bentley R-type at £17,800. A lovely Opalescent Blue 1966 Daimler 2.5 V8 with rack-and-pinion power steering conversion exuded upper middle class civility at £15,300 as did a rare and graceful post-war 1947 Rover 12 Tourer at £14,850.
Both Porsche 911 models in the sale also got away successfully. A smart 1987 Carrera 3.2 Targa with only 20,000 miles on a rebuilt engine fetching the required £27,500 while a 12-year-old 996 Carrera 4 Tiptronic with upgraded IMS bearing kit (the Achilles heel of the model) raised £17,400. The Italian equivalent, a 13-year-old Maserati Spyder Cambiocorsa 4.2 V8 fresh from a £7000 service and clutch replacement (ouch!) made £17,600.
All but two of the ten Land Rovers on offer also found new homes, top honours going to a fully restored left-hand drive 1975 Series Three 109-inch Safari 200 TDi at £13,400 while a highly original one-owner 1952 Series One 80-inch fetched £11,200.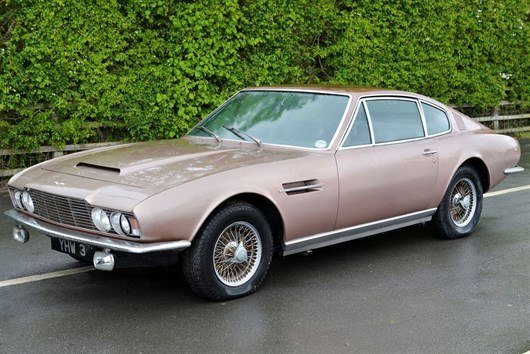 1969 Aston Martin DBS sold for £66,000.
'It was another very successful sale with some excellent prices achieved and we are delighted to have maintained our 80%+ clearance rate for the ninth consecutive sale,' said Brightwells' lead consultant, James Dennison.
'The market is still very buoyant across the board and rare cars in exceptional condition are selling better than ever before, as we proved with the stunning Jaguar MkI which fetched well over double the price you would expect even for a very good one.
'Barn finds also continue to exert their peculiar magic with the Aston DBS exceeding our expectations by a considerable margin. Although 1960s cars continue to show the strongest growth, contrary to what many analysts have predicted pre-war cars are also holding up very well, particularly sporting models like the Alvis 3.5-Litre we have just sold and the Riley Sprite and the Frazer Nash we sold earlier in the year.
'According to the HAGI Index 'investment grade' classic car prices rose by nearly 7% in June and are up by almost 10% since January, while research by ClassicCarPrice.com shows that 4600 classic cars have already been successfully hammered away at UK auctions in the first six months of this year with a combined value of £350m, a 30% increase on the same period last year and clearly demonstrating that there are no signs of a market slowdown just yet. Not only are classic cars great fun to own, they also continue to hold their value remarkably well.'
Brightwells' next sale is on 23 September and entries are now being invited. Early consignments already include a very early Porsche 911E Coupe from long-term ownership, a Jaguar XK140 Coupe and a Jaguar E-Type S2 Roadster. For more details, visit the Brightwells website.
Comments
Author

Paul Guinness
Latest