Maserati Boomerang concept heads to auction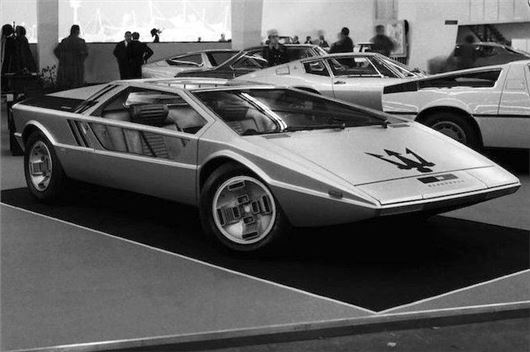 Published 16 June 2015
A one-off Maserati concept car will go under the hammer on 5 September. The 1970s angular and sharply styled Boomerang looks set to be the highlight of Bonhams Chantilly sale.
Unveiled at the 1971 Turin motor show, the car was designed by Giorgetto Giugiaro and used geometric shapes and ruler-straight lines. 
The following year, it appeared at the Geneva show as a fully working vehicle. Based on a Maserati Bora, it boasted a normally-aspirated 4.7-litre, 300bhp V8 which was mounted behind the driver. Mated to a five-speed box, it was rear wheel drive.
In 1974, the car was sold to a private buyer. But the Boomerang is still in working order and fully road legal.
Inside, its unique dashboard meant that the all the guages were in a circle around which the steering wheel (minus any centre brace) rotated around. The speedo was mounted in the centre of the circle, with oil pressure, water temperature (etc) on the top half and toggle swtiches for lights and turn signals in the bottom half.
The remaining dials were housed in in a central binnacle, just ahead of the gearstick, which meant the dash remained uncluttered and empty. 
It was the first car of its time to explore and exhibit such angular designs, and its influence can be seen in many of Giugiaros designs that followed, perhaps most clearly in the Lotus Esprit and DeLorean DMC-12.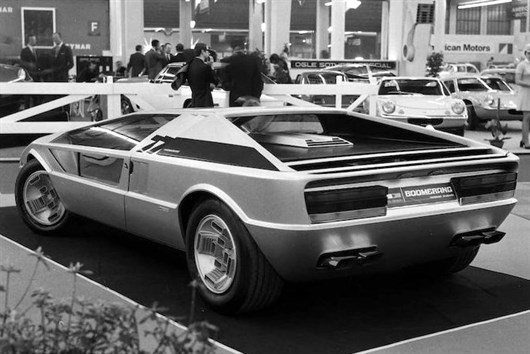 Photo credit: Adolfo Orsi Archive
Comments
Author

Keith Moody
Latest