Huge Historics Classic Car Auction on Saturday 6th June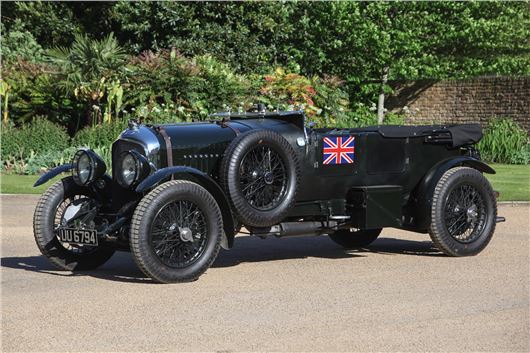 Published 03 June 2015
Historics is holding its biggest classic car auction ever at Brooklands on Saturday, with 200 classic car lots and 100 motorcycles at estimates from a few hundred pounds to more than half a million.
The variety of lots on sale reflects the bullish and widening classic market with Historics matching its objective of being truly representative of all tastes and budgets. There is something for everyone across the nine decades of consignments, with a total of 85 motorcar and motorcycle marques represented.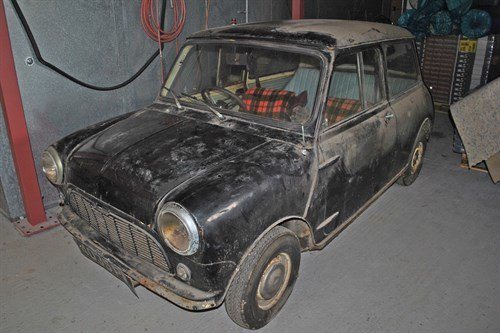 They stretch from a barn-found 1963 Morris Mini Minor restoration project, offered at No Reserve and seeking an enthusiastic owner to bring it back to life, through to a magnificently-regal 1929 Bentley 4.5 litre Open Tourer, on sale at an estimated £525,000-£575,000.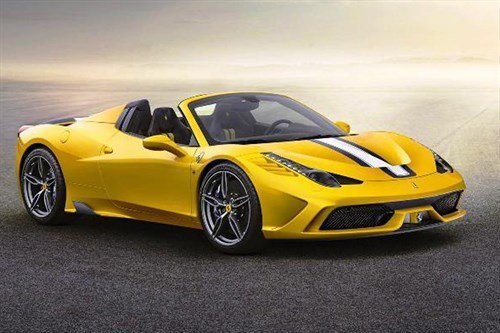 This contrasts dramatically with a consignment over 80 years its junior - a pristine example of the most powerful open-top Ferrari ever produced, the 562bhp Ferrari 458 Speciale Aperta, one of just 499 models produced, similar to one sold this week by Tom Hartley Junior (£450,000-£550,000).  
Between these classic bookends, there is a veritable library of fascinating classics to suit all pocket depths, eras and interests.  
A 1981 DeLorean DMC-12, of the type immortalised in the film 'Back to the Future' and through the demise of its infamous founder, John DeLorean, has never been registered. With just 24 miles to its name and all but weeks of its 34 years in dry storage, it's sure to set the auction paddles waving in the hall, joined by phone and on-line bids, at an estimate of £34,000-£39,000.
An enticing restoration project is a No Reserve 1975 Mercedes-Benz 450SLC owned in its infancy by no less than Peter Sellers.  It will require more than his legendary sense of humour to bring it back to its original splendor, but the outcome will be well worth the toil.
Once again reflecting the breadth of Historics' fascinating auction offering, amongst the 25 Mercedes-Benz consigned to this sale is a totally unmarked, 617bhp 2008 Mercedes-Benz SLR McLaren Roadster that will help lighten the pocket of supercar lovers (£180,000-£200,000). This contrasts nicely with a handful or horses in a 479cc 1969 Fiat 500L (£5,500-£8,500), whilst the Fiat marque is also magnificently represented with a very rare and beautifully-presented twin-cam 1969 Vignale Samantha Coupé (£19,000-£26,000).
Classic British sports cars remain resilient and firm favourites at auction. Austin-Healey and Jaguar marques are well represented here, most notable being a barn-rested 1960 Austin Healey 3000 competition car, ripe for rebuild and returning to the tracks (£35,000-£40,000) and a very early flat-floor, beautifully-restored and original 1961 Jaguar E-Type Series One roadster (£140,000-£160,000).  
This model - and another tempting, truly original 1963 E-Type Roadster (£65,000-£75,000) - are amongst 17 Jaguars consigned, giving classic Italian exotica a run for their money on style and pride of ownership stakes, ably supported by a matching numbers 1961 Lotus Elite Series II (£56,000-£58,000) and duo of 1973 Jensen Healey Mk.1 classics – one a tantalising restoration project at No Reserve.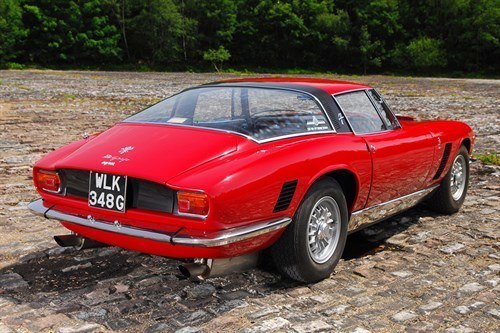 Nevertheless, the inclusion in the sale of a fine selection of Italian sporting classics more than upholds Latin honours… Two Iso's - a magnificent and very rare right-hand drive 1968 Iso Grifo 7-litre (£240,000-£280,000) and an elegant 4-door 1973 Iso Fidea (£75,000-£85,000) join a 1970 Lamborghini Espada (£45,000-£55,000) and a brace of 1998 and 1991 Ferrari Testarossas (£50,000 to £80,000) whilst Alfa Romeo enthusiasts will be impressed with the ten models mustered, from the 1950s to the turn of the century, including a 1957 Alfa Romeo Giulietta Spider (£26,000-£30,000) and 1972 Alfa Romeo Montreal (£26,000-£32,000).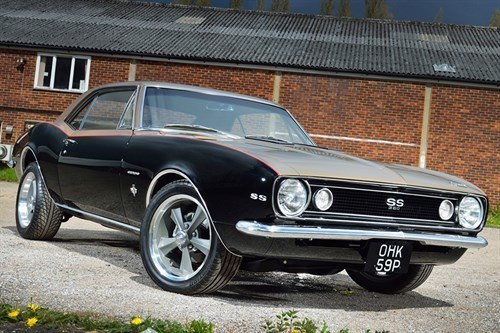 American classics have repeatedly been strong sellers at Historics and a wide range of consignments of classic USA saloons, sports coupés and pick-ups include a 1967 Ford Mustang Coupe (£28,000-£34,000) and 1967 GT390 Fastback (£32,000-£38,000) to set pulses throbbing. They are joined by an evocative 1959 Chevrolet Corvette Roadster (£38,000-£42,000), and 350cu.in. 1967 Camaro S/S (£32,000-£37,000), while a fascinating wolf in sheep's clothing is a 1939 Ford Deluxe Coupe street rod (£29,000-£35,000), fresh from a USA collection in California.
The Mercedes-Benz marque, which again always proves a robust seller at Historics, is represented by no less than 25 models spanning five decades - the majority very affordable - including an elegant 1962 220SE Pillarless Coupé (£8,000 -£13,000), up to the previously-mentioned 206mph 2008 Mercedes-Benz SLR McLaren Roadster.
But it's not all about power statements at Historics' sales. The trio of 1960s Fiat 500s (and seldom seen 1970 Seat 600) take the balance of power in another direction, whilst two charming micro cars, a 1959 Messerschmitt KR200 (£10,000-£14,000) and 1956 Isetta Velam (£5,500-£7,000) will vie for attention on the small classic stakes; with a 1969 Austin Mini Moke (£11,000-£14,000) and host of equally affordable, fine quality classic saloons, coupés, convertibles and estates from home and international marques.
Historics at Brooklands grand summer auction, at the evocative Brooklands Museum in Surrey, commences at 10am on Saturday, June 6th, and is preceded by previews of all 300 motorcar and motorcycle consignments - on Thursday 4th (10am-5pm) and Friday 5th (10am-8pm). In-hall bidding is complemented by pre-registered telephone and on-line bids. For the full consignment list and full details, visit www.historics.co.uk, or call 01753 639170; e-mail: auctions@historics.co.uk.
Cars lots list as follows:
HISTORICS AT BROOKLANDS CLASSIC CAR CONSIGNMENTS
Brooklands Museum, June 6, 2015
Lot Year Make Estimate
101 1934 Bentley 3½ body by Park Ward No reserve
102 1976 Ford Cortina 2000E No Reserve
103 1998 Alfa Romeo No Reserve
104 1956 Isetta Velam £5,500-£7,000
105 2002 Renault Avantime Prestige No reserve
106 1981 Mercedes-Benz 280SLC No reserve
107 1975 Mercedes-Benz 200 £4,000 - £6,000
108 1978 Leyland Mini 850 No Reserve
109 1990 Rover Mini Mayfair No Reserve
110 1996 Mercedes-Benz E220 Cabriolet £4,000 - £6,000
111 1974 Mercedes-Benz 450SL Roadster No Reserve
112 1985 Mercedes-Benz 280SL £8,000 - £11,000
113 1969 Ford Cortina 1600 Super £6,500 - £9,500
114 1999 Alfa Romeo GTV6 No Reserve
115 1979 MG B GT No Reserve
116 1959 Messerschmitt KR200 £10,000-£14,000
117 1985 BMW M635CSi £15,000 - £18,000
118 2009 Range Rover TDV6 £14,000 - £16,000
119 1980 Suzuki SC100 No reserve
120 1979 Austin Morris Mini 1000 £4,000 - £6,000
121 1962 Mercedes-Benz 220 Seb Coupé £8,000 - £13,000
122 1966 Sunbeam Alpine (Restoration) No reserve
123 1968 Jaguar Mk.II 2.4 £8,000-£10,000
124 1985 Jaguar XJS V12 Cabriolet £7,000 - £9,000
125 1976 Triumph Stag £9,500 - £12,500
126 1985 Morgan 4/4 £18,000 - £22,000
127 1983 Jaguar XJS HE £6,000 - £9,000
128 1978 Daimler Sovereign LWB Convertible £10,000 - £14,000
129 1995 Bentley Continental R (white) £18,000-£24,000
130 1982 Mercedes-Benz 500SL £7,000 -£9,000
131 1966 Volvo Amazon Estate £8,000-£10,000
132 1978 Jaguar XJ12 £4,500 - £6,000
133 1999 Alfa Romeo GTV No reserve
134 1948 Daimler DB18 No reserve
135 1973 BMW 2002 £8,000 - £12,000
136 1958 Morris Minor 1000 £5,000 - £7,000
137 1965 Fiat Nuova 500D £8,000 - £12,000
138 1986 Jaguar XJ-SC £8,000 - £10,000
139 1972 Volvo 1800ES Shooting Brake £13,000 - £18,000
140 1971 Bentley T1 £12,000-£16,000
141 2003 BMW M3 Convertible £16,000 - £19,000
142 1987 Porsche 911 Carrera Targa Coupé £15,000 - £19,000
143 1985 Morgan 4/4 £15,000 - £18,000
144 1970 Alfa Romeo GTA 1300 Junior Evocazioné £22,000 - £27,000
145 1970 Ford Escort Mk I Rally Car £18,000-£22,000
146 2001 Aston Martin DB7 Volanté £18,000 - £24,000
147 1972 Alfa Romeo Montreal £26,000-£32,000
148 1958 Austin-Healey 100/6 BN6 £28,000 - £34,000
149 1985 Rolls-Royce Corniche Convertible £28,000-£35,000
150 2015 AC Cobra by RAM £27,000 - £32,000
151 1993 Bentley Continental R £28,000-£32,000
152 1967 Alfa Romeo Giulietta Spider £28,000 - £32,000
153 1959 Jaguar XK150S Fixedhead Coupé £44,000 - £50,000
154 1979 Mercedes-Benz 450SLC £11,000-£14,000
155 1952 Bentley R-Type £28,000-£34,000
156 1980 Ferrari 308 GTSi £36,000 - £42,000
157 1961 Lotus Elite £56,000 - £58,000
158 1962 Austin-Healey 3000 BT7 £30,000-£38,000
159 1973 Porsche 911T £54,000 - £59,000
160 1970 Lamborghini Espada £45,000-£55,000
161 1963 Jaguar E-Type SI Roadster £78,000-£90,000
162 1973 Iso Fidia £75,000 - £85,000
163 1988 Ferrari Testarossa (black) £72,000 - £82,000
164 1960 Jaguar XK150 SE DHC £65000 - £75000
165 1961 Jaguar E-Type Series I 'Flat floor' £145,000 - £165,000
166 1970 Rolls-Royce 2-Door MPW £40,000-£45,000
167 1950 Daimler DE36 Limousine No reserve
168 1935 Lagonda M45 Rapide £165,000 - £185,000
169 1967 Lancia Flavia Coupé £9,000-£12,000
170 1929 Bentley 41/2 Litre £525,000-£575,000
171 1955 Jaguar XK140 Drophead Coupé £58,000 - £64,000
172 1960 Austin Healey 3000 Mk. I Competition £35,000-£45,000
173 1981 DeLorean DMC 12 £34,000 - £39,000
174 1955 Austin Healey 100/4 BN2 £38,000 - £44,000
175 1959 Jaguar XK150 Fixedhead Coupé £38,000 - £44,000
176 1962 Triumph TR3B £24,000-£28,000
177 1994 Bentley Continental 'Wide Body' R £22,000 - £27,000
178 1979 Ford Escort Mk II Rally Car £24,000-£28,000
179 1986 Austin Morris Mini 1275GT (by Wood & Pickett) £15,000 - £18,000
180 1959 Austin Healey 'Frog Eye' Sprite £14,000 - £18,000
181 1968 Ford Lotus Cortina £18,000 - £24,000
182 1948 MG TC £22,000-£28,000
183 1933 MG J2 £24,000 - £28,000
184 1992 Jaguar XJS Coupé £13,500 - £18,500
185 1982 Renault Alpine A310 £18,000 - £22,000
186 1981 Fiat 124 Convertible £11,000-£14,000
187 1962 Fiat 1200 Cabriolet £13,500 - £17,500
188 1948 Bentley MKVI £11,000 - £13,000
189 1957 MG A Roadster £16,000-£20,000
190 1970 Seat 600 No reserve
191 1981 MG B GT No reserve
192 1984 Rolls-Royce Silver Spirit £4,500-£6,000
193 1981 Rolls Royce Silver Spirit No reserve
194 1972 Jenson Healey No reserve
195 1969 Austin Mini Moke £11,000 - £14,000
196 1992 Ferrari 330 P4 Recreation by Noble £35,000 - £40,000
197 1965 Sunbeam Tiger £18,000 - £22,000
198 2008 Mercedes-Benz SLR McLaren £180,000-£210,000
200 2001 Mercedes-Benz 320 SLK No reserve
201 1966 Fiat 500 £4,500-£6,000
202 1989 Bentley Turbo R £5,000 - £7,000
203 1979 MG Midget No reserve
204 1979 MGB GT £4,500-£6,000
205 1986 Jaguar XJ12 (grey) No reserve
206 1988 BMW Z3M Coupé £10,000-£15,000
207 1988 Jaguar XJS Convertible £12,000-£15,000
208 1969 Fiat 500L £5,500 - £8,500
209 1967 Daimler Sovereign (3.8 Litre) £8,000 - £12,000
210 1992 Porsche 944 S2 Cabriolet £5,500-£8,000
211 1991 Mercedes-Benz 560SEL £18,000-£22,000
212 1934 Morris Oxford £7,500 - £9,500
213 1992 BMW 850i £8,000 - £11,000
214 1967 Triumph TR4A £10,000 - £15,000
215 1992 Jaguar XJS Convertible £16,000-£20,000
216 1986 Rover SD1 VDP No reserve
217 1972 Mercedes-Benz 280CE £12,000 - £15,000
218 2001 Mercedes-Benz SL500 Silver Arrow £15,000 - £18,000
219 1955 Rolls-Royce Silver Dawn £38,000-£42,000
220 1967 Chevrolet Camaro S/S £32,000 - £37,000
221 1966 Chrysler Newport £9,000 - £13,000
222 1965 Ford Mustang Fastback £23,000-£27,000
223 1968 Chevrolet Corvette Stingray Convertible £28,000 - £32,000
224 1967 Ford Mustang GT390 Fastback £32,000 - £38,000
225 1959 Chevrolet Corvette Roadster £38,000 - £42,000
226 1967 Ford Mustang Coupé £28,000 - £34,000
227 1971 Dodge Charger £19,000 - £24,000
228 1972 Pontiac Le Mans £10,000-£15,000
229 1966 Ford Mustang GT Coupé £24,000-£28,000
230 1951 Chevrolet 3100 Pick-up £20,000-£24,000
231 1939 Ford Deluxe Coupé £29,000 - £35,000
232 1997 Jeep Wrangler Monster Truck £17,000 - £20,000
233 2000 Ford Mustang Convertible £8,000 - £10,000
234 1966 Ford F10 Pickup No reserve
235 1992 Ford Sierra Cosworth £9,000-£12,000
236 1980 Mercedes Benz 280SE £44,000-£50,000
237 1950 Jaguar XK120 Roaster £43,000 - £48,000
238 1997 Bentley Azure £45,000-£50,000
239 1975 Mercedes-Benz 450SLC No reserve
240 1971 Porsche 911T (Restoration) £30,000-£40,000
241 1968 Triumph TR5 £34,000 - £37,500
242 1988 Ferrari Mondial T Cabriolet £27,000 - £32,000
243 2001 Mercedes-Benz G55 Brabus £26,000-£34,000
244 1934 MG PA £19,000-£22,000
246 1937 Alvis Speed 25 DHC by Chalsworth £105,000 - £120,000
247 1938 Rolls-Royce 25/30 £50,000-£60,000
248 1974 Jaguar E-Type SIII £46,000-£54,000
249 1991 Ferrari Testarossa (red) £50,000-£70,000
250 1963 Jaguar E-Type Series I Roadster £65,000 - £75,000
251 1964 Bentley S3 £95,000-£110,000
252 1963 Jaguar E-Type SI (Fast road) £52,000-£65,000
253 1954 Jaguar XK 120 Roadster £95,000-£110,000
254 1971 Jaguar E-Type Series II Roadster £50,000-£56000
255 1968 Iso Grifo 7-litre £240,000-£280,000
256 2009 Ferrari Scuderia 16M £195,000 - £215,000
257 2005 Bentley Arnage T £28,000-£35,000
258 1966 Austin Healey BJ8 £36,000-£40,000
259 1969 Fiat Vignale Samantha Coupé £19,000 - £26,000
260 1999 Mercedes-Benz 230CLK Elegance No Reserve
261 1971 Jaguar E-Type Series III Coupé £24,000 - £28,000
262 1980 Rolls-Royce Camargue £35,000 - £40,000
263 1976 Rolls Royce Silver Shadow LWB £14,000-£18,000
264 1991 Mercedes-Benz 300E 3.4 AMG £9,000 - £12,000
265 2000 Mercedes-Benz SL320 £14,000 - £16,000
266 1989 BMW M635 CSi £10,000 - £13,000
267 1978 Leyland Mini 1000 Van £6,500 - £9,000
268 1975 Alfa Romeo Spider £8,000-£11,000
269 1995 Mercedes-Benz S500 No Reserve
270 1991 Jaguar XJS Convertible £6,000 - £8,000
271 1999 Porsche 996 Carrera £8,500-£11,000
272 1971 Alfa Romeo 1300 GT Junior £8,000 - £11,000
273 1992 Range Rover Brooklands £9,000-£12,000
274 1972 Triumph GT6 Coupé £5,000-£7,000
275 1982 Rolls-Royce Silver Spirit No Reserve
276 1998 MG F No reserve
277 1989 Fiat 126 Bis £5,250-£5750
278 1981 Mercedes-Benz 500 SEL No Reserve
279 1984 Bertone X1/9 No Reserve
280 1973 Datsun 240Z No reserve
281 1963 Rover P5 Saloon £5,000 - £8,000
282 1989 Porsche 928 S4 £6,000 - £9,000
283 1979 VW Beetle Cabriolet £8,000-£10,000
284 1990 Mercedes-Benz G-Wagon £9,000-£12,000
285 1978 Triumph Spitfire 1500 Convertible £6,000-£8,000
286 1978 Rover SD1 £7,000 - £9,000
287 2004 Mercedes-Benz Horsebox £40,000-£44,000
288 1985 Alfa Romeo GTV6 £7,000 - £10,000
289 2004 Mini Convertible £7,000-£9,000
290 1996 BMW 840Ci £6,000-£8,000
291 1991 Jaguar XJS HE £5,000 - £7,000
292 1973 Jensen Healey £5,500 - £7,500
293 1994 Mercedes-Benz E320 Convertible £12,000-£15000
294 1963 Morris Mini No Reserve
295 1979 Mercedes-Benz 230 Saloon No Reserve
296 2011 Ferrari 458 Speciale Aperta £450,000-£550,000
W/D 1970 Ford Mustang Fastback W/D
W/D 1971 Volkswagen Beetle Convertible W/D
W/D 1982 Daimler DS420 Limo W/D
Comments
Author

Honest John
Latest