Delivery Mileage DeLorean in Historics 6th June Classic Car Auction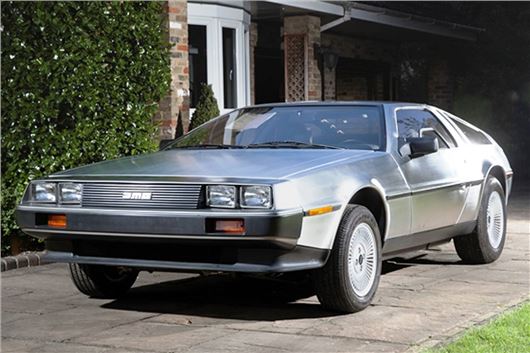 Published 14 May 2015
This 1981 DeLorean DMC12 with just 24 miles is to feature in Historics Classic Car Auction at Brooklands on 6th June.
That's 24 miles, not 24,000 miles, making this car unique in the World.
It also happens to be the last DeLoran built by the factory in 1981, making it doubly unique. Originally shipped to the USA, it has never been registered or driven on the road. Its certificate of origin paperwork shows that it was transferred by the DeLorean Motor Company to the DeLorean dealer in Newark, New Jersey USA on June 10th 1982, where it stayed locked away at the dealership until the present owner purchased it in November 2000 and shipped it back to the UK.
Here it was again locked away and stored in a warm dry garage for the next 15 years.
The car still has the original factory fitted delivery and EPA stickers attached to the front windscreen.
It comes complete with the original battery, tyres, wheels, owner's manual, tool kit etc. It has had no modifications except to keep the fluids and oils fresh and the tyres maintained at factory pressures.
This DeLorean is supplied with the certificate of origin, C61 BTI customs form showing the BTI reference number needed for the NOVA certificate and a copy of the shipping invoice.
This is icon of the 1980s is probably the only DMC12 with delivery mileage in the world; a unique opportunity to purchase a unique investment that can only rise in value.
The conservative estimate is £34,000 to £39,000.
More at Historics
Comments
Author

Honest John
Latest