Jaguar E-type project makes nearly £40k at Anglia auction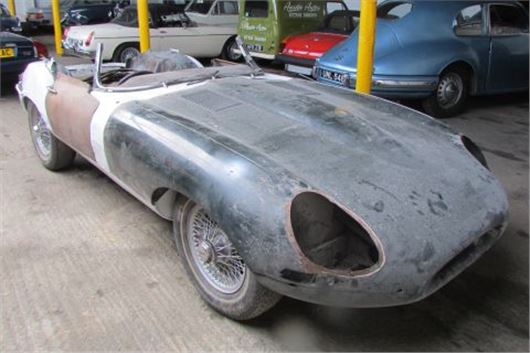 Published 13 April 2015
A 1965 Jaguar E-type 4.2 OTS barn find sold for £39,370 at Anglia Car Auctions' Easter sale.
It wasn't the only project to attract attention, though. A 1951 Jaguar XK120 Roadster and 1958 XK150 fixed head, both needing attention, sold for £33,600 and £26,512, respectively, on Saturday, 4 April.
And a 1966 Sunbeam Tiger 4.2 project sailed past its estimate to achieve £24,150, while a 1964 Triumph TR4 barn find finally sold for £18,375 after a flurry of phone bidders tried to secure the win. A 1973 Datsun 240Z sold for more than double its estimate at £8400.
But it wasn't just projects making the headlines. A pristine 1973 E-type Roadster V12 automatic made £57,750, while a 1985 Porsche 930 Turbo sold for £10,000 more than its estimate at £55,125.
The two Alfa Romeos from the same home, the Giulietta and the Montreal, sold for £27,562 and £39,900, respectively, while the 1950 Bristol 401 sold at £24,150.
Two low-mileage Minis garnered much interest, with the black 18-miler selling at £14,910 and the red 137-miler at £15,225.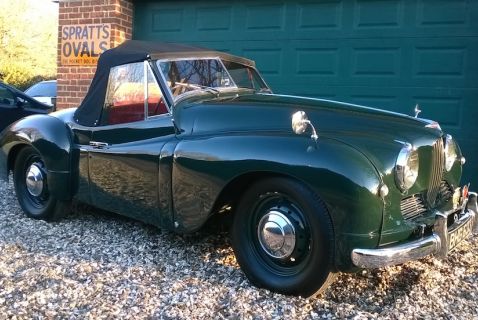 A round of applause was given when the immaculate 1953 Jowett Jupiter eventually reached £25,200. The bidding on the Jupiter initially slowed down at around £15,000 but then a telephone bidder kicked in and off the bidding raced again.
Amongst the other bargains to be had was a lot that was all about raising money for charity. A 1972 Triumph Stag Auto made £10,290 with 100% of the proceeds including commission and premium donated to cancer charities.
ACA proprietor Lyn George said the total sales figure stood at £1.4m. She added, 'The Easter holiday did not hinder the attendance at our sale on Saturday and already, even before finalising outstanding provisional bids, we have recorded our highest sale rate to date.'
Anglia Car Auctions' next classic car sale takes place on Saturday 13h June. Entries are now being accepted. The full results can be viewed Classic Car Price.
Comments
Author

Keith Moody
Latest