Historics 1960 Healey 3000 Comp Spec: Restore, or Leave as is?
Published 27 April 2015
Coming up in Historics 6th June Brooklands auction is this 1960 Austin Healey Mk 1 BT7 in competiton spec that has been lying idle for 25 years.
Though not an original works car, it was rebuilt as a rally car in the 1970s. Evidence suggests that it may have been taken back to Donald Healey in Warwickshire for the full works treatment. All body panels are aluminium, including all four wings and doors plus the dished bootlid, as per the factory Healey team rally cars, and mechanically, there are further strong suggestions of works attention. 
The standard capacity 2,912cc engine, now with oversize valves and fed by triple DCOE's, features a tuftrided crankshaft, lightened and balanced flywheel, and a competition camshaft. While power is fed through the straight cut, close ratio gearbox, and the treasure chest also extends to an LSD, servo-assisted brakes and uprated shock absorbers, adjustable at the rear.
The history is known. The car originally left the factory in March 1960 with a black hardtop, Dunlop Road Speed tyres, laminated windscreen, disc wheels all round and adjustable steering column. No heater was requested by the masochistic buyer, who paid £1,300.
Historics is estimating £35,000 - £45,000.
When dusted down and re-commissioned after its 25-year slumber, the Healey, now plated APU 122A, and with a fresh MoT Certificate, has excellent oil pressure and runs well. It comes with a British Motor Industry Heritage Certificate and FIA papers dated July 1988.
So the questioin remains, why restore it?
As it is, it looks the part of a battle scarred competition car. There are lots of perfect concours Healey 3000s out there. So why spend a fortune poncing it up?
As an asset it won't appreciate any faster. And it would be terrible for an owner not to compete in it for fear of scratching its paint.
So we say, leave as is.
The 1960 Austin-Healey 3000 Mk. I Competition joins a varied selection of 100 fine classic motorcars, and a similar volume of classic motorcycles - including a magnificent and ultra-rare 1927 Brough Superior 100SS Pendine (£150,000-£175,000) - at Historics at Brooklands grand summer auction at Brooklands Museum, on Saturday, June 6th. Viewing is on the previous day.
For more information and the full consignment list, visit www.historics.co.uk, or call 01753 639170 and e-mail: auctions@historics.co.uk.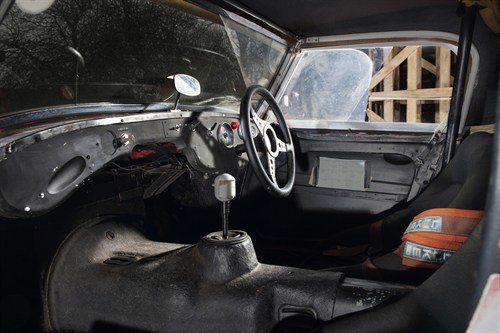 Comments
Author

Honest John
Latest