Eighties supercars in demand at auction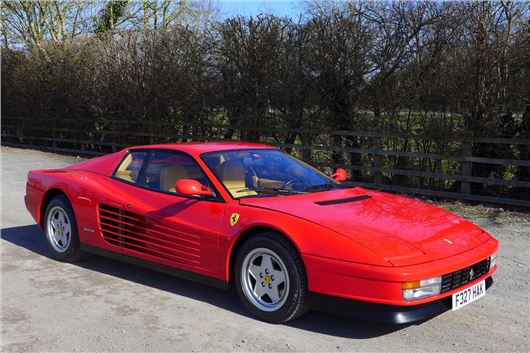 Published 13 March 2015
Eighties supercars were in demand at Brightwells auction on 4 March.
A left-hand drive 1988 Ferrari Testarossa with 44,400 miles on the clock went for a mid-estimate £73,700. That's about twice what it would have made just a couple of years ago.
A left-hand drive 20,000-mile 1992 Ferrari 348tb Coupe made £38,500 and a right-hand drive 73,000-mile 1988 Ferrari 412 automatic fetched £23,650. Again, that's significantly more than this once-unloved model would have made just a few months ago.
Another model that has rocketed in value lately is the air-cooled Porsche 911, prices rising by 24% in 2013 and a further 32% in 2014 according to the HAGI Index.
Five of the six examples offered here found new homes. A restored 1977 2.7 Coupe lead the way at £53,900, despite having been converted from Sportmatic to manual in the late 1980s.
A smart 73,000 mile 1996 993 Carrera 2 Targa Tiptronic fetched £34,100 while a similar 993 Convertible which had been a Category D insurance loss early in its life made £18,150.
A reasonable 1992 964 Carrera 4 Targa made £22,550 and a similar left-hand drive 1980 SC 3.0 Coupe cost another German bidder £22,000 to secure it.
Compared to these prices, a one family owned from new 13-year-old Porsche Boxster 2.7 with 107,000 miles on the clock looked a snip at just £4620.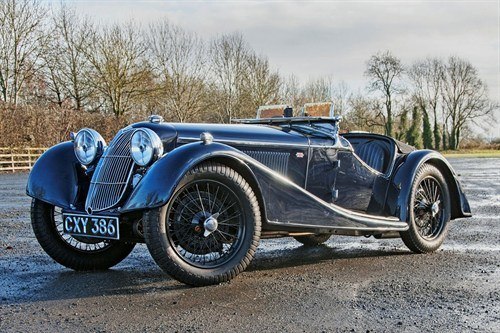 But there was plenty of demand for more traditional classic, with the 1936 Riley Sprite proving the day's top seller at Brightwells auction on 4 March selling for £170,500. It exactly matched the price of the ex-Lady Grosvenor Sprite that Brightwells sold six months ago.
One of only 55 Sprites made, the 1936 car had been fully restored about 12 years ago and covered only 3000 miles since.
The other four Rileys in the sale also sold well. A 1932 Lynx lookalike that had been converted from a Monaco saloon in the 1980s made almost £10,000 above estimate at £24,200.
An original 1954 RME Saloon also fetched a top estimate £8800. An older restoration 1931 Riley Nine Ultra Saloon raised £9630 and a 1953 RMF in 'barn find' condition also doubled its estimate at £6150.
Clearly, Rileys are something of a speciality for Brightwells – as are Morgans. Five examples of models from the Malvern factory were offered for sale.
Top price went to the only four-wheeler, a restored 1955 Plus Four Four-Seat Drophead Coupe with TR4A engine that fetched £33,000.
The other three-wheelers made £26,400 (1933 Super Sports with non-original JAP engine), £24,200 (1934 MX4 Super Sports with original Matchless engine), £21,450 (1935 Sports with original Matchless engine) and £9,680 (1939 F4 four-seater in need of recommissioning).
Aston Martins never go out of fashion and all three examples sold well. A 15-year-old DB7 Vantage Coupe with only 28,000 miles fetching £26,620.
A similar 73,000 mile DB7 Vantage made £21,780 and a 1974 V8 Series 3 Automatic topped them both at £29,700 despite being in need of full restoration.
Despite these strong prices every auction has its bargains and an unfinished competition car project from a deceased estate, a 1961 Austin-Healey 3000 Mk II, looked good value - even at an above-estimate £30,800. The 220bhp Denis Welch engine alone being worth at least half this amount.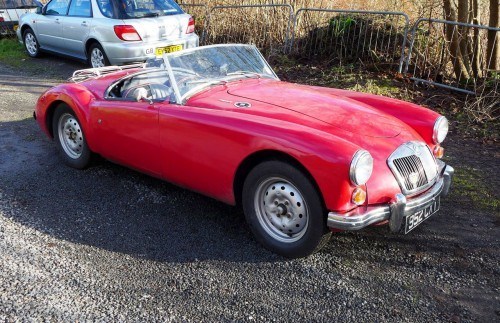 The 1961 MGA Roadster with uprated mechanics and scruffy paint also left plenty of room for manoeuvre at just £15,400 while a faded but rock solid ex-Australia RHD 1963 Volkswagen T1 Type 2 split-screen camper looked great value at just £11,220 with only cosmetic attention required to turn it into a real show-stopper.
A highly original and well-maintained 1971 Bentley T1 Saloon also looked like a canny buy at just £5000 - leaving some change for the paint rectification required.
Brightwells' lead consultant, James Dennison, said the market for good cars appears to be holding up well. He said, 'We are looking forward to growing our business in the coming year, adding two extra sales to the calendar to dispose of the entire Stondon Motor Museum collection: over 60 classic bikes will be sold on 29 April and 220 classic cars on 10 June, all at no reserve.
To view the results of the March sale in full, please visit www.brightwells.com and click on 'Classic Vehicles' or phone 01568 611122. Brightwells' next sale is on 13th May 2015 and entries are now being accepted.
Comments
Author

Keith Moody
Latest