One-owner Ferrari stashed in garage for 25 years could make £400,000 at auction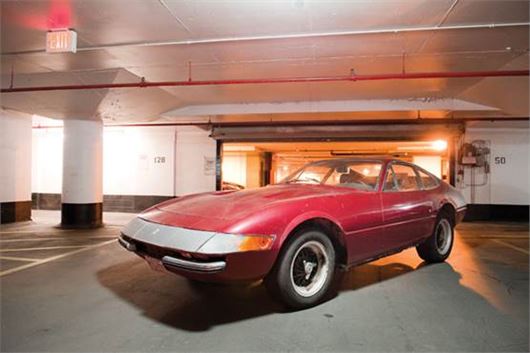 Published 10 December 2014
It's been dubbed the 'the disco Daytona' because it still had the eight-track tape of disco tunes in its K-Tec player. But now this stunning 1971 Ferrari 365 GTB/4 Daytona Berlinetta that has been in storage for 25 years could make nearly £400,000 when it goes under the hammer at RM Auctions next year.
Chassis number 14385, surfaced last month following two-and-a-half decades in a Toronto car par. It was an impulse buy for businessman Patrick Sinn. After his flight from Geneva to Toronto was delayed. He headed over to the Geneva motor show, saw the Ferrari and fell in love. After putting off his flight home, he made the 300-mile trip to the Ferrari factory in Maranello and placed his order.
His Daytona was delivered in the summer of 1971 and Sinn spent a month touring Europe in it before brining the car back to North America by boat. Over the next 18 years, he clocked up 55,000 miles. But when a family emergency called him away to Asia, he hid his Daytona in the corner of his condominium car park, put it up on bricks and threw a cover over it.
Sinn only expected to be away for a month, but in fact he was gone six years. Although he returned to Toronto in 1995, the Ferrari remained hidden until last month. Now 77 years old, Sinn has decided to part with the car. It cost him $18,000 when he bought it but is now expected to fetch $600,000 (about £380,000) when it goes under the hammer at RM's Amelia Island sale in March 2015.
And yes, the new buyer will get to keep the eight-track of disco tunes.
RM Auctions: Amelia Island, Florida, USA
Comments
Author

Keith Moody
Latest