Results: H&H Classic Car Auction Buxton 12th November 2014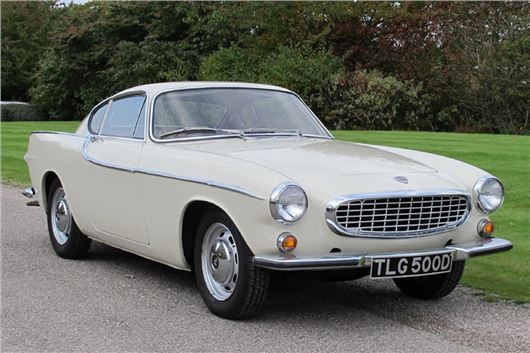 Published 13 November 2014
H&H has posted results for its Classic Car Sale at Pavilion Gardens, Buxton on 12th November. Here are the estimates and prices achieved by the cars we featured in our auction preview:
Probably most newsworthy, a 1966 Volvo P1800 Saint's car (exactly the same as the 1966 P1800 that Irv Gordon of New York took to a record breaking 3,000,000 miles) was estimated at £8,000 - £10,000 with just 60,000 warranted miles. It beat its estimate by selling for £14,840 inc. (There will be another P1800 in Silverstone Auctions sale at the NEC Classic Motor Show this weekend.)
A 1972 Volvo 144GL with two family owners and a modest recorded mileage of 54,264 was estimated at £2,000 - £3,000 but sold for £1,792 inc.
Capri fans had a choice of two 2.8is. The metallic grey 1984 recently emerged after 16 years in a barn so should be relatively rot free. The 1987E in white has just 59,000 miles and has been converted to automatic transmission that might be a bit easier on the vulnerable rear axle. Each were estimated at £4,500-£5,500. Neither of the Capri 2.8is were sold.
Peugeot 205GTIs had been rising rapidly and though this 1991J 1.9 has a sunroof, which makes it less desirable for track days, it's still a fun drive and we thought likely to appreciate. Estimated £3,000 - £4,000. Sold for £2,800 inc.
For off road enthusiasts, there was a 2007 Foers Ibex, built by John Foers using Landrover running gear and a bespoke spaceframe to give greater ground clearance and better approach/departure angles. Estimated at £16,000 - £18,000, but not sold.
£3,000 - £4,000 was estimated to buy a year 2000 Jaguar XKR with 82k recorded miles, 14 stamps in the book, a recent transmission and rear axle service and an Ardun upgrade to 450PS. It sold for £5,824 inc.
Golden oldies included a 1928 Alvis 12/50 TG two-seater in a nicely patinated 'barn find' condition having spent the last 40 years on blocks. Be nice to get it running but keep the look. Estimated at £8,000 - £12,000 and sold for £12,320 inc.
With 4 years in production v/s 1 year for the Model B V8, Model A Fords are ten to a dollar in the USA. The 1930 roadster estimated at £14,000 - £16,000 sold for £13,750 inc. The 1930 Model A Fordor sedan, estimated at £10,000 - £12,000 sold for £11,760 inc. And the 1930 Model A Tudor estimated at  £9,000 - £11,000 sold for £8,960 inc.
Full results of H&H Buxton 12th November Sale here.
Honest John Classics has a stand at the Lancaster Insurance Classic Motor Show at the NEC 14th - 16th November. Hope to see you there.
Silverstone Auctions NEC Classic Motor Show Auction Preview here.
Comments
Latest