Results: Bonhams Classic Car and Motorcycle Auction, Harrogate, 12th November 2014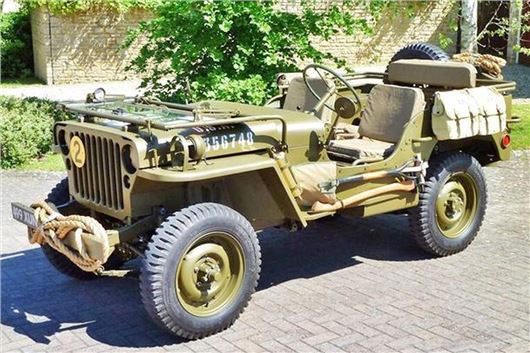 Published 13 November 2014
Bonhams quickly posted results for its 12th November Harrogate sale of classic cars and motorcycles. The most outstanding price was £35,650 paid for a 1943 Willys Jeep.
Totally restored with a complete spec of shovels, panniers, towropes, etc., even a new body. One of the best GPWs you are ever likely to find, hence estimated £18,000 - £22,000. Sold for £35,650 including premium.
Highest pre-sale estimates were £70,000 - £90,000 for a 1962 E-Type 3.8 S1 coupe or a 2001 Bentley Continental R Le Mans Coupe. The E Type did not sell but the Bentley made £102,300 inc.
Next highest £60,000 - £70,000 for a 1953 Healey 100/4, sold for £68,700 inc.
There was a choice of Rolls Royce Phantom Vs, either a limousine or hearse, both estimated £35,000 - £40,000. The 1975 limousine sold for £39,100 inc.
Of the more interesting or oddball lots features in our preview:
c1920 Hillman two-seat tourer. Complete, but needs recommissioning. We said, "1920s classics have yet to take off price-wise, but they don't make them any more so now might be a very good time to get in there and invest." Estimated £3,000 - £5,000. Sold for £10,350 inc.
1971 MGB roadster fitted with 4.6V8 in 2010. Exceptionally good-looking car fitted with Costcast engine and beautifully presented. Bereavement sale. Estimated £15,000 - £20,000. Sold for £20,700 inc.
1980 Volvo 244DL saloon. Shovelfront, hearing-aid beige Volvo 244 of the type, usually driven very slowly and carefully. This one has only 11,500 certified miles and two owners from new. Estimated £4,000 - £6,000. Sold for £4,485 inc.
1956 Matchless 593cc Model G Project. Early Matchless G11 presented in 'barn find' condition for restoration. Estimated £700 - £900. Sold for £2,875 inc.
1984 Suzuki 673cc XN85 Turbo. Based on the GS650, but chain instead of shaft drive. Top speed 130mph. Fully documented restoration. Estimated £3,500 - £4,500. Sold for £6,900 inc.
1980 Honda 626cc CB 650Z. Nicely restored and offered with all paperwork. Estimated £2,000 - £3,000. Sold for £2,875 inc.
Full Results at Bonhams Harrogate 12th November 2014 Results.
Honest John Classics has a stand at the Lancaster Insurance Classic Motor Show at the NEC 14th - 16th November. Hope to see you there.
Comments
Latest