1983 Lamborghini Countach LP500S Makes Record Breaking £337,120 at Historics 7th June Auction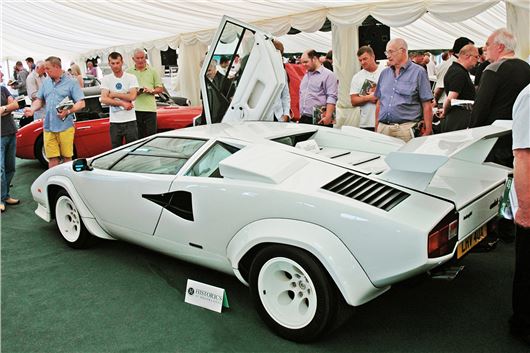 Published 11 June 2014
A white 1983 Lamborghini Countach sold for a significant £337,120 at Historics biggest Classic Auction to date at Brooklands on 7th June.
The sale was blessed with fine Spring weather and included 149 cars and 100 motorcycles. By the close, motor cars in excess of £2 million had changed owners, with a 67% sale ratio and a significant UK record sale price scored for one consignment…
The 1983 Lamborghini Countach LP500S was clearly the sale star, soaring to above twice its estimatein a bidding battle  to what is believed to be a UK auction record for this car, at £337,120 including commission and tax.  
The car, that had been in professional storage for 23 years, quickly breached its £120,000-£160,000 pre-sale estimate, then rose inexorably on to its ultimate record sale price which was met with a round of applause.
The Countach was amongst a broad mix of strong sellers, including a unique, no reserve 1969 Wood & Pickett Margrave Mini Cooper S, with a pop star provenance, that sailed to an altogether 'maxi ' sale price of £40,320.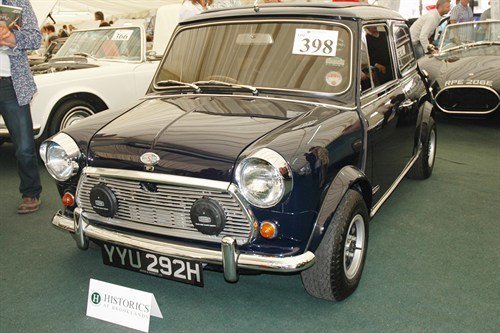 A statuesque 1933 Lagonda Three Litre T7 Open Tourer carried the pre-war flag exceptionally well, the appearance of its engine bay every bit as impressive as its flowing lines, robust bidding taking it to a sporty £105,000.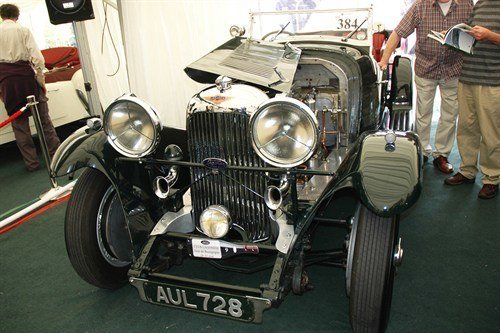 A jet black 1961 Porsche 356B Convertible was also a strong seller, changing hands at top estimate for £140,560, and ditto a 1954 Austin-Healey 100/4 – complete with AH1004 number plate – which crested its top estimated price, selling for £49,840.
Arguably the bargain of the sale was a supremely-elegant and immaculate 2002 Bentley Arnage LWB by Mulliner. Powered by the twin turbocharged BMW V8, its performance was matched only by its exquisite coachwork and interior. The deal was finally clinched at £29,700.
In contrast to the statesmanlike pose of the Arnage, a 1960 bright red Alfa Romeo Giulietta Spyder with hard top looked very much the part for breezy weekend fun. In contrast to its less than flamboyant number plate - 907 YUK - brisk bidding propelled its sale price to an above estimate £52,800.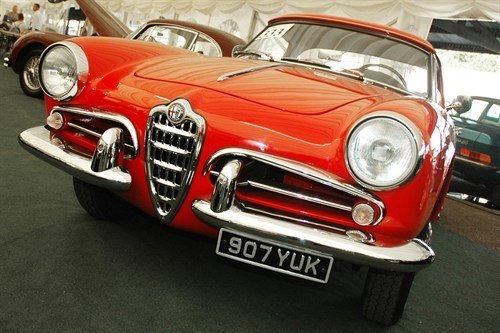 The 1996 Ford GT40 Recreation by Tornado - the longest-running manufacturer of the GT40 replica - resplendent in dark blue livery, may have been dwarfed by virtually every other consignment at Historics, but delivered high value for money motoring for its new owner, changing hands for £35,000.
Affordable classics featured equally strongly in Historics' portfolio. A very collectable 1983 VW Golf GTi Mk.I Campaign changed hands predictably well above estimate for just under £8,000, whilst a 1988 Lotus Esprit Turbo whistled above its £7,000 top estimate to settle at £8,400 including commissions. Meanwhile a 1992 Vauxhall Carlton by Lotus (Est £6,000-£9,000) with 377bhp on tap - and a heady original purchase price of £49,750 - provided great value to its new owner at £11,200 and a no reserve Ford Granada Scorpio by Cosworth stretched its legs to close at £4,256.
On the two-wheel front, Historics followed up its inaugural classic motorcycle auction of last year with another major sale of over 100 very saleable classics, alongside the motor car auction on June 7th. Included in the varied consignments were 39 machines from one fastidious collector who had amassed them over the years and presented them all in superb condition. All but seven found new owners, helping to bolster still further Historics' strong sale result from the day.
Historics' next auction at Brooklands is on Saturday, August 30th, for which consignments are invited.  For full results from the sale on June 7 and for further information, visit www.historics.co.uk.
Comments
Author

Honest John
Latest