Report: Artcurial classic car auction, Paris, 7-8 February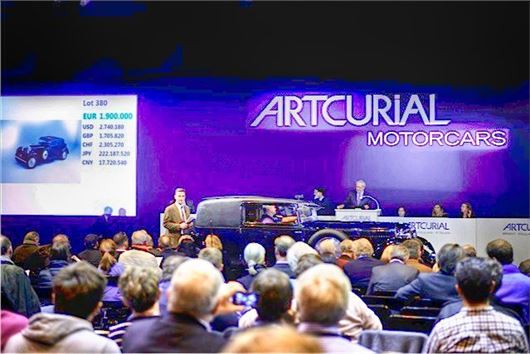 Published 10 February 2014
Artcurial Motorcars enjoyed a record-breaking sale at the Retromobile show in Paris to secure the biggest week of auctions the show has ever known. The final figures for its two-day door-stopper of a sale are €29m worth of sales, with auctioneer and former Le Mans racing driver Hervé Poulain personally hammering-out the cars for 10 hours during the two days.
Top auction seller of the weekend was the 1931 Bentley 8-litre Sportsman coupé by Gurney Nutting, which amid an impressive an impressive stage show, sold for €2,190,400, and was greeted my a resounding round of applause during the noisy, well-attended, and bi-lingual auction. But this was then followed-up by an after-sale the following day on the 1953 Ferrari 166MM by Oblin, which found a new owner for €2,550,000.
But there were some other very interesting cars sold further down the scale. The stars' cars drew massive attention, with a 1962 Rolls-Royce Silver Cloud Mulliner owned by Brigitte Bardot selling for €286,100, the Ringo Starr customised Chevrolet Bel Air changing hands for €48,900 and Philippe Starck's lovely beach car, the 1972 Fiat Shellette selling for €41,700.
The 1927 Delahaye 135 Coupe des Alpes cabriolet by Chapron offered in wonderfully original condition made €619,800, while the other Chapron, a 1975 Citroën SM Mylord, and one of just seven examples built, went for €548,300 - a new SM benchmark. At the other end of the scale, the 1980 Renault 5 Turbo Groupe 4 Calberson made €399,300, while the 1984 Peugeot 205 Turbo 16 Evolution 1 factory car sold for €312,500 - both new records for their type at open auction.
The Solo Alfa sale - a collection of 40 post-war models - attracted significant attention towards the end of the second day. The 1965 Alfa Romeo Giulia TZ led the way at €955,400. The 1970 Alfa Romeo GTAm, driven onto the block by Carlo Facetti who competed in this car during the 1973 season, attracted huge attention, finally selling for an impressive €329,000, while the 1972 Alfa Romeo Romeo Giulia Super 1.6 Familiare, a rare vehicle in need of total restoration, tripled its estimate for €15,500. Finally, one of our favourites, the 1984 Alfa Romeo ARNA shouldn't go unmentioned, going for €4000, after it was announced - during bidding - that profits were going to charity.

Matthieu Lamoure, Managing Director of Artcurial Motorcars, summed up: 'We are absolutely delighted with the results of this year's Retromobile sale. Selling the Ferrari 166MM the following day has been the icing on the cake!'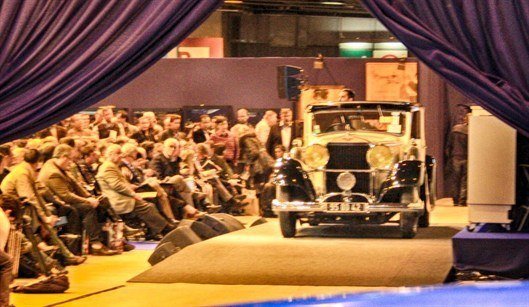 Artcurial Motorcars Retromobile 2014 top ten prices:
1953 Ferrari 166MM by Oblin (lot 321) sold for €2,550,000 (after sale)
1931 Bentley 8-litre Sportsman coupé Gurney Nutting (lot 380) sold for €2,190,400
1924 Isotta-Fraschini Tipo 8A cabriolet by Ramseier (lot 354) sold for €1,287,200
1934 Hispano-Suiza J12 Type 68 by Vanvooren (lot 347) sold for €1,127,000
1956 Mercedes-Benz 300 SL Gullwing (lot 373) sold for €964,000
1965 Alfa Romeo Giulia TZ coupé (lot 515) sold for €955,400
1933 Delage D8 S Cabriolet by Pourtout (lot 352) sold for €949,700
1929 Alfa Romeo 6C 1750 SS (lot 365) sold for €941,200
1969 Lamborghini Miura S (lot 360) sold for €806,700
1969 Maserati Ghibli Spyder 4.9-litre (lot 328) sold for €749,500
Comments
Author

Keith Adams
Latest