Preview: RM Auctions sale, Paris, 4-5 February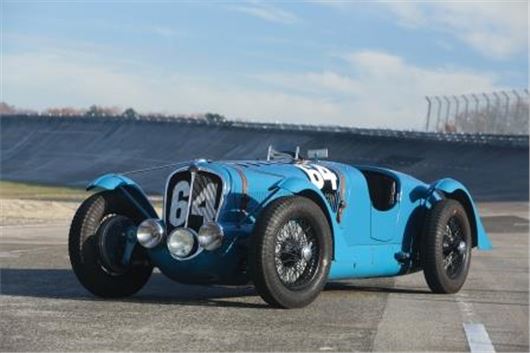 Published 13 January 2014
RM Auctions is readying the lots on its first sale held during the Retromobile event in Paris on 4-5 February. Two two-day sale means that the Canadian auction house is going head-to-head with Bonhams and Artcurial, and also means there will be sales spanning five days of the prestigious classic car show. RM also highlights this top-end bias, as its lots average an estimate of more than €500,000.
One of the star lots of the auction is the 1936 Delahaye 135S (above), which features coachwork in the style of O. Lecanu-Deschamps. It is one of only 16 examples made, and it boasts unbroken ownership from new and a restoration by marque experts in France. It also has an extensive race history, which includes participation at the 1936 24 Hours of Spa, where it won. Estimate is €1,000,000–1,500,000.
Racing cars of this calibre are plentiful in the 50-strong list of cars for sale. It also features a number of cars from the Harburg Competition Car Collection, including the 1973 ex-Works 917/30 Can-Am Spyder, and 1982 ex-Works 956 Group C Sports-Prototype. Oher cars on offer from the collection include a 1964 Porsche 904 Carrera GTS, 1955 Jaguar D-type and a 1955 Ferrari 750 Monza Spider. The Paris sale also features an ex-Works 2008 Peugeot 908 HDi FAP Le Mans Prototype; this is a car which has finished second at Le Mans and which is being offered for sale direct by the Peugeot Factory.
There's plenty of road car action as well, though. Check out the Bugatti, Ferrari, Lamborghini, Mercedes-Benz, Jaguar, and Porsche lots in the catalogue, which can be downloaded from the RM Auctions website. Alfa Romeo fans will also love the sheer number of their cars on sale in the event - these include a 1966 Giulia Super 'Polizia' (€15,000–20,000), 1980 179B Formula 1 car (€90,000–130,000), and a 1939 Alfa Romeo 6C 2500 Cabriolet (€250,000– 320,000).
Other sale highlights on 4-5 February
1990 Ferrari F40 (€450.000–€ 500.000)
1938 Lagonda V-12 Drophead Coupé (€350.000–€400.00)
1971 Ferrari Dino 246 GT (€180.000–€220.000)
2010 Bugatti Veyron 16.4 Grand Sport (€975.000–€1.100.000)
2010 Ferrari 599XX (€800.000–€1.100.000)
1940 Horch 853A Sportcabriolet (€800.000–€1.000.000)
1983 Lancia 037 Group B (€390.000–€460.000)
1957 Lancia Aurelia B24S Convertible (€ 225.000–€275.000)
1937 SS 100 Jaguar 2½-Litre Roadster (€300.000–€360.000)
Comments
Author

Keith Adams
Latest