Michael Schumacher's 1998 Ferrari F300 sells for £1.3m at auction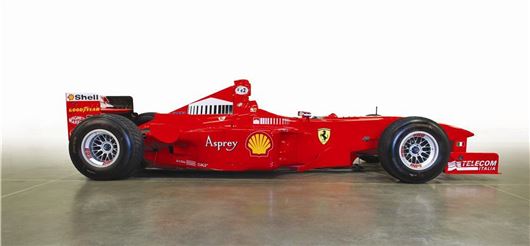 Published 21 January 2014
The Ferrari Formula 1 car that was driven by Michael Schumacher in the build up to the 1998 season has sold for $1.7m (£1.3m) at Barrett-Jackson's Scottdale sale in Arizona. 
The historic F300 powered Schumacher to six race wins and five additional podium places in 1998 as he finished runner up to championship winner Mika Häkkinen in the McLaren Mercedes.
The F300 is widely accredited as playing a crucial role in Ferrari's return to dominance in Formula 1 racing, setting up legendary driver Michael Schumacher to win five world championships.
Designed by Rory Bryne, chassis 183 was driven 38 times by Schumacher and was used as a development car in pre-season testing. It is powered by the V10 Tipo 047, with 805bhp, which is mated to a seven-speed button-shift transmission. Since its time in Formula 1, chassis 183 has been used at a number of Ferrari events and was fully restored by the manufacturer in 2010.
Michael Schumacher is currently in a coma following a skiing accident in the French Alps in December 2013. He is said to be in a stable but critical condition.
If you would like to see the Ferrari F300 in action, click the link below to see Barrett-Jackson's pre-sale test drive.
Comments
Author

Dan Powell
Latest