Report: Barons 17th December 2013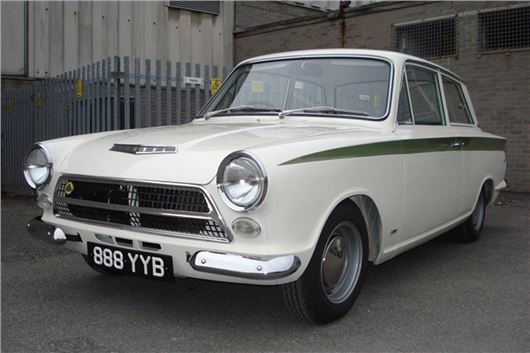 Published 23 December 2013
A first generation pre-Airflow 1964 Lotus Cortina proved to be the star of the day at Barons 17th December auction at Sandown Park, Esher, eventually selling to a New Zealand telephone bidder for £48,172, inclusive.
 
Important post-sale deals included £36,000 inclusive for the 1965 Jaguar E-Type 4.2 roadster restoration project, proving that the early pre-sale estimate had been wildly optimistic. (This had later been brought down to a more sensible level.)
A 1965 Rolls-Royce Cloud III was also moved on post sale for a very respectable £30,000. While a one owner, low mileage TR6 eventually sold for £14,572 inclusive after being bid to £12,000 under the hammer. Much negotiation was required with the car's only owner but a deal was eventually done.
A beautiful TR250 was also sold at £19,612, again after a provisional bid, while a LHD, Alfa 1600GT Junior went for  £12,332 and a 2.0 Spider achieved £8.412.
 
A Bentley TI with LPG conversion in Ming blue was excellent value at £10,294.
 
Other notable prices included  £7,292 achieved for the S2 XJ6L, £6,508 for a 1958 'barn find' Jaguar 3.4SE saloon, £17,932 for a Series Two, 2+2 E-type in need of a lot of cosmetic attention and £4,380 paid for a 1979 Mercedes 350SEL in need of a full repaint. And 'WNR 30S' - the last Mini ever to take part in an international WRC rally - sold for £12,332.

All prices quoted above include premium and VAT.
 
Barons' first event for 2014 is the Classic Winter Warmer on the 24th - 25th February at the Esher Hall,  Sandown Park, where Barons will be commencing its 16th year of residence.
Year   Make   Model    Sold @
1964 Ford Lotus Cortina MKI £48,172
1965 Jaguar E-type S1 4.2 Roadster £36,000
1965 Rolls Royce Silver Cloud III £30,000
1968 Triumph TR250 £19,612
1970 Jaguar E-type S2 2+2 Coupe £17,932
1971 Triumph TR6 £14,572
1978 Leyland Mini - 'WNR 30S' rally car £12,332
1972 Alfa Romeo 1600 GT Junior £12,332
1933 Ford Roadster £12,000
1973 Bentley TI £10,294
1980 Porsche 911 3.0 SC £8,692
1976 Alfa Romeo 2000 Spider Veloce £8,412
1978 Jaguar XJ6L 4.2 S2 £7,292
1958 Jaguar MkI 3.4 SE Saloon £6,508
1988 Bentley Turbo R £5,164
2002 BMW M3 Convertible £5,052
1990 Mercedes 500SL Convertible £4,828
1989 Jaguar XJS V12 Convertible £4,492
1979 Mercedes 350SEL £4,380
1993 Rover Mini Cooper £4,350
1979 Mercedes 450SLC £4,156
1994 Jaguar XJS 6.0 Coupe £4,044
1963 Jaguar MKII 3.8 Saloon £4,044
1962 Morris Mini Minor Deluxe £2,812
1989 Mercedes 420SE £2,140
1992 Volkswagen Corrado VR6 £1,916
2003 MG TF Convertible £1,804
1960 Austin Gypsy £1,392
1993 Mercedes CE Sporting £1,192
Bentley Suitcases £324.50
Comments
Author

Honest John
Latest