Report: Historics classic car auction, Brooklands, 30 November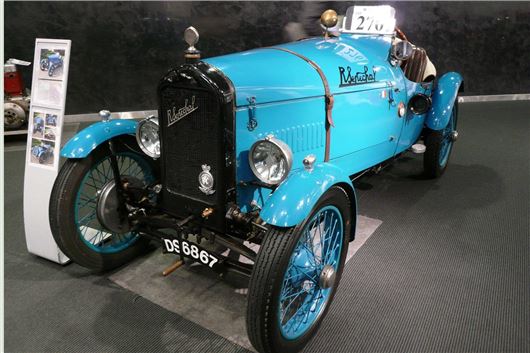 Published 01 December 2013
An exquisite collection of painstakingly restored French Amilcars and Senechals was sold in its entirety at Historics 30th November sale held at Mercedes Benz World, Weybridge.
Each one had undergone disassembly, many years of searching for parts, then reassembly with meticulous, almost obsessional attention to detail by the late Trevor Pask, who died suddenly in 2011, and the cars were offered for sale by his bereaved family.
The 1924 Senechal TS2 was acquired by Mr Pask in 1975 and as a tribute to his fine work sold for £22,500, £7500 above its highest estimate. Another Senechal, this a 1924 Grand Sport, also acquired in 1975, sold for £21,500.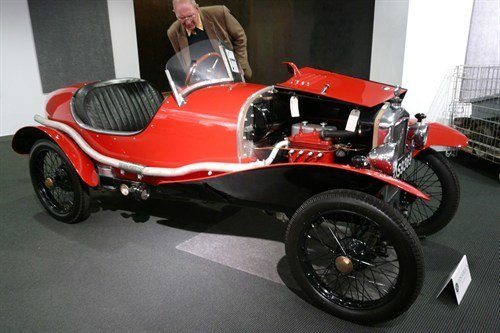 The 1925 Amilcar CS sold for £19,000, but the star of the collection, a 1927 Amilcar CGSS Special Roadster, originally purchased by Mr Pask in 1973 as a basket case, and, after a long search for parts, finally rebuilt in 1984. fetched a resounding £46,000 - £11,000 over its top estimate.
The undoubted star of the auction was a stunning supercharged 1930 Alfa Romeo 1750 6C Gran Sport, estimated at £280,000 to £320,000 that apparently saw a top bid of £310,000. A lovely 1941 BMW 327/28 Cabriolet sold for £110,000.
A recreation of the 1989 Michael Keaton 'Batmobile' sold for £65,000, helped on its way by the presence of a recreation of Batman himself.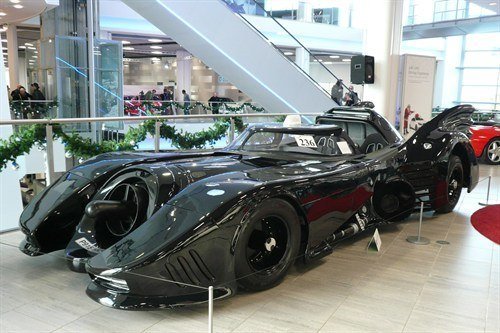 The 1911 Vulcan 15.9hp two-seater, unearthed from a house hallway where it had been kept as an ornament for 28 years made £41,000, comfortably over-estimate. According to one of the dealers, 'there's  money in Brass.' Basically, pre-WW1 cars are becoming increasingly collectable by investors.
The extraordinary 1935 Mercedes-Benz 290 'Lang' Pullman limousine ran out of bids at a disappointing £57,000. Disappointing because to restore that much car to that standard would cost upwards of £200,000. The Mini Alfasud special didn't make it at all, bidding to only £1900.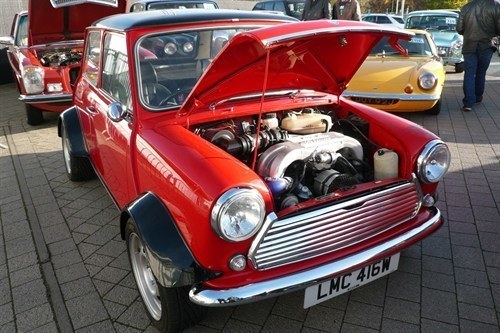 A characteristic of the sale was the number of Porsche 911s turned into 1973 RS lookalikes, an even greater number of Mercedes-Benz SLs, and one less than eight Jaguar E-types (one was withdrawn). I've listed them additionally in date-order to help anyone looking for such a car work out what to pay.
With the Porsches, originality is where the money is, so a 130PS 911T made to look like a 1973RS will never be worth more than a third of the value of a good, genuine early 190bhp 911S. Apparently Mercedes-Benz R107 SLs from 1984 and before are the ones that rust, but 1985s onwards were electro-galvanized.
And as for E-types there's nothing like pedigree, which is why a 1962 'flat floor' 3.8 coupe once run by 'Lofty' England, but far from perfect, sold for £68,000, while a beautifully restored 1964 S1 didn't sell. That Series III 4.2 coupe, by the way, isn't a typo. It was one of four development cars for the 5.3 V12 Series III and the only one with RHD, which makes it unique, but not especially desirable.
Full Historics results, 30 November
All hammer prices plus 10% commission, plus VAT = +12%.
s = sold, p = provisional, (n/s) = not sold at hammer price
1994 Austin Mini, 61,030 miles, no reserve  £2200 (s)
1970 Triumph Spitfire MkIII, hard-top, 32,350 miles £5200 (s)
1971 Volkswagen Beetle 1300, 28,657 miles £6200 (p)
1975 Triumph TR6, 60,828 miles £7800 (s)
1970 Lotus Europa S2 £8000 not sold
1971 MGB GT supercharged towcar £5100 (p)
2001 built 'Locost' roadster, Triumph 2000 engine £3400 (s)
1975 Mercedes-Benz W114 200 manual, 83,248 miles £1700 (s)
1979 MG Midget Mk IV, 51,834 miles £3500 (p)
1958 Autobianchi Bianchina cabrio £9000 not sold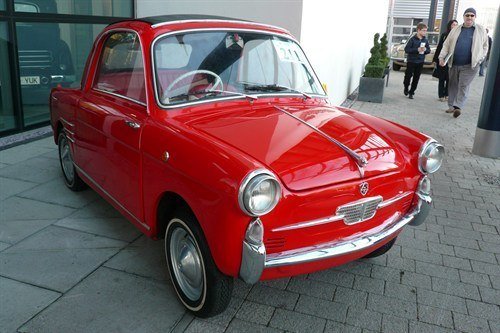 1993 Mercedes-Benz R129 SL280 £12,500 (p)
2001 Range Rover 5.0 Chevrolet Overfinch £3000 (s)
1971 Ford Escort Mk1 Mexico race car £8250 not sold
1989 Daimler DS420 Limousine, 94,150 miles £5700 not sold
1975 Jaguar XJ-C 5.3 cabrio conversion, 48,200 miles £14,500 (s)
1978 Triumph Stag manual, hard top, 66,264 miles £11,500 (s)
1984 Jaguar XJSC 3.6, 66,000 miles £4900 not sold
1973 Rolls Royce Silver Shadow 1, 49,787 warranted £7300 (p)
1968 MGC GT automatic, 99,732 miles £8000 (s)
1965 Daimler 250 V8 auto, PAS, 87,721 miles £13,000 (s)
1988 Mercedes-Benz R107 300SL, 89,311 miles £12,250 (s)
1968 MGC roadster manual £9500 (s)
2000 Mercedes-Benz R129 SL500 RHD, 75,000 miles £3800 (s)
1974 Mercedes-Benz W214 230-4 auto, 75,956 miles £1900 (p)
1975 Alfa Romeo 1600GT Junior (2000), £12,000 (s)
1990 Bentley Mulsanne S Paul Karslake Empire Car £12,500 (s)
1978 MGB GT with chrome bumpers, £5500 not sold
1963 Alfa Romeo 2600 Sprint, 52,500 miles £19,750 not sold
1995 Audi RS2 Avant, 108,000 miles £11,250 (s)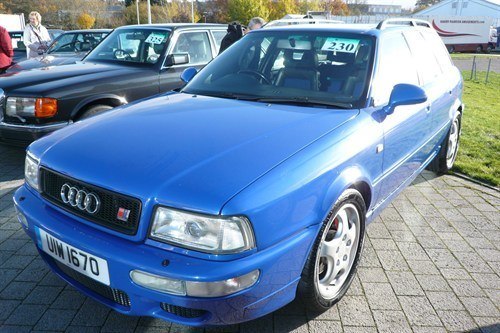 1987 BMW 635CSi, 156,000 miles £1800 (s)
2010 Mercedes-Benz 350SL Night Edition 12k miles £26,500 (s)
2003 Bentley Arnage T, 33,000 miles £26,000 (s)
2004 Mercedes-Benz AMG Sprinter Withdrawn
1968 Jaguar D-type RAM replica £35,000 (p)
1989 Michael Keaton Batmobile recreation £65,000
1955 Messerschmitt KR200 cabrio, 66k miles £15,000 (s)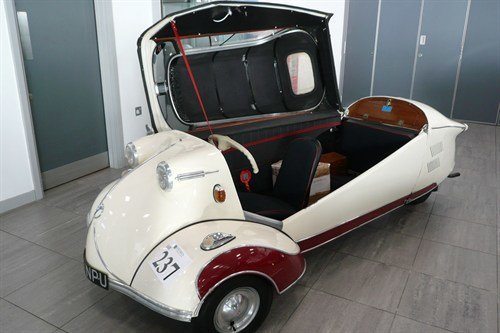 1953 MG TF 1250, 47,935 miles £19,800 ( (n/s))
1969 Jaguar E-type Series II roadster, 38,600 miles £38,000 (p)
1972 MGB GT V8 Sebring racer recreation £9500 (s)
1935 Austin 'Low Loader' taxi £25,000 (s)
1958 Alfa Romeo Giulietta 1300 Spider, 30k miles £30,000 (s)
1954 Mercedes-Benz 300b Adenauer, RHD £25,750 (s)
1965 Jaguar E-type S1 4.2 LHD roadster £34,000 (s)
1961 Jaguar 3.4 Mk2 manual £12,250 (s)
1954 Rolls-Royce Silver Dawn (missed price)
1960 Jensen 541R, 64,160 miles £35,000 (s)
1972 Jaguar E-type Series III 4.2 coupe, 50,34 miles £34,000 (s)
1963 Chrysler Imperial Custom, 52,000 miles £11,500 (s)
1972 Ford Mustang convertible auto £9200 (p)
1922 American LaFrance Open Speedster £20,000 not sold
1970 Pontiac Firebird 350 coupe auto £24,000 (s)
1966 Ford Mustang V8 auto fastback £23,000 (p)
1996 Ford Mustang SVT Cobra, 93,451 miles £4800 not sold
2001 AC Cobra 427 replica by DAX (Rover V8) £18,500 (s)
1968 Dodge Charger 440 R/T, 51,000 miles £17,750 (s)
1985 Aston Martin Lagonda, 36,000 miles £9000 (s)
2009 AC Ace by Hawk Triumph 2.5 six, £23,500 (s)
1952 Alvis TA21 Tickford DHC, 36,565 miles £15,000 not sold
1935 Rolls-Royce 20/325 Tickford cabriolet £39,000 (p)
1911 Vulcan 15.9hp 2-seater, 9165 miles £41,000 (s)
1937 Talbot 105 Speed Sport saloon, £31,500 (s)
1962 Jaguar E-type Series 1 FHC Lofty England £68,000 (s)
1953 Nash Healey 4.1 six roadster £49,000 (p)
1960 Mercedes-Benz 190SL £49,000 (p)
1989 Arrows A11 F1 race car £79,000 (p)
1956 Rolls-Royce Silver Wraith limo, 24k miles £37,000 (p)
1973 Porsche 911T to 'R' Spec £22,000 not sold
1993 Mercedes-Benz 190E auto, s/r, 77k miles £2000 (s)
1985 Ferrari 308GTS V12, 44,000 miles £26,000 (p)
1989 Porsche 911 Speedster, 28,250 miles £65,000 (s)
1972 Porsche 911S, 125,000 miles £66,500 (s)
1999 Mercedes-Benz R129 SL500, 75k miles £7100 (s)
1980 Mercedes Benz R129 500SL, 60k miles £9500 (s)
1938 Lancia/MG monoposto special £12,500 (s)
1924 Senechal TS2 (Trevor Pask) £22,500 (s)
1924 Senechal Grand Sport (Trevor Pask) £21,500 (s)
1929 Amilcar M2 4-seat tourer (Trevor Pask) £13,700 (s)
1925 Amilcar CS (Trevor Pask) £19,000 (s)
1927 Amilcar CGSS Special (Trevor Pask) £46,000 (s)
1934 Riley Nine Kestrel saloon £14,000 not sold
1941 BMW 327/328 Cabriolet £110,000 (s)
1930 Alfa Romeo 1750 6C Gran Sport £310,000 (p)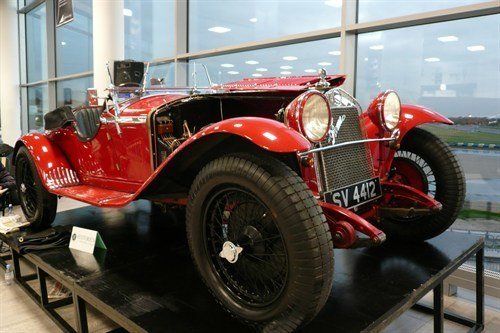 1973 Jaguar E-type Series III V12 roadster auto £43,500 (p)
1989 Porsche 911 Carrera/1973 RS spec £28,500 (p)
1966 Aston Martin DB6 auto, PAS, £152,000 (p)
1935 Mercedes-Benz 290 Lang Pullman limo £57,000 ( (n/s))
2000 Aston Martin DB7 V12 Vantage Volante £23,000 ( (n/s))
1970 Porsche 911T to 1973RS spec £29,000 not sold
1962 Mercedes-Benz 220SE cabrio, 33,555 miles £56,000 ( (n/s))
1964 Jaguar E-type 3.8 S1 FHC, £70,000 not sold
1950 Rolls-Royce Silver Wraith, 38k miles £41,000 ( (n/s))
1953 Lancia Aurelia B10S £20,500 not sold
1930 Rolls Royce 20/25 with 2-seat body £17,500 ( (n/s))
1986 Porsche 911 3.2 Carrera to 1973 RS spec £19,500 (s)
1969 Jaguar E-type Series II 2+2 manual (Withdrawn)
1970 Alfa Romeo 1750 Duetto Spider £13,800 (s)
1998 Ferrari 355 F1 Spider, 38,453 miles £35,000 (p)
1968 Jaguar E-type Series II FHC LHD for resto £14,500 (s)
2001 Porsche 911 996 GT3R £26,000 not sold
1953 Bentley R-Type Standard Steel (missed price)
1952 Bentley Mk Vi Standard Steel £13,500 not sold
1985 Porsche 911 Carrera to 1973 RS spec (missed price)
1964 Mercedes-Benz 230SL manual £30,000 not sold
1970 Mercedes-Benz 280SE 3.5 cab conversion £42,000 (n/s)
1973 Jensen Interceptor SIII £10,000 (s)
1988 Mercedes-Benz R107 300SL, 146k miles £6000 (p)
1987 Mercedes-Benz R107 500SL, 85k miles £11,000 (s)
1972 MGB Roadster, 98,925 miles £7000 (p)
1967 Mercedes-Benz 250SE, 41,700 miles £7700 (p)
1983 BMW 628CSi, 84,000 miles £2700 (s)
1989 Range Rover 500i Overfinch £4000 (p)
1960 FIAT 1100 saloon £4900 (p)
1986 Mercedes-Benz R107 420SL, 119,705 miles £11,600 (s)
1992 Reynolds Boughton RB44 AWD, 4k miles £5600 (p)+VAT
1982 Mercedes-Benz R107 380SL, 176k miles £4200 (p)
1989 Bentley Eight, 112,556 miles £4800 (p)
1967 Morris Minor 1000 convertible conversion £6000 (p)
1987 Austin Mini Mayfair, 11,050 miles £2800 (p)
1993 Mercedes-Benz 500E £20,000 (s)
1987 Ford Capri 2.8i, 64,353 miles £6000 (s)
1981 Mini Alfasud Volvo special £1900 (p)
1984 Mercedes-Benz R107 380SL, 119k miles £2600 (s)
1981 Panther Lima, 45,614 miles £4200 (s)
1989 Mercedes-Benz 500SEL, 179k miles £1650 (s)
1990 BMW 320i convertible, 26,143 miles £6000 (s)
1984 Mercedes-Benz R107 280SL, 190k miles £2600 (s)
1988 Mercedes-Benz 300CE, 137,360 miles £1600 (s)
Porsche 911s in Date Order
1972 Porsche 911S, 125,000 miles £66,500 (s)
1973 Porsche 911T to 'R' Spec £22,000 not sold
1985 Porsche 911 Carrera to 1973 RS spec (missed price)
1986 Porsche 911 3.2 Carrera to 1973 RS spec £19,500 (s)
1989 Porsche 911 Carrera/1973 RS spec £28,500 (p)
1989 Porsche 911 Speedster, 28,250 miles £65,000 (s)
2001 Porsche 911 996 GT3R £26,000 not sold
Mercedes-Benz SLs in Date Order
1960 Mercedes-Benz 190SL £49,000 (p)
1964 Mercedes-Benz 230SL manual £30,000 not sold
1980 Mercedes Benz R129 500SL, 60k miles £9500 (s)
1982 Mercedes-Benz R107 380SL, 176k miles £4,200 (p)
1984 Mercedes-Benz R107 280SL, 190k miles £2600 (s)
1984 Mercedes-Benz R107 380SL, 119k miles £2600 (s)
1986 Mercedes-Benz R107 420SL, 119,705 miles £11,600 (s)
1987 Mercedes-Benz R107 500SL, 85k miles £11,000 (s)
1988 Mercedes-Benz R107 300SL, 146k miles £6000 (p)
1988 Mercedes-Benz R107 300SL, 89,311 miles £12,250 (s)
1989 Mercedes Benz 500SEL, 179k miles £1650 (s)
1993 Mercedes-Benz R129 SL280 £12,500 (p)
1999 Mercedes-Benz R129 SL500, 75k miles £7100 (s)
2000 Mercedes-Benz R129 SL500 RHD, 75,000 miles £3800 (s)
 Jaguar E-types in Date Order
1962 Jaguar E-type 3.8 Series 1 FHC Lofty England £68,000 (s)
1964 Jaguar E-type 3.8 Series 1 FHC, £70,000 not sold
1965 Jaguar E-type Series 1 4.2 LHD roadster £34,000 (s)
1968 Jaguar E-type Series II FHC LHD for resto £14,500 (s)
1969 Jaguar E-type Series II roadster, 38,600 miles £38,000 (p)
1972 Jaguar E-type Series III 4.2 coupe, 50,34 miles £34,000 (s)
1973 Jaguar E-type Series III V12 roadster auto £43,500 (p)
After auction sale details and details of the next Historics Classic and Collectors Car Auction at Historics
Comments
Author

Honest John
Latest