Preview: Bonhams classic car auction, London, 1 December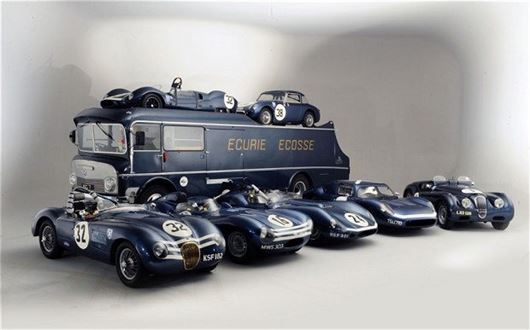 Published 28 November 2013
Bonhams has lined-up a formidable lot list for its sale this weekend (1 December) at the company's headquarters in London. It's headed by what can only be described as a remarkable and comprehensive collection of competition cars from Ecurie Ecosse.
Among highlights of the Dick Skipworth Ecurie Ecosse Collection are two sports-racing Jaguars – a 1953 C-type and a 1956 D-type. The Collection also features the iconic Scottish team's famous double-deck Commer car transporter. The restored transporter – famous to generations as subject of a much-coveted Corgi toy - is capable of carrying three cars (one inside and two on top) together with support crew, and even features an onboard workshop.
A well-known and respected figure in the Collectors' Motor Car fraternity, Dick Skipworth has – for many years – been a regular competitor in historic races and rallies. He has been virtually lifelong an ardent fan of Ecurie Ecosse.
The Dick Skipworth Ecurie Ecosse Collection comprises:
1952 Jaguar XK120 Roadster: Typifying the foundation of Ecurie Ecosse as a Scottish cooperative racing team, this XK120 was campaigned in period by Sir James Scott-Douglas.
1953 Jaguar C-type: Raced in period for Ecurie Ecosse by the team's future Le Mans winner Ninian Sanderson, and also by Jock Lawrence, Jimmy Stewart (late brother of Sir Jackie) and Frank Curtis.
1956 Jaguar D-type: A short-nose 'D' without the fin – the most beautiful of all variants - and a debut-race winner for the Scottish team driven by Ron Flockhart.
1959 Tojeiro-Jaguar: This unique Tojeiro-Jaguar is one of the most distinctive of all modern-era Historic sports-racing cars having been campaigned most prominently by Barrie Williams.
1960 Cooper T49 Monaco: Campaigned in period, including Le Mans, by Bruce Halford, Tommy Dickson and – most notably during his meteoric rise to World Champion invincibility – Sir Jackie Stewart.
1961 Austin-Healey 'Sebring' Sprite: The delightful and distinctive little Coupe, recalling the Scottish team's 1961 Le Mans foray with drivers Ninian Sanderson and Bill Mackay.
1962 Tojeiro-Buick Coupe: Designer John Tojeiro's ultimate Le Mans 24-Hour race contender, the subsequently V8-powered rear-engined Coupes proved to be forerunners of the 1963 Lola-Ford Mark VI GT and the Ford GT family.
The 1959 Commer Ecurie Ecosse Transporter: Designed by aeronautical engineer Selby Howgate and immortalized by Corgi's classic 1:48-scale model – in fully restored running order with its unique bodywork by Alexander's of Falkirk and Commer TS3 flat-six diesel engine.
Scotland's flagship team that won two consecutive Le Mans 24-Hour races in the 1950s is undoubtedly the star of the first sales to be held at Bonhams' newly redesigned and refurbished London headquarters. Ecurie Scottish businessman and amateur racing driver David Murray founded Ecurie Ecosse in November 1951. From a humble garage in a cobbled Edinburgh mews, operating invariably upon a shoestring budget, this proudly Scots blue-liveried team would take on – and beat – some of the biggest names in world-class motor racing, and would win consecutive Le Mans 24-Hour races for Jaguar in 1956 and 1957.
In just 10 seasons, Ecurie Ecosse scored some 68 victories, including its twin two Le Mans laurels, both achieved with its D-type Jaguar cars co-driven by Ron Flockhart, Ninian Sanderson and Ivor Bueb. The team was disbanded in 1972, but reformed in 1982 under new direction, with its drivers still competing in the British GT Championship and the European Le Mans Series.
The lot list at the Bonhams is packed with a number of top-drawer cars, many of which would be the outright stars of any other sale.  The million pound plus entries include a 1959 Aston Martin DB4GT, a 1964 Porsche 904 GTS, and a 1912 Rolls-Royce Silver Ghost. But there's so much more.
See the entire lot list at Bonhams' website.
Comments
Author

Keith Adams
Latest