Bonhams shatters auction records at Goodwood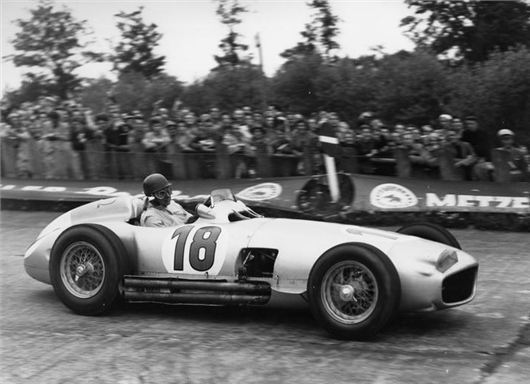 Published 12 July 2013
The Bonhams classic car auction at the Goodwood Festival of Speed has re-written the history books - it was topped by the Mercedes-Benz W196 that took five-time champion Juan Manuel Fangio to the second of his F1 world championships. It sold for a whopping £19,601,500 (US$29,650,095, €22,701,864). The sale as a whole made £36,072,464 to become the highest-grossing auction of motor cars in Europe.
 
The ex-Fangio car becomes the most valuable motor vehicle ever sold at auction, beating the previous record of £10,086,400 set by a Ferrari in 2011. Bonhams also set a new world record highest price for a Maserati at auction, when a 1955 300S Sports-Racing Spider sold for £4,033,500. The previous record was £2,251,520 set in 2012.
The result means Bonhams now holds the world records for the following marques at auction: Aston Martin (£3,200,000), Austin-Healey (£843,000), Bentley (£5,000,000), Maserati (£4,033,500), Mercedes-Benz (£19,601,500) and Rolls-Royce (£4,700,000). The sale took place before a packed audience of more than 1,000 people in the marquee, with bidders from 32 countries around the world taking part.
Robert Brooks, Bonhams Chairman, said: 'It was a personal privilege to preside over the sale of the Mercedes-Benz W196, which is not only one of the most significant motor cars of the 20th century, but also the most important historic Grand Prix racing car ever offered for sale.'
Doug Nye, racing historian, said: 'If he were here today Fangio would shake his head and smile his slow smile. He was a humble man, originally a mechanic from a potato town in Argentina – and he never forgot his roots. As a driver, he was simply a genius. As a man he had no enemies. He was universally loved, even by those he regularly beat on track. No standard-setting sportsman could have a better epitaph.'
Stay tuned for full analysis of the sale.
Comments
Author

Keith Adams
Latest