Preview: Barons classic car auction, Sandown Park, 9 June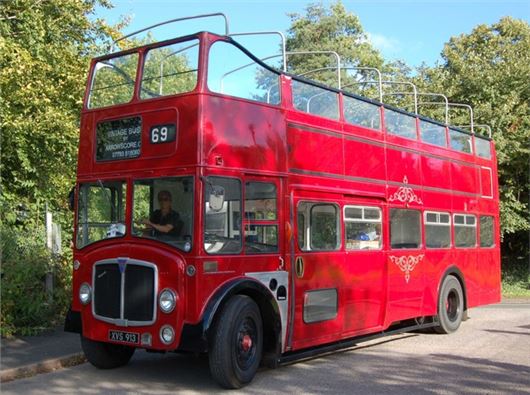 Published 09 May 2013
Barons Auctions might be needing to make its 9 June sale at Sandown Park a ticket-only affair, given the size of its largest entry at the auction. A 1958 open-topped AEC Regent V – one of just three surviving examples - will be topping the lots, and is estimated at £12,000-17,000.
The charming period piece worked as a seaside bus on the Cinque Ports route in East Kent over half a century ago, then fell into disrepair before being restored in 2008. This charming bus will be perfect for large families with a penchant for old-fashioned days out. Especially as it has a refurbished interior. Owners with small garages need not apply.
Other cars in the sale include a one-off prototype Piper GTR Le Mans. This hand-built replica is based on body moulds taken from an original 1969 Piper that was built to compete at the 24 Hour endurance race. The replica's vendor and designer, Tony Claydon, owned and competed in one of the original cars in the 1980s, so took the moulds in case of accident damage.
The car is offered complete with a full set of moulds to enable a new owner to take the car into limited production or just to ensure the supply of panels in the case of over-exuberance at a track day. Estimate is £25,000-£35,000. Other entries include a 1966 Jaguar E-type S1 roadster (£55,000-£60,000, and a Barons speciality), a rare 1939 Freestone & Webb E4 Straight 8 Daimler Sports Saloon (£33,000-£38,000), and a 1968 Jaguar 420 Saloon (the underrated Mk2 variant), which was the subject of a nut-and-bolt restoration two years ago (£17,000-£19,000).
Finally, the sale also includes an affordable future classic; a 1992 Maserati Spyder E 2.8 Biturbo. This rare right-hand drive model has been very well maintained and is offered complete with a huge history file. And, with an estimate of £3500-£4500, looks like a great punt for those who have a spirit for adventure. Remember - good ones can be worth more than three times this much.
For further information, Barons' website.
Comments
Author

Keith Adams
Latest