Get that old car smell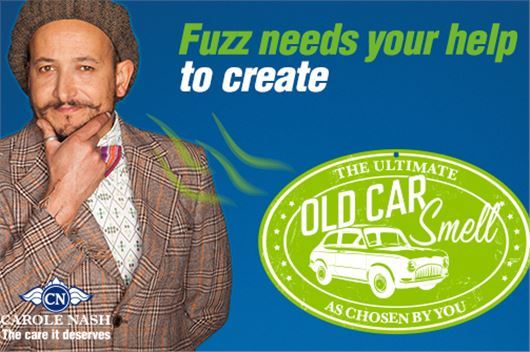 Published 18 July 2016
The nation's most memorable motoring scents have been captured in a new handy air freshener for drivers.
Named 'Old Car Smell', the scent is based on the results of a nationwide social media campaign launched by Channel 4 Car SOS presenter Fuzz Townshend in partnership with the classic vehicle division of insurance brokers Carole Nash.
Made up of the ten most unforgettable odours from life behind the wheel, the fragrance is designed to give a real 'lived-in feel' for classic car lovers who use modern cars for their day-to-day motoring.
The scent of old leather was found to be the most enduring aroma and was mentioned by nearly half (49%) of participants, who reminisced about 'burnt legs on hot seats' caused by 'weekend runs to the coast in the summer'.
Based on the hundreds of suggestions collated via social media, the nation's top ten most unforgettable motoring scents are:
Old leather
Engine Oil/Castrol
Petrol
Warm Vinyl/Plastic
Pipe Smoke/Cigarette Ash
Musty Carpet
Burnt Dust
1980s Vanilla/Orange Air freshener
Damp
Wood
While the smells of engine oil and petrol proved to be popular, the sickly scents of 1980s air fresheners have a lasting place in the nation's hearts.
The air freshener proved to be particularly evocative for one respondent who said, 'A Feu Orange traffic light air freshener - the sort where you prick the back of the clear bubble with a pin. That mixed with some 4 star petrol and a hint of WD 40. It was my old Mk2 Escort to a tee!'
Channel 4's Car SOS host Fuzz Townshend says, 'My top old car smells were leather and pipe smoke, so I'm not surprised they both made it into the top five. The smell itself really takes me back to my uncles Rover P4; if I close my eyes it feels like the 80's again. This smell will take any car enthusiast back to the good old days, even if you're driving a 61 plate Ford Focus.'
Dawn Holmes, Marketing Manager from the Classic vehicle division of Carole Nash, said. 'We've been overwhelmed by the response and interest in helping us to create the ultimate 'Old Car Smell' and are delighted with the final fragrance. One sniff of this really does transport you to motoring from decades past and we sincerely hope that it sparks the imagination of classic car enthusiasts everywhere.'
To get a whiff of 'Old Car Smell' for yourself, register your interest on the Carole Nash website
Comments
Author

Keith Moody
Latest