How to: Import a classic car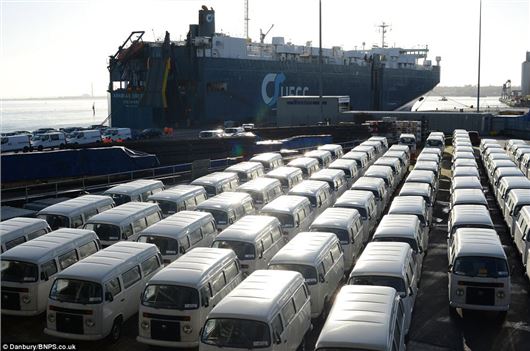 Published 08 April 2014
Importing a classic car is something many of us have thought about in recent years. With the internet opening up all manner of new buying opportunities, and currency fluctuations sometimes making some ventures profitable as well as desirable, it's becoming a whole lot more popiular to ship in. After all, there's a rich seam of classics to be tapped into, so wouldn't it be nice to bring one or more home?
Most people tend to look at Europe to import classic cars from. And warm, dry areas such as Greece and the Mediterranean islands are a plentiful source of cheap, rot-free classics, especially considering their depressed economies and low asking prices. Classics are being wiped out from Italy and Spain, though, and many will have already crossed over into neighbouring countries where the prevailing financial conditions are better. But there are still plenty around if you know where to look - but do avoid sellers with ambitious prices. It's a tough market. 
Other good places to look are Southern Hemisphere right hand drive markets. The ex-colonies such as New Zealand, Australia and South Africa are always worth a punt. Strong historical links with the UK means these places are a rich source of classic British metal, and in many cases, you can pick up locally produced versions of some well-known cars - often with improved specifications and build quality. On the whole, climates down there are better than the UK.
First thing's first, you'll need to ascertain how much import your proposed classic it is going to be liable for. Your first port of call for more information is Customs and Excise, and there are a couple of major import permutations to choose from (EU and non-EU countries), so make sure you're up to speed with what you're liable for before you start totting up your costs.
Bringing your classic home
The most appealing way is to drive it back to Calais, hop on a ferry and declare it when you arrive at Dover – and with regular crossings by P&O, you can get over flexibly and cheaply as long as you book in plenty of time. Insurance cover, local tax and a roadworthiness are essential for this, but your main insurer should be able to offer you temporary cover on a foreign registered car until you get it squared in the UK. Certainly classic insurers, such as Carole Nash or Hagerty can. And let's face it, buying a classic and driving it home can be a real adventure.

If you're bringing it in from further afield or simply don't have the time for a classic driving holiday, you could choose a shipping agent to undertake the process for you. They will arrange shipping, and storage at the docks – and in some cases liaise directly with the authorities.
A popular and reasonably inexpensive way to get it home is roll-on roll-off shipping – basically your classic will sit on the deck or in the hold of a cargo ship, and gently steam across the world. Obviously, your car needs four wheels and an engine for this option – and costs will be kept down if the car runs. Also be aware that the car could get damaged in transit, or bits of it go missing…
A more secure method – and the recommended way if the car is valuable – is container shipping. You rent a container (the kind you see on the back of heavy goods trucks across the world) through a shipping company and get them to put your car inside. If you're bringing back parts or anything else, you can place them in the box, too… It's more expensive than Ro-Ro, but ultimately a preferable method, you can afford it.
Paying for it when it's back home
If you're importing a car from outside the European Union (EU), you will need to pay a duty of 10 per cent on the car's value, plus shipping costs. If the car you're looking to buy cost you £5000 and shipping a further £1000 on top of that, then you'll be liable for 10 per cent duty on £6000. On top that, you will pay 17.5 per cent VAT and a customs handling fee of £50, so the total costs for your import will be £6600 +VAT, plus the customs fee – £7805. Remember that many other countries have higher rates of VAT than the UK, so try and defer that payment until you get back home.
If you're looking at a car from within in the EU, the 10 per cent duty will be waived but it will be up to you to prove the car's authenticity with a manufacturer's CoC certificate, a heritage certificate or proof from a ratified owners' or enthusiasts' club. There will be 17.5 per cent VAT and the £50 customs fee on top of the car's purchase price, plus shipping.
Once the car is in the UK, you'll need to get it through Customs and Excise – and although this is one of the more simple aspects of importation, make sure you get it right. You'll need the foreign registration document and any other papers you have for the vehicle. If they're happy with the documentation, you'll be presented with your bill for the import duty. Most shipping agents will complete this process for you as part of their service, but do check first.
If it is possible to convince Customs and Excise that the car is of significant historical interest, it's more than 50 years old, or is one of a kind (attaining what's known as 9705 status), then that Classic and Historic VAT rate of five per cent will kick in, and the whole operation will become financially more appealing.
One often forgotten factor to consider when totting up the potential costs is storage at the docks once your car arrives in the UK. Your shipping company might not tell you this up front, they can charge you handsomely for looking after your car at the port – so don't get stung. Make sure you get a clear answer on this before you agree to go with a particular shipping agent.
Making it legal for the road
Now you've paid your duties and got it through Customs and Excise, it's down to you to make sure your new classic is legal to use on British roads. A vehicle imported into the UK must be registered and licensed as soon as possible after it arrives here. The vehicle should not be used or kept on public roads until the licensing and registration formalities have been completed – so make sure it's transported by trailer, and garaged. Don't be tempted to drive around on overseas registration plates – the penalties for doing so are not light.
The vehicle may well need to have a Single Vehicle Application (SVA) certificate (usually when the car was never originally sold in the UK and it's under 10-years old), or have an MoT in order to be registered, but the Driver and Vehicle Licensing Agency (DVLA) will be able to help you out with that in order to remain legal. For the vast majority of classics, there will be no need for type approval or SVA, and all you will require in terms of vehicle testing is a current MoT certificate in order to get registered. You will also need the foreign registration document and any other papers you have for the vehicle, customs clearance form, a valid certificate of insurance issued by a member of the UK Motor Insurance Bureau, and the payment for the tax disc…
If you have all these, get all your paperwork is completed, and the application accepted, two to three days later, you'll receive your new tax disc and a UK registration document shortly afterwards. 
Getting it insured
Most classic car insurers treat imported cars in exactly the same way as those originally sold in the UK. There can be a premium for left hand drive vehicles, or those, which weren't sold over here – but on the whole the situation is a lot less complex than it used to be.
Peter McIlvenny Director of Cherished Cars for Carole Nash said: 'We do not treat imports differently to UK cars, the only concern we would have is perhaps relevant experience of driving a left-hand drive cars on UK roads, but this only really applies to high performance models.'
The only major consideration is insurance while the car is in transit. If you're driving it from the EU, some insurers will cover you. If the car is being shipped over, make sure the shipping company offers enough insurance to cover your vehicle in the event of a possible total loss. It isn't always a straightforward process, though.
Conclusions
Buying in the EU is a lot more simple than it used to be, and besides getting it MoT'd, covering your VAT payments, and getting it registered, there's little to worry about these days. If you're lucky, you might even get a nice driving holiday out of the experience.
Buying from further afield is a bit more complex, and a lot more costly, but there has never been a better time to buy a car from the other side of the world. It'll never be as easy as popping down to your local classic car dealer, and you do need to do your homework, and choose your shipping agent, seller, and car very carefully indeed.
If you can, get a trusted third party to check out any car you're considering buying. Follow these basic rules, and do your sums beforehand to avoid unpleasant surprises later, and importing your classic can work out very well for you.
Comments
Author

Keith Adams
Latest
Compare classic car insurance quotes and buy online. A friendly service offering access to a range of policies and benefits.

Get a quote