Everything we know about the MoT exempton for classic cars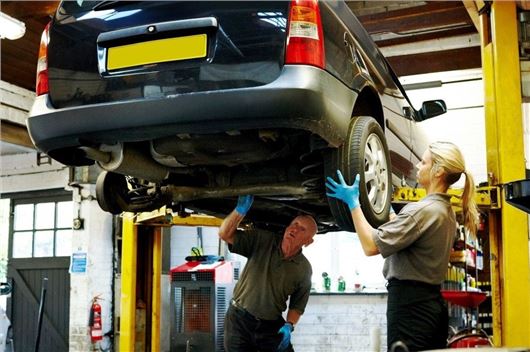 Published 06 February 2018
The announcement that vehicles over forty years of age will be MoT exempt from May 2018 caused plenty of controversy last year, with many enthusiasts questioning the wisdom of removing the legal requirement for a roadworthiness test. What has perhaps been less well-publicised, however, is that changes to the MoT test itself are being introduced at the same – and will affect all those vehicles that still require an MoT each year.  
Under the current MoT system, every part of a car that's tested will pass, fail or carry an advisory notice, the latter intended to inform the car's owner that an item may need attention before the next MoT is due. Advisories are entered manually on to the MoT system, while failure items are selected from a drop-down menu to ensure uniformity throughout.
From 21 May, however, MoT print-outs will show three different classifications: Dangerous Fault, Major Fault and Minor Fault. The most serious of these will result in immediate failure, and might include such issues as major leaks (including brake fluid) or anything else that makes the car dangerous to use on the road.
The Major Fault category will also result in failure, and will cover the majority of regular failure items – a list that includes lights that aren't working, worn tyres, damaged wiper blades and so on.
When it comes to Minor Faults, however, these should not result in MoT failure, as they're effectively replacing the advisories that owners currently see on their test print-outs. They'll include parts of the car that have started to wear but which aren't deemed severe enough to result in a test failure, and will therefore be a useful guide as to areas that may need attention in the coming months. Unlike current advisories, however, Minor Faults will be selected from a drop-down menu rather than being entered manually
Perhaps confusingly, however, advisories are also being retained under the new system – but won't be appearing on the consumer's copy of the MoT certificate. From May onwards, advisories will cover items such as lack of access (perhaps caused by an undertray beneath the engine or a plastic sill covering) and will be intended for the benefit of the tester – and future testers. Advisories won't have automatic safety implications, but will be recorded on the MoT database. Customers, however, won't be able to see the advisories (which will still be entered on the system manually), as they won't necessarily imply a fault with the car.
Exemption
Introduced at the same time as these changes to the MoT itself is the fact that all vehicles over forty years old will be exempt from the annual test. From May 21, 2018, any classic car that has had its taxation class changed to Historic will no longer have to undertake an MoT test each year – but, of course, this doesn't mean that owners can ignore the issue of roadworthiness.
If, for example, a vehicle that's currently over forty years old recently failed an MoT, the owner would still be responsible for ensuring it was roadworthy once the test is no longer required. Driving a car with faults that were previously MoT failure issues will mean the car is deemed to be unroadworthy, even though a test is no longer needed. And if you wish to transfer a registration number from a Historic-class vehicle, the current situation will still apply: the donor vehicle will need to be MoT'd and taxed, even though it is technically MoT exempt.
As with the current system of MoT-exempt pre-1960 vehicles, the switch to a forty-year rule for exemption will be based on the date of manufacture rather than date of first registration. Irrespective of what your registration number suggests in terms of the age of your vehicle, it's that date of manufacture that counts – so if in doubt, carry out some research as to when your car was built, checking its chassis number with manufacturer and club records where possible. 
Comments
Author

Keith Moody
Latest
Compare classic car insurance quotes and buy online. A friendly service offering access to a range of policies and benefits.

Get a quote