Curios: Jeep Station Wagon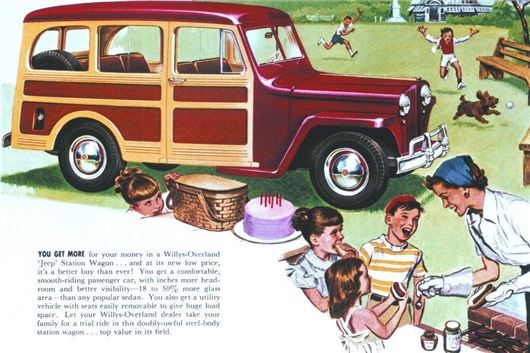 Published 27 July 2015
Everyone knew the Willys Jeep as the all-American hero of World War II, but what would happen to this military icon once conflict was at an end? The answer lay in the CJ (for Civilian Jeep) range, the most curious of which was the Willys-Overland Jeep Station Wagon.
Launched in 1949, the original version was something of a trendsetter, its tough looks and four-wheel drive making it arguably the forerunner of the modern-day SUV (well, perhaps). The design of the Station Wagon took an odd turn in the late 1950s, however, when a somewhat incongruous looking woody-style rear end was adopted.
It's understandable that the civilian Jeep would want to follow the popular styling trends of its more mainstream station wagon rivals, despite it being substantially shorter and inevitably higher than most other American wagons. But frankly, the new-look Jeep Station Wagon looked like it had just arrived from Toy Town.
Still, at least it was a tough and dependable choice, as well as being surprisingly accommodating: 'Lots of room inside the Jeep Station Wagon's all-steel body for passengers' boasted the advertising of the time.
But what was that about an all-steel body when the latest Jeep was plainly of the woody variety? Well, actually it wasn't. Instead, the Station Wagon was simply painted to look like a woody in a desperate attempt to follow fashion. Undignified for what had once been a war hero? Possibly. But then, with the benefit of hindsight, the Jeep Station Wagon might also be seen as the precursor to today's crossover craze.
Comments
Author

Keith Moody
Latest