Curios: Autocars Dragoon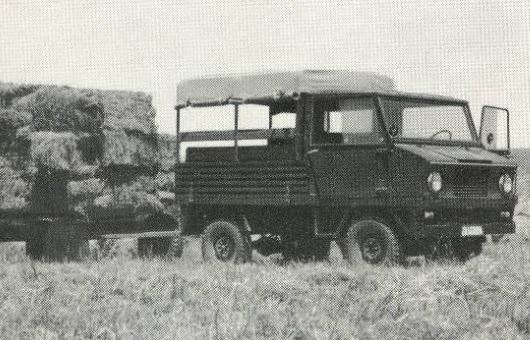 Classic car enthusiasts tend to associate Triumph with open-top two-seaters and sporting saloons; they certainly don't link the name with the 4x4 market. And that's because most folk have never heard of the Dragoon, a rugged all-wheel drive machine built by Autocars of Israel but developed by Triumph in the UK.
Autocars' involvement with Triumph started in the late 1960s, by which time the Coventry firm was owned by Leyland Trucks. The new company was renamed Leyland-Triumph and was a force to be reckoned with in both the car and commercial vehicle markets. But it was also keen to offer overseas companies the benefit of its development and engineering skills, which is how the link-up with Autocars came about.
Leyland-Triumph lent a hand with the development of various glassfibre-bodied, Triumph-powered saloon cars for local consumption, with all the major components shipped over from the UK. Then along came the Dragoon, seen at the time as an essential new product for Israel's agriculture, timber, oil and construction industries. It had to be dependable, rugged, reliable, as well as easy and cheap to construct.
Surprisingly, the Dragoon ended up being quite a compact vehicle, measuring just eleven feet, three inches in overall length and just five feet, two inches in width. What it lacked in stature though, it made up for in sheer ruggedness, with a rust-proof glassfibre body mounted on to a sturdy steel chassis. It was tough in everyday use, yet cheap and simple to repair when necessary.
'Normal' drive was to the rear wheels, with all-wheel drive selectable via a dual-range transfer box. In low-ratio four-wheel drive, the Dragoon's pulling power and sheer unstoppability were reckoned to be just about unbeatable, despite employing a fairly lowly powerplant: Triumph's 1493cc four-cylinder petrol engine, its 50bhp giving the Dragoon an on-road top speed of just 59mph.
Impressively, however, with two people on board, the Dragoon was capable of hauling around loads of up to half a tonne – over just about any kind of terrain. And even with a full load, Autocars claimed the Dragoon would negotiate a 1-in-1.7 slope and would even pull away from standstill on a 1-in-2 incline. No wonder Autocars boasted that the Dragoon was 'the vehicle of many uses'.
Comments
Author

Paul Guinness
Latest