Questions raised over classic car safety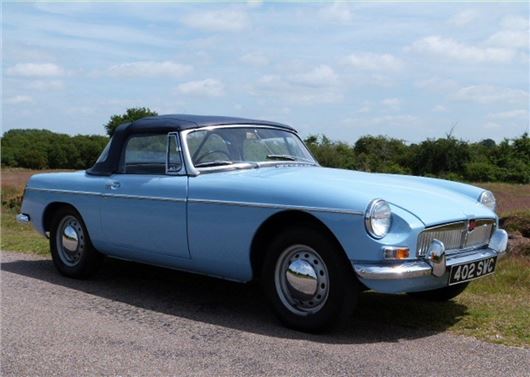 Published 23 January 2015
The conviction of a London-based minicab driver in January 2015 – found guilty of causing death by careless driving when he crashed into a 1963 MGB roadster – put the subject of classic car safety in the headlines. And a spokesman for the AA has since suggested that owners of older vehicles should be aware of the risk they're taking when choosing to drive their classics.
The accident occurred when Kugannesan Balasubramaniam's minicab ploughed into an early-model MGB driven by teacher Nick Sennett, who was in stationary traffic on the A40 Westway, west London. The 34-year-old cabbie has since been jailed for nine months and banned from driving for 18 months.
The court heard that the MGB - similar to the one pictured above - 'folded like a penknife' when hit from behind by Balasubramaniam's Peugeot 5008, which had been tracked travelling at 48mph along the 40mph road. Prosecutor Nicholas Bleaney explained to the court how the MGB had been at a standstill at the time of the crash, due to traffic congestion, and that Mr Sennett stood little chance, 'He hit his head on the windscreen top and suffered some chest injuries but the main injury was a very serious head injury, and sadly he did not regain consciousness and was pronounced dead at the scene.'
Since the conviction of Balasubramaniam, there have been concerns raised about the safety of classic cars and the potential risks involved when driving them. A report on The Daily Telegraph's website on 15 January sensationally claimed that 'Motoring organisations are warning classic car owners they could be driving death traps', and went on to suggest that many classics are unsafe in the event of an accident, 'Older vehicles do not have crumple zones and even recent classics like Minis and Ford Capris will come off a lot worse in a collision with the latest models.'
The same report quoted AA spokesman Ian Crowder, who told The Telegraph, 'Classic car owners and users really need to be aware of the risks when they take to the road in a less resilient vehicle. This was obviously a terribly tragic episode for which a driver has been convicted and jailed.'
Crowder went on to suggest that most road users often drive more respectfully when they're near to classic cars, yet owners and users of older cars should still take extra care when out on the road, 'They need to drive in a manner which respects modern vehicles and they need to know the risks.'
Last summer saw another fatal crash involving a classic car, when Lincolnshire resident Anne Pattrick was killed after being flung from a Ford Anglia 105E in which she was a passenger. The Anglia had been in collision with a Scania truck on the M1 motorway, as Anne and her friend – Linda Upsall – followed their husbands who were in another vehicle heading to a classic vehicle event at Gaydon. With no seat belts fitted in the Anglia, both women were thrown from the vehicle on to the motorway.
WHAT DO YOU THINK?  Do you feel safe driving your classic car? Do you feel that older vehicles are more dangerous than their modern equivalents? Whatever your views, have your say below or send an email to keith.moody@honestjohn.co.uk.
Comments
Author

Keith Moody
Latest