Lancia Thema (1984 - 1994)
Last updated 2 October 2013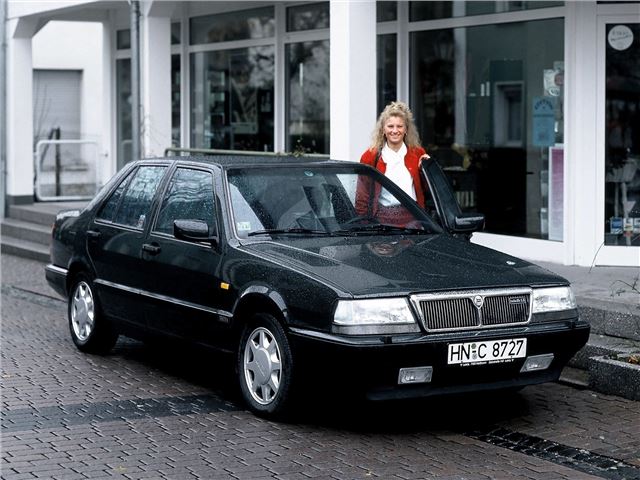 Buying Guide
Good
Decent handling, decent performance.
The 8.32 of 1988 even had a 215 bhp Ferrari V8 engine, but the 165 bhp 2.0 Turbo is probably the best performance buy.
Normal 8-valve 2.0 litre 120 bhp, 2.8 V6 150 bhp.
Lots of room inside cabin. Big boot.
Range rationalised from 1989.
2.0 litre 16-valve now has 150 bhp; turbo 185 bhp.
Turbo SE best Thema ever on sale in UK, though Italians had an estate car version and a diesel.
Cats from August 1992 strangely brought yet another power hike: to 155 bhp and 205 bhp.
To help curb torque steer, Turbo got Viscodrive diff.
Late models are a lot of car for not much money, if you can still find one.
Bad
Lancia's poor UK reputation robs a good car of the status it deserved.
Turbo has high insurance group.
Market did not like them.
No Lancia dealers, just specialists.
Increasingly hard to get parts.
Watch
Urgently needs new timing belts every three years or 36,000 miles.
Benefits from fully synthetic oil with regular changes (particularly 8.32 and Turbo). 8.32 often low mileage and doesn't take well to sitting around. Will need expensive timing belt change before you drive it anywhere (this work could cost £1,000).
Look for mayo under oil cap - usually indicates cylinder head problems.
Check turbo exhaust for oil smoke. Gearbox synchromesh gets worn.
Do a reverse-turn driveshaft test and listen for clonking.
Check condition of discs.
Check all electrics - some are bound to be u/s so use your judgement and adjust your price.
Smoky exhaust, excessive oil consumption may be turbo, may be valve stem seals.
Rattles and squeaks are normal.
Do look for rust.
If front tyre wear uneven, look carefully for signs of accident or suspension damage.
Back: Introduction