Honda NSX (1990 - 2005)
Last updated 24 February 2021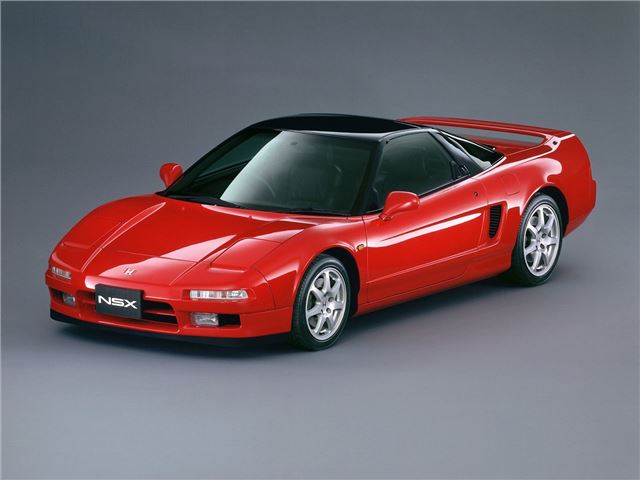 Being a car manufacturer obsessed by engineering, it's no surprise to learn that the NSX's engineering make-up is both pure and esoteric. Not just in terms of how the car was designed, but Honda's single-mindedness in building the ultimate supercar is evident in the materials used, and how they're employed. But when creating the NSX, Honda ensure that reliability consistent with every other model in the range (so, completely dependable), and not at all intimidting for anyone to drive. And in 1990, this was an utterly unique blend of abilities.
Today, this is evident in the cult fillowing the NSX has picked up along the way. And boy, is it deserved. The engine is a masterpiece - for a power unit designed in the middle of F1's turbo era, it was unusual that Honda decided to keep it naturally aspirated. But, for the purest throttle response and cleanest power delivery, this would be essential. The all-aluminium power has a specification sheet that reads well today: 24-valves, four cams and VTEC variable valve timing for 270bhp at 7300rpm.
During development, the engineering team enlisted McLaren driver, Ayrton Senna to offer some much appreciated dynamic input. He was a Suzuka regular, and so when a McLaren testing session coincided with one of Honda's in February '89 the road car engineers were keen to get him behind the wheel and see what he thought. After a few laps in the 250bhp Legend-engined prototype, he came back with the feedback: 'I'm not sure I can really give you appropriate advice on a mass-production car, but I feel it's a little fragile.'
He felt the torsional rigidity of the body wasn't good enough, and although Honda had built a shell as stiff as Ferrari and Porsche's Senna thought it needed beefing-up. Honda re-engineered the hull, making it 50% stiffer, and then asked him back to dial-in chassis improvements in the run-up to full production - which he duly did. And after driving the NSX at length in the UK, you'll be appreciative of Senna's input, even if it's saddled the NSX with a voracious appetite for tyres.
Even before you're away, you'll love its interior. The driver's seat is low-slung, and the visibility is excellent for a mid-engined supercar. Although the dash and centre console swoop around and envelop you, the controls are logically and predictably placed, and the switchgear is just as well-engineered as any other Honda from this era. Some might say it lacks an element of 'specialness' that marks out a Lamborghini or Ferrari of this age, but we can't pretend that its user friendliness isn't welcome.
Firing up the quad-cam 24-valve VTEC V6 engine is no disappointment. It barks into life and settles into an even, sharp-edged idle. At low revs it all sounds a bit ordinary, though. The test car, owned by Honda UK, is a four-speed automatic, which means a softer throttle map and less power - and putting the NSX into Drive and heading off, leaves you feeling a bit underwhelmed.
But like some of the best performance cars ever built, this veneer of civility is soon shed once out of the the urban sprawl. The ultra precise steering, with variable power assistance, is full of feel, and stringing together a series of corners smoothly is seriously easy. The suspension set-up is briliant, with almost no body roll, and placing the NSX in any corner is simple due to how accurate and full of feel the steering is. Just as Honda promised, the NSX makes a hero out of an average driver.
Acceleration feels disappointing in Drive – the gearing is long, and although it was a state-of-the-art self-shifter in 1989 there's still laziness and lag to contend with. The change-up points on the retuned-for-auto engine are also on the low side – the VTEC engine really sings from 5500rpm, but keep your foot to the floor and it's wanting to select the next gear just after 6000rpm; and that's right in the heart of the power band.
It's best to change-up manually, and hit the 7500rpm limiter. If you adopt this approach, you'll experience a tingling, hard-edged V6 that wails like a racing car in full flight. It's a cross between 911 and Dino Ferrari, but smoothed-out and refined - and it's utterly soulful. This is not the sanitised effort that those who don't 'get' Japanese cars might tell you it's going to be.
Combine the brilliant VTEC-R engine with a Senna-tweaked chassis of rare ability, and you're left with a car that is capable of remarkable performance. Point to point, there would be few cars of this era capable of touching an NSX, even in the hands of an average driver.
Back: Model Timeline
Next: Buying Guide
Compare classic car insurance quotes and buy online. A friendly service offering access to a range of policies and benefits.

Get a quote