Ford Fiesta (1989 - 1997)
Last updated 18 January 2014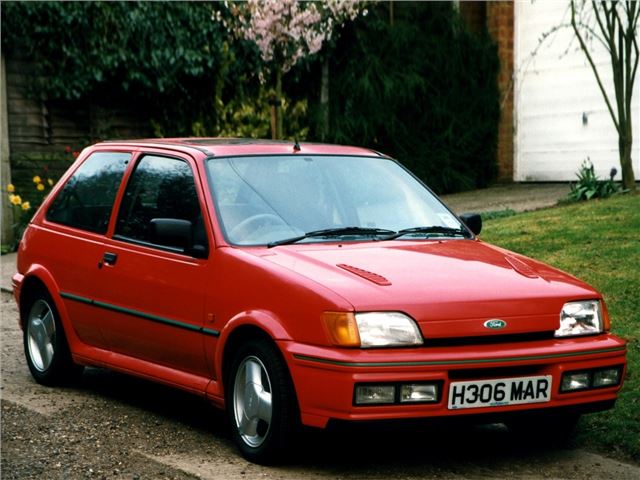 Buying Guide
Good
A bigger, better Fiesta with more than a hint of the Peugeot 205 about it.
12' 3" long by 5' 3" wide and weighing 770kg to 895kg. The cheapest, most basic ones seem to be the best.
999cc had 45bhp; 1118cc had 54bhp; 1297cc ohv had 60bhp; 1382cc CVH had 75bhp; 1596cc CVH had 90bhp or 110bhp as XR2i or even a heady 133bhp as Fiesta RS Turbo.
Diesel now 1753cc with 60bhp (the same basic 1.8 diesel as fitted to some Fords up to 2010).
Some later 1.3s had power steering.
Pre-cat 1.0 litre cars cheap to buy, insure and run.
Ford had third lowest cost in warranty claims for cars up to 10 years old in 2002 Warranty Direct index www.performanceindex.co.uk
Continued as Fiesta Classic to January 1997 alongside updated, more expensive Fiesta
Bad
Roadholding and handling a far cry from 205's higher standards.
Fiestas suffered badly from catalysation in 1992. 1.1s and 1.3s from this date on were almost unbelievably slow and suffer from oil emulsification problems, over-rich running, premature rocker shaft wear, cam follower wear and a variety of other ailments.
Catalysed 1.1s probably best avoided.
Watch
All now up to 20 years old so rust is the main enemy. Look like 205s but weren't designed to have no rust traps. Bodies rust quite badly, especially rear wing in area of fuel filler.
CTX autoboxes become troublesome due to oil leak.
On 1.1 and 1.3 pushrod engines spark plugs may either have corroded into the head or been over tightened (taper fit) which means head removal to drill them out.
Seem to have been a spate of starter motor problems on 1.1s from 1994-1996.
Front suspension bushes wear and suspension likely to have been 'kerbed'. Be very wary of uneven front tyre wear.
Brake discs don't last long and can start to judder after 20,000 miles.
CVHs need regular timing belt changes. Timing chains of 1.1 and 1.3 pushrod engines can start to rattle. Engines suffer badly from sludging up due to short-run syndrome and insufficiently frequent oil changes.
If 1300 pushrod engine is tappety it probably needs a new set of cam followers, which isn't a quick and easy job on a pushrod engine.
More than its fair share of recalls, so satisfy yourself that the recall work has been carried out. Make sure nylon timing belt idler gear in diesel engine has been replaced with a steel idler. 1.4CVHs with ECUs may suffer starting and running problems due to loose flywheel sensor connector.
Rust can seriously weaken the base of the centre door pillar of 5-door cars.
Also check for severe rust in the nearside back wing in the corner under the petrol cap and in the front valence. 
Tips from Madff in The Backroom:
Do several reverses/forwards on full lock both ways to check driveshafts/bushes.
Drive over rough roads to see suspension has no clonks.
Accelerate hard in second and third to 6000rpm (when engine warm). Engine should be very smooth and responsive. ANY misfire - walk away as could be plugs/ leads or valves etc.
Rust round rear wheel arch/petrol cap (bad!) and especially passenger side 'B' post in front of rear door. Structural rust behind rubber seals on front door aperture A pillars: also look on top and going down windscreen seal.
Rust in door seams. Peer underneath with a torch - many can be very rusty due to neglect/salt.
Spare wheel tray can and does rust. Examine carefully plus spare wheel.
Check for exhaust rust and recent MOT to see emissions ok (read report). A new cat is £££.
Leaking suspension struts and clonks on rough roads due to rubber bushes wearing.
Check antifreeze is clean and red - no oil. Check radiator for leaks or oozing antifreeze.
Engine must be cold when testing it. If it is warm, leave for at least 30 minutes for all oil to drain away and then start it up with bonnet open. Any rattles means wear- walk away. If oil is very black/thick and no service history - likely bearing/cam damage.. = new engine.
If serviced by non-Ford garage person, try to find what type of oil used. Ford specifies 5/30semi synthetic - a 20/50 is NOT suitable and will lead to cam wear at start/sticking valves or both. DO NOT buy if wrong oils have been used.
Some clutch noise (release bearing) at idle is common. Should go when in gear. Any noises when on move from gearbox? Run away.
Water leaks in passenger side due to faulty door seals or from incorrectly sealed bulkhead (bulkhead can be re-sealed).
Check rear wiper and heated rear window work as cables can snag.
Watch for kerbed wheels or alloys.
If it has a sunroof and aircon, check both work and air is cold (in winter use heater full on to heat car and then switch to max cold. It will be slow to cool but it should) Regassing costs £50plus, but a aircon failure may be much more.
All electrics should work - check front heated screen.
Back: Introduction
Buy a Ford Fiesta from £3,500
Compare classic car insurance quotes and buy online. A friendly service offering access to a range of policies and benefits.

Get a quote