Daimler DS420 Limousine (1968 - 1992)
Last updated 7 April 2013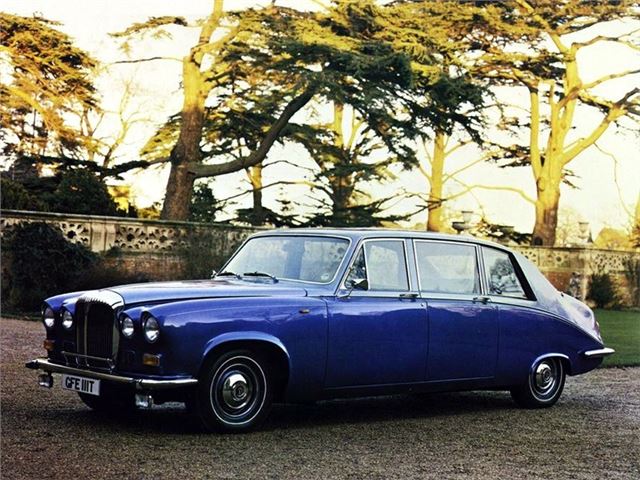 Model Timeline
December 1966
New limousine conceived to replace old Daimler and Vanden Plas models
The conception of Daimler DS420 is – like so many British cars of its era – was affected and influenced by mergers and acquisitions. When BMC and Jaguar joined forces to create the short-lived British Motor Holdings in December 1966, it became clear that both company's forward model plans each contained eight-seater limousines. BMC's plan was to replace the Vanden Plas Princess; Daimler's, the DR450 – and obviously it would have been madness to continue with both projects. The politics of Jaguar at the time were simple, and after much discussion – involving William Lyons himself – the Daimler design was chosen, at a stroke diminishing Vanden Plas' importance, and reducing it to the creator of posh versions of mainstream saloons…
At the time of its launch, the PR spin was that the DS420 was the result of a joint effort, drawing on both marque's expertise – but the underpinnings were pure Jaguar. It used the engine, automatic transmission and all-independent suspension from the Jaguar 420G, and the styling was by Browns Lane, with final sign-off by William Lyons. However, the new car's interior was largely the responsibility of Vanden Plas. And no trace of any Daimler DNA…
October 1968
Daimler DS420 launched
According to Autocar magazine's 1968 launch coverage, the Daimler DS420 was destined to be a big player in a surprisingly successful market segment in the UK. 'Vanden Plas and Daimler together have sold around 4500 of their big limousines in the past 15 years. Roughly 50-60 per cent of Vanden Plas output goes to car hire firms — the bigger ones buying new cars which even after 80,000 miles enjoy high second-hand value, being bought by the smaller companies. Another 20 per cent become company cars. The remainder are sold to corporations, governments, armed forces and royalty.'
Despite the market's health, relatively small production volumes meant an inevitable dipping into of the BMH corporate parts bin. Only by using tooling and parts already available could the new Daimler's relatively low price be achieved – it cost less than half the price of a Rolls-Royce Phantom V or Mercedes-Benz 600 Pullman, and unlike the latter especially, its underpinnings were relatively unsophisticated.
To obtain the necessary extra space behind the driving compartment, the wheelbase was increased from 10ft to 11ft 5in. Pressed Steel-Fisher made the 420G platform chassis, which was sent to Motor Panels Ltd, which cut and welded-in a 21in long additional section behind the front seat. The front end used as many as possible of its panels as stressed members – behind the scuttle, large box section sills which were braced within by a diagonal diaphragm running the entire length of each member carry main bending and torsional loads.
As with the MkX, the Daimler Limousine owed very little to the upper parts of the body for its strength – it was this, which allowed Daimler to offer a 'drive-away chassis' consisting of all running gear, floor structure, front end and roof cant rails as a basis for specialised bodies such as hearses.
Rear door openings were generous, with the sills lowered by about 11in. An unusual feature was a very large boot of conventional design with low floor, upward-opening lid and covered spare wheel mounted vertically at the side, instead of flat under a high floor with a bottom-hinged lid as was the case with the old Daimlers. The rear compartment is very roomy indeed. Distance from the division to rear seat squab was about 55in. Use of the fold-back occasional seats reduces this to just under 30in, so that an average-sized six-footer sitting in the back seat has the clearance in front of his knees brought down from 32in to about 5in. In effect, the Daimler DS420 was – and is – a commodious beast, with room for six in the rear compartment alone.
The interior was the last word in luxury. All cabinet work was carried out in traditional burr walnut, including the big wooden instrument panel — which was topped by a leather padded crash roll. The front seat, liable to receive the most wear, is upholstered in leather supplied by Connolly. Rear seat upholstery is available either in leather or West of England cloth. A broad armrest can be pulled down to divide it into two generous places, and the outer armrests incorporated an ashtray, cigar lighter, courtesy light switch and — on the left-hand side only — a rheostat for the variable speed rear compartment heater fan.
Power was by the legendary 4235cc dohc Jaguar XK engine delivering 245bhp at 5500rpm, and 282lb ft at 3750rpm. In reality, it was rather a sporting power unit – not many limousines could boast a Le Mans-winning engine under the bonnet. Comparisons with the predecessors is interesting – Daimler DR450: 220bhp at 5500rpm; Vanden Plas Princess: 120bhp at 4000rpm.
The DS420 was offered as an automatic only – it used the Borg-Warner Model 8 three-speed epicyclic gearbox with dual drive range and torque converter driving through a 3.54-to-1 Salisbury 4HA final drive. Twin 10-gallon fuel tanks in each rear wing have their electric SU pumps controlled by a selector switch on the dashboard. Tyre size was increased from the 420G's 205-14 tubed Dunlop SP41 to 225-1 8in tubeless versions of the same make, slightly increasing overall gearing. The manufacturer's performance were interesting – 0-50mph in 9.2sec, 0-100 in 43.5sec, a standing quarter-mile in 19.5sec and a top speed of 110mph.
Final assembly and furnishing of the Daimler were initially carried out by Vanden Plas (1923) Ltd at its Kingsbury works in north-west London. It received body shells in bare metal which were then phosphate-coated, bituminous-sealed, baked, primed and finish-painted to a very high standard. The body shells were made by Park Sheet Metals Company, assembling panels supplied by Motor Panels of Coventry and by Pressed Steel-Fisher. This convoluted process was rationalised with the closure of Kingsbury in 1979 – and it moved to Jaguar at Brows Lane in Coventry in 1979, where it continued until the car's death in 1992.
May 1974
Daimler DS420 facelifted
The DS420′s first facelift came in 1974. The main changes were centred on a revised window arrangement for the rear passengers, which saw a one-piece rear glass replaced the old two-piece opera window. Beefed-up anti-corrosion measures were introduced, and to observers, the uprated model could be spotted by its revised grille and less woody interior.
The joy of a DS420 was that you could buy and trim it to match your budget and personal (or professional) requirements. So you could have a cloth-trimmed example with manual windows – or spec it up to boardroom-on-wheels levels, with on-board TV, Epson HX20 computer and car-telephone. And it was this adaptability that made the DS420 a darling to the specialist industry.
May 1979
Daimler DS420 facelifted again
In 1979, the move to Coventry also ushered in the third and final facelift in the DS420′s life, when larger impact bumpers and a revised rear number-plate surround were fitted. It was in this form that the by-then iconic car would see out its days. And surprisingly, given the tough times it endured, the DS420 elegantly glided through the 1980s, all the way to 1992. By production's end, the DS420 was the only model in the Jaguar range still using the XK engine, and it shared nothing else with the then current Jaguar range.
February 1992
DS420 production ended
No direct replacement was produced by Jaguar, and to this day, no bespoke coachbuilt alternative has been produced by the UK. Clearly, the DS420 was the last of a very exclusive line – and yet, its achievements should never be under-estimated. It brought a taste of the bespoke to more those with more straitened budgets, after all, the similarly grandiose Rolls-Royce Phantom VI cost three times as much by the time it went out of production in 1992…
Back: Introduction