Audi quattro (1980 - 1983)
Last updated 11 January 2014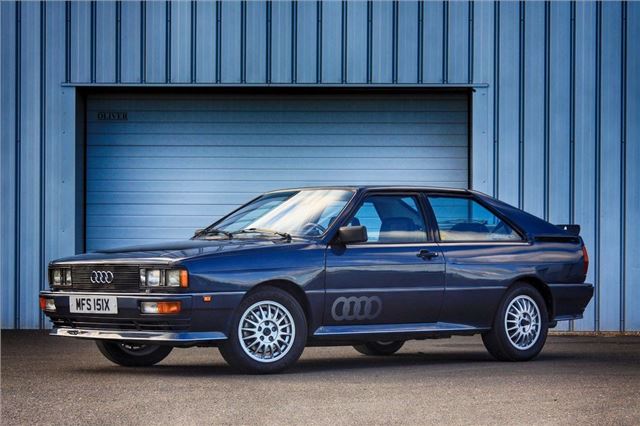 The Audi quattro redefined what was expected from a high performance coupe when it made its surprise debut at the Geneva motor show in March 1980. It seemed, almost from nowhere, Audi now had the armoury to scalp some very exotic rivals from all over the world.

Thanks to four-wheel drive and turbocharging, the quattro became the ultimate go-anywhere four-seater sports car - but despite its wheelarch blisters, spoilers and chrome, it became the ultimate low-key accessory for affluent and active Europeans. Today it's a legend, but does the quattro live up to the hype on today's roads?
---
Classic road test: Audi quattro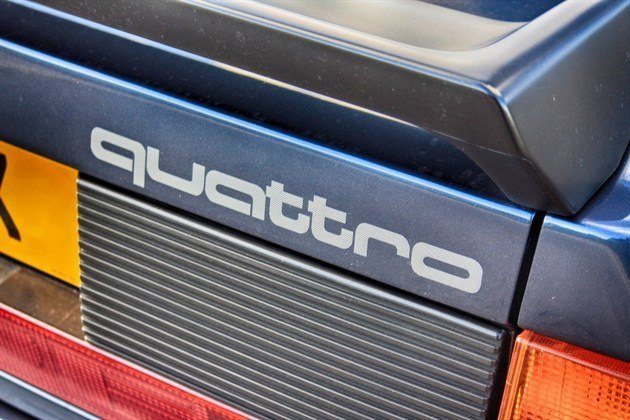 The ultimate buzzword of 1980..
The Audi quattro's place in history was secured the moment it was launched. It was an aggressive-looking four-seater coupe, powered the a tuned version of the Audi 200's inline five-cylinder engine, developing a cool 200bhp. The big talking point was the permanent four-wheel drive system, which Audi fans will say is a first, but for those into Jensens, that accolade will always belong to the 1966 FF. Which ever side of the fence you sit, there's no arguing that Audi was alone in offering a product like this for sale in 1980.
So, it's difficult to comprehend that such a huge evolutionary step took a mere three years to leap from the drawing board to that motor show debut. But that's what happened - the quattro was conceived in February 1977, when one of Audi's chassis development engineers, and father of the quattro, Jörg Bensinger, had an epiphany in pre-launch testing on the forthcoming Volkswagen Iltis military vehicle in Finland. He discovered that it was extremely efficient off-road and in snow - and came up with the idea that this car's compact all-wheel drive system could be used in the upcoming Audi 80.
Bensinger approached Audi's Director of Technical Development, Ferdinand Piech, with the idea - who also saw huge potential in the idea, especially in motor sport, an area he was particularly interested in. Bensinger proposed they could start working on the 4x4 Audi 80 variant alongside Walter Treser, Director of Pre-Development. A mule, powered by a turbocharged Audi 100 engine, and based on an 80, was quickly put together, and was given the code name A1 - 'Allrad 1'. It featured a Hans Nedvidek-designed transmission based closely on the Iltis' set-up.
By September 1977 Project A1 was okay'd by Audi's board, and given the official title EA262. And from here, it really took shape. A mere six months' later, and following the Volkswagen board's full approval, the programme rapidly progressed - gaining a new Martin Smith-penned two-door body, and muscular add-ons, including extended wheelarches, one piece bumpers, and aggressive looking new front and rear spoilers. The main technical changes were the move to an intercooled version of the 200 5T's turbocharged 2.1-litre five-cylinder power unit (raising power from 160bhp of the test mule to 200bhp), and the addition of a much needed centre differential.
When reports that such a car was in development leaked out to the press in the closing months of 1979, most commentators at the time dismissed the possibility of such a new addition to the Audi line-up. The company was concentrating on the 200 and new 80, they said, and a conservative carmaker like Audi wasn't likely to indulge in such fripperies.
How wrong they would prove to be...
About the Audi quattro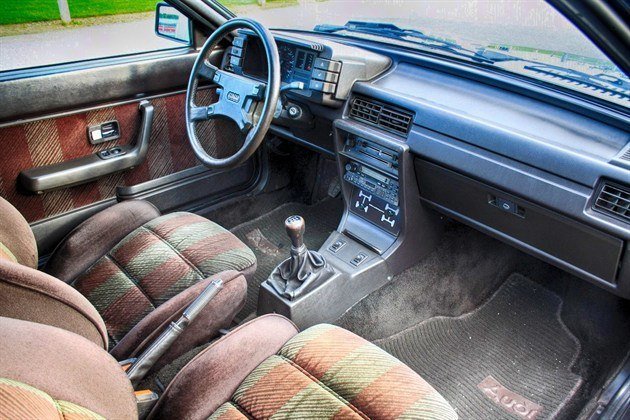 The quattro's interior is a lightly revised version of the Audi 80's, which is a mix of good and bad. But mainly good.

The Audi quattro first appeared in the UK in left-hand drive form in March 1981, and our test car, which belongs to Audi UK, is a one of these - it's possibly the oldest one left. Spotters will be able to tell these cars a mile off because of the characteristic chrome-rimmed quad headlights, which first appeared on the Audi 200. But of course, there are other key differences with the earliest quattros, such as the lack of ABS, and relatively narrow 6x15-inch Ronal alloy wheels - the signature design for all fast Audis for years to come.
When launched in a recession-hit Britain, the quattro cost a cool £14,500 - making it either an expensive family coupe, or a junior supercar bargain, depending on your point of view. By way of comparison, at the lower end of the scale, an Opel Monza 3.0S cost £13,830, an Alfa Romeo GTV6 was £9495, and the Ford Capri 2.8 Injection was a positive bargain at £7995. At the other end of the scale - the rivals Audi would have preferred the quattro to be compared against - a BMW 635CSi was £18,950, while a Porsche 911SC cost £16,732. Although you could buy your quattro from any Audi dealer, it was recommended that you took it for one of 'six centres of excellence' in the UK for all your sevicing needs.
The good news for those prepared to pay for a quattro, despite being conceived for Group 4 rallying, it was a long way away from being a stripped-out homologation special. Production in Ingoldstadt was already runnning at 10 per day by the time the quattro came here, and equipment levels were relatively lavish for the day - so it received central locking, a stereo, optional sunroof, headlamp washers, tinted glass, and power assisted steering. Luxury and performance combined.
The quattro in this form didn't remain in production for very long - but enthusiasts still cite this model as the one to have. In October 1982, it was launched in right-hand drive form, and in 1983, the front-end styling was tidied up, with large one-piece headlamps replacing the chrome-rimmed quads. And, whisper it, that improved the styling no end.
On the road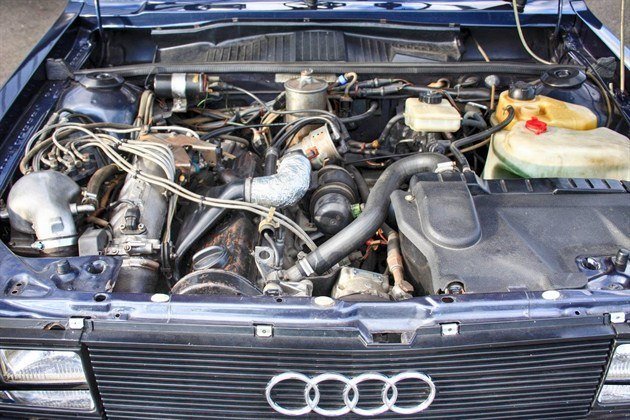 The quattro's turbocharged five-cylinder engine is a tight-fit in a bay designed for four-cylinder power units. It's a maze of breathers, hoses and pipework - but from the driver's seat, it's absolutely magic.

Forget the mileage of 73,000 showing on the odometer - this car is in stunning condition, and is clearly one of the most important cars in Audi's heritage fleet. So the paintwork is flawless, the wheels utterly unscuffed. And when you open the door and climb in, it still smells new. If you're happy with a left-hand drive car, you'll find the quattro's driving position absolutely spot on, with the pedals correctly aligned, and the wheel directly ahead - not necessarily something you can say about contemporary right-hand drive Audis. Visibility is excellent, with slim pillars and a well-sighted bonnet - and although it has an over-the-shoulder blindspot, it's certainly not a problem for anyone used to more modern cars.
The interior materials are a mixture of good and bad - the velour seats (in a striking shade of brown), and leather-bound steering wheel are a delight, but the dashboard plastics and slider controls for the heating and ventilation are nasty, even by 1980 standards. Drivers who appreciate lots of information will find the quattro disappointing - as well as lacking a coolant temperature gauge, you also miss the trio of dials (Volts, Oil Temp and Pressure) that Coupe owners are treated to in the centre console. In their place, the quattro gains a pair of diff-lock indicators... The controls for the lights, which are grouped around the instrument binnacle, also feel cheap and unsatisfying to use. But all this pales into insignificance when you twist the key and, ahem, fire up the quattro.
From 3000rpm the turbocharged Audi quattro absolutely flies and that unmistakable five-pot warble becomes a tuneful wail. It's addictive.
Thanks to full engine management - an innovation at the time - the quattro starts quickly and settles down to a level idle, cold or hot. The temptation is to rev it up and listen to the soundtrack, but thanks to a green dashboard warning light that stays on until the engine is up to temperature, you're disinclined to. Luckily, the warm-up phase is only a matter of minutes.
Considering it's what we'd think of an old school turbo, and all this entails, the quattro doesn't suffer too badly from throttle lag. Yes, it feels docile at low revs, and only wakes up properly at 3000rpm. But from this point on, it absolutely flies and that unmistakable five-pot warble becomes a tuneful wail. You'll be glad to hear that the turbo doesn't have a muffling effect - it's crisp, sounds great, and is loud enough to really appreciate. Such is the addictiveness of this thrust, and the glorious soundtrack, it's all too easy to slam into the 6700rpm rev limiter. But do that once, and we guarantee you won't do it again.
Given the full beans, from rest, the quattro really makes the most of its superb traction. The 0-60mph time is 7.0 seconds, and 100mph comes up in 18.5 - while top speed is 135mph. In absolute terms, these figures aren't exactly stellar, especially with what came later, but you could pretty much replicate them in all weathers, with four-square stability, and that's a huge advantage for four-wheel drive. And this is even better, when this stability manifests itself pretty much all the time, even on motorway runs, where the quattro feels nailed down, and is supemely refined.
On any A- or B-road, this usability inspires confidence. Traction is predictably the quattro's main selling point, where you'll soon learn to appreciate just how early you can apply the power in bends. Forget the old slow-in-and-apply-power-at-the-apex approach to corners you adopt in the quattro's rivals - as long as your entry speed is sensible, you can pretty much floor the throttle yards before the apex. And that means turning, holding on, and revelling in the grip. The steering is well-weighted and perfectly geared, and the brakes are strong and slightly lacking in feel.
But we can't over-sell just how capable the quattro is. Compared with its rivals, the quattro will leave all of them in its wake on a damp, twisting country lane. But for the rest of the time, it's well-behaved, rides surprisingly well, and genuinely has room for four mates. But on an emotional level, anyone who doesn't fall for that soundtrack, really doesn't have petrol in their veins.
The HJClassics Verdict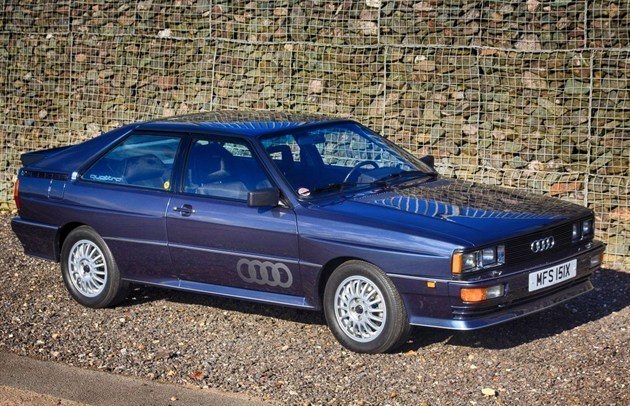 The quattro's iconic shape is a major draw, and its muscular looks set it apart from the rest of the contemporary Audi range.

In case you haven't already guessed, we love the Audi quattro. It was a revolution at launch in 1980, and one that still stands up to scrutiny in modern traffic. It's more than fast enough to keep up with the flow, and is equipped with enough toys to leave the owner feeling far from short-changed. As a classic car, the quattro turns heads, looks fantastic, and is a guaranteed conversation starter. For anyone with reservations about left-hand drive, it's not a worry, because the vast majority of cars are later ones, anyway - find one like this example, you'll be paying a hefty premium.
Treat it as a car for high days and holidays, the quattro can't lose. It's exciting and you'll soon be addicted to its power, poise and grip. But don't lose sight of the fact that this can be a searingly expensive car to fix, and some parts are now becoming almost impossible to source new. Don't entrust its servicing and maintenance to anyone other than a specialist, either.
But take these provisos on board, and assuming you're happy not to go down the more obvious Porsche route, the quattro stands up as one of the greatest German performance cars for your money.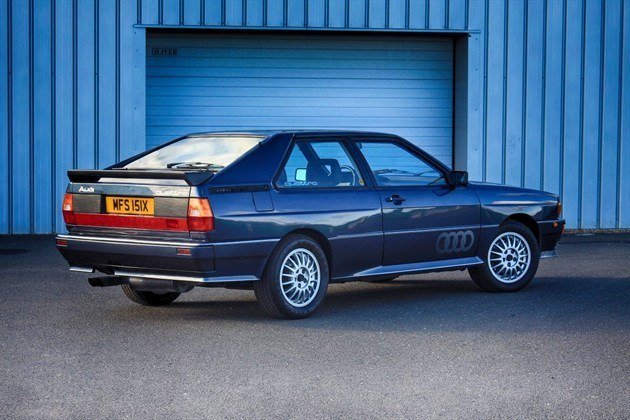 Back: Model Timeline
Next: Buying Guide
Compare classic car insurance quotes and buy online. A friendly service offering access to a range of policies and benefits.

Get a quote