Saab 900 Turbo (1979 - 1993)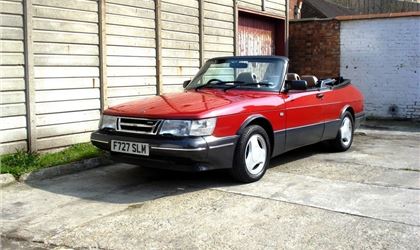 Convertible 16v turbo
reviewed by Anonymous on 21 July 2012
5
Cost of maintenance and repairs
5
Experience at the garage or specialist
5
How you rate the manufacturer
Fast, unique design, cheap to run if you ignore fuel use
I am a big fan of these cars. Originally I was drawn into the range by the 900 Carlsson which was a special run produced between about 1989 and 1991. The Carlsson has the 'Airflow' body kit which is typical 80s extravagance, large colour-coded bumpers and a big rear spoiler you can stand your coffee cups on. The Carlsson had increased turbo boost compared with the other turbo models which made a little bit more power and a bit more torque.

It's not all about the turbo models though. The practicality of a 3 or 5 door hatchback is unrivalled in it's class. No other small family car had as much load space, only bigger purpose-built estates such as the Volvo 240 or Citroen CX estate were bigger. The loading entrance was low and flat too, meaning no trouble trying to lift heavy items over a boot lip. The design of the 3-door in particular made a good job of hiding the practicality not looking like it had a disproportionately large cargo area you see with a typical estate.

The truth about the reliability of these cars is that when your average car from the 80s was all washed up at about 120,000 miles (your average Vauxhall or Ford) the Saab 900 could easily get to 160,000 without major expenditure and with care 250 - 300,000 miles was achievable. There is YouTube footage of a 900 driving into New York clicking over to 1 million miles.

Handling wise, these cars are very good. The problem is that many things on the car are adjustable (an engineers dream) and there's a world of difference between one setup well and one setup badly. Contrary to previous comments on this site the standard car oversteers when pushed past the limit (i.e. the back end loses grip) - this is the setup for Swedish winters, in theory if you can keep the front pointing in the right direction at least the rear can follow.

These days the cars are only for enthusiasts and I wouldn't recommend buying one unless you intend to keep it well maintained. The turbo models are popular track day cars used for non-professional motorsport, the combination of affordability, power & handling make them a popular choice.

It is a big mistake to underestimate these cars but that is typically how they've always been viewed. That's just motoring journalists making you buy whatever they're reviewing at the time. 25 years on from the reviews there is no Lancia or Citroen to compare them to so do that group-test again and see if the 900 is still the 3rd choice!
Write your review
Just reviewed...