MG MGF (1995 - 2002)
reviewed by SinisterPenguin on 1 December 2014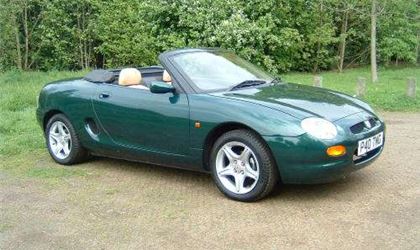 MGF VVC 1,8i
reviewed by FilmFodor on 6 June 2011
3
Cost of maintenance and repairs
3
Experience at the garage or specialist
4
How you rate the manufacturer
Fabulous!!! Buy, buy, buy!
You know when you sit the car that is you. Forget all the practicalities, the poses, the doubts, the worries, it just fits and that is as simple as that.

The MGF is just such a car and it will fit absolutetly for an awful lot of people. It's practical, with good mileage, good boot space (a rack will bring capacity up a lot) but most importantly it's a joy to drive - just popped into my local for a quick beer on the way home and the journey from there took 20 minutes! Just fancied a drive in the rain, enjoying the smooth acceleration, handling and sound of the engine - where the time went I don't know but it was time well spent.

Downsides are that, being a sportscar, the suspension's stiff so speed bumps are a bit nasty (but somehow it's not that the bottom scrapes on the road), and the overall feel in things are a bit 'clunky' - window frames squeal shut and door closes are not as smooth as say an audi. But hey some would say this gives it character!

The one major downside though that all report though is head gasket failure, however I've looked into this and believe I have the solution - it's not the poor quality of the engine (father in law's an ex-f1 lotus mechanic and he vouches for the k-series engine used in the Elise emphatically), nor is it the level of the coolant tank....

Full details are here: http://www.mgfmavhh.ukf.net/ but in a nutshell what happens is that after 15 minutes of driving cool water is dumped on the hot engine! Causing it a thermal shock. This is down to the positioning of the thermostat, at the link you'll see how this can be cured! I've had my local mechnic put this together for 50 quid and now I'm confident this will not be a problem.

Aside from this I've a problem that the alarm seems to want to keep going off. Feel that this is just lack of squirts in the wiring with WD40 (like with my Ducati), meantime though I just lock it by leaning through the passenger door and pressing down the door lock, so immobliser is enabled but not alarm (insurance companies are about as interested in alarms as the general public so I'm not phased).

On the plus side as well MGFs are amazingly cheap! But at the same time they tend to have been looked after by enthusiasts so they've full service histories and low mileages - my car for example was originally over £20,000 (in 1996 - lot of dosh), I picked it up a few months ago for £1000 with 12 months MOT and pristine condition, 57,000 miles, just three owners, even with the original manual - how rare is that?

I'm not a great flagwaver, but also the fact that it's a Brit car does add a little twang. The fact that it's a beautiful looking, stylish Brit car also helps, and the thought that my money's gone into supporting British workers is cute.

In a nutshell get one. I know you'll be saying to yourself "but I need boot space from time to time", "I need more than two seats", "it'll be a fortune to insure", "the mpg will be ridiculous" all these excuses are fallacies, they went through my mind heavily too but I now realise just how right philosopher Jean-Jaques Rousseau was when he said "man is born free but everywhere he is in chains" - thing is you make your own chains.

Conclusion:
Live a little, you won't believe just how incredibly relaxed and stress-free after a drive in one you'll feel, and after all isn't that what life is about?

Alexander Fodor
Write your review
Just reviewed...