Ford Ka (1996 - 2008)
reviewed by Andy 94 on 14 August 2013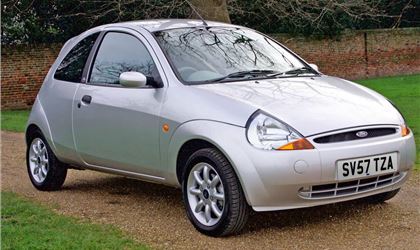 1.3 studio
reviewed by kargo on 9 April 2013
4
Cost of maintenance and repairs
1
How you rate the manufacturer
Almost complete citycar/supermini
I bought my ka new in 2008 and it has excellent handling and ride along with the styling .The town/ urban crawl in cold weather with good fuel has been only 27mpg recently. It has just enough performance to get away with pre-planned overtaking-if you rev it hard. Brakes are just about good enough. Easy to park, good visibility and I like the very basic spec especially the fact that in freezing Britain there is no air-con to affect mpg and cause problems although the heater is not the greatest. OE tyres lasted 14k/4 years. Some people even now after 12 years in production and millions on the road still see it as a 'girlie car' (fine if you are a female). I advise anyone with a non-rotten one to thoroughly jet wash it regularly.

Problems with headlamps, thin paint, fuel gauge, rust and obstructive gearbox mean I would not buy another one although Sportka's are more than a smile a mile. I personally am always cautious about dealing with Ford and their dealers, do not recommend them and it is worth reading all Ford car owner reviews on HJ's site as well as elsewhere before you get involved.
reviewed by Leif on 26 April 2012
Write your review
Just reviewed...