Ford Granada Scorpio (1985 - 1998)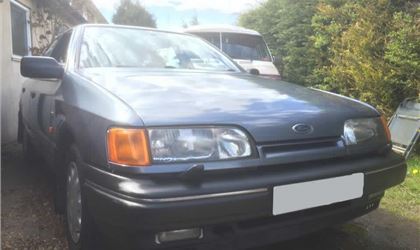 Granada 2.4i Ghia
reviewed by jskinner on 4 May 2016
4
Cost of maintenance and repairs
Big comfortable daily driver - boat!
A great car, and future classic I feel mine is the rarer 2.4i. Even rarer being 5 speed manual with Fords Type 9! As with any old car, it has it's foibles and does need new arches. It sat for 8 years after the owner died too which doesn't help. But all in all look past the minor problems it is a good car to use daily, and take the load off my Capri a bit.

Fuel economy isn't brilliant, and im convinced this car is more at home on long journeys but it deals with town driving very well, the brakes are brilliant, it is very comfortable and well equipped for it's age and it's 27 years old! VERY under-rated!

As with any ford though, one advantage is parts are readily available.
reviewed by Scorpio Man 1954 on 25 November 2013
Write your review
About this car
| | |
| --- | --- |
| Top speed | 120 mph |
| 0-60 | 9.5 s |
| Power | 128 bhp |
Just reviewed...