Fiat Seicento (1998 - 2003)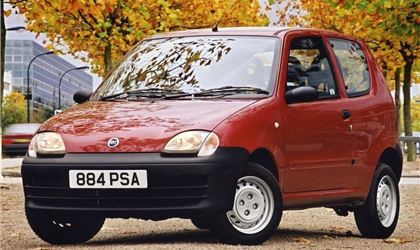 900S
reviewed by Anonymous on 20 June 2019
5
Cost of maintenance and repairs
3
Experience at the garage or specialist
4
How you rate the manufacturer
Faultless, literally, in 10 years motoring.
I bought this from a private seller who was an agent. The act cost me £1000, was ten years old at the time, ana had covered 18,000 miles. Genuinely, two old lady owners previously! FSH. I was lokkkng for a Sporting, but all the ones I saw were pimped or thrashed and when I saw this it just seemed irresistible value for money. It's bog standard except for PAS, an upgraded radio (which has never worked!) and metallic paint in a rather bland deep wine red. The tacky bright red and blue plastic interior trim does a great job of clashing.
The car has now done 40,000 miles. It's passed it's MOT every year, and the only things I've had to spend on are 6 new tyres (£25 a piece!), some new wiper blades and a new windscreen after a stone cracked the original. It's never missed a beat, even when asked to start for the first time in several weeks on a cold winter morning. It was the last car still on the road when we had blizzards in 2012, it's low-revving engine and narrow tyres just the job to outdo stranded 4x4s! It's great fun to drive - really not fast but there's a real joy in winding it up to speed and keeping it there with nimble steering and a swift gearbox despite the long lever. Prone to understeer it's so manageable at the limit you can really have fun. On long runs the motorway experience is, well, rudimentary: quite noisy and demanding of constant steering correction there is literally no way out of the slow lane on a hill which can be quite intimidating when the truckers are around... but on the flat it'll easily pull 80mph and havea. Few cosseted Audi types staring in awe.
It's practical too: roll down the back seats and you have a van capable of transporting 10 years of baby equipment to the dump, or an 8ft Xmas tree to recycling. You can even sleep in it when your tent develops a leak! Fuel economy is ok, the tank is full at £35.
So would I recommend a basic 900cc Fiat seicento? Yes - pound for puns it's the best car I've ever bought. Lots of fun, totally reliable, cheap as chips. What's not to love?
reviewed by DimitrisR on 2 October 2011
Write your review
Just reviewed...