Citroen BX (1982 - 1994)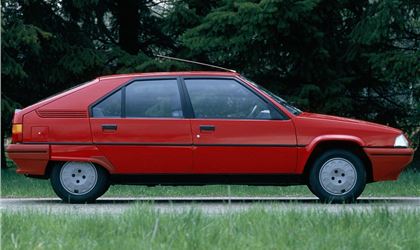 BX 1.9 Diesel
reviewed by PortJac on 13 June 2016
4
Cost of maintenance and repairs
4
Experience at the garage or specialist
4
How you rate the manufacturer
A soothing and comfortable cruiser designed by Bertone
I owned a Citroen BX in the mid-1990s when my work commute was 120 miles per day. In the years I owned the car I took the mileage up to 230,000 miles and it always provided reliable and comfortable motoring. It was a 1.9 non turbo diesel.

To help share the fuel costs I took three other people with me in a sort of a car pool. The self-levelling suspension did a great job of keeping the car stable and on course no matter how many people were on board. The engine had enough pulling power to allow a steady 70 mph motorway speed with enough reserve for overtaking.

The exterior design was unique even then; although I couldn't afford an Italian supercar I could drive a car that was designed by Marcello Gandini of Italian design house Bertone. The interior was a very nice place to be, the later dashboard was especially attractive and easy to use. Classic car buffs may prefer the funky early dashboards but they are more of a pain to use. The upholstery was cosy and inviting and the chairs were very comfortable. If you had a long drive ahead of you in the pouring rain, the interior of the BX was a comforting place to be.

It had character which explains why it is now regarded as a classic car. Even starting the car and driving off had theatre. Nestle down into the comfy chair, turn the key and the diesel engine rumbled into life, wait a few moments as the car lifts up off the ground with the attendant hydraulic noises from the engine, then float off on your journey. Even the steering feel on Citroens is unique - artificial but direct.

Reliability was good, the car never broke down or stranded me. I changed the oil and filters myself every 6000 miles, and used a Citroen specialist for recharging the hydraulics. The only work I needed later in the car's life was welding of the front door hinges which I noticed were corroding. Otherwise there wasn't much rust as the bonnet, boot and bumpers were plastic.
reviewed by Wilfgx8 on 29 July 2012
reviewed by 194bhp on 11 March 2012
Write your review
Just reviewed...