Audi A3 (1996 - 2001)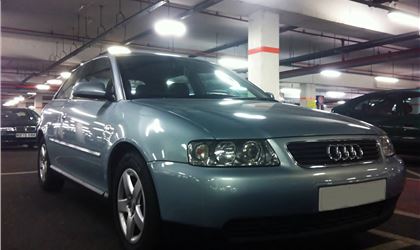 1.6 Sport 3dr
reviewed by Audi_A3_1988 on 19 December 2012
4
Cost of maintenance and repairs
5
How you rate the manufacturer
Reliable, Quality but not exciting.
i purchased my 1.6. one owner, full audi service history for £3,400 last year. In hindsight, i think i paid a little too much but on the other hand ive also had no reliability problems.
Being the 1.6 its not very quick in comparison to the 1.8/t but being 22 years old i was wary of high insurance costs. The car handles pretty well but is not very involving in comparison to the BMW compact 01-04 (the other car i considered, which my little brother then purchased).
In terms of practicality i would say this car is fair not good. The biggest problem is the lack of rear legroom and general access to the rear seats (if your carrying rear passengers on a regular basis, i would check yourself to see if suits your requirements). In the front, the sport model comes with sports seats which provide better lumbar support and comfort (in my opinion). The standard stereo is decent but watch out for faulty volume buttons which in cold weather don't work properly.
The ride quality on the Sport model is slightly harder than what i was used to on my Pug 306 but it isn't a major problem for me.

Looks wise of course its now 10 years old and has been succeeded by 2 new gen A3. However i still cling to the belief it looks a million times better than any other hatchback of this vintage (including the bug eyed BMW compact).
Reliability has been excellent and from reading other reviews a fully serviced A3 will serve you well. My only expense has been a Cambelt change (£300). I would recommend using specialist Audi/VW servicing rather than main dealers as it save a lot on labour charges.
MPG on the 1.6 isn't great (32 mpg), however i only do town driving so its not surprising. If you want good economy, i would look at the 130bhp 1.9tdi which is supposedly a good choice.

Overall good quality car with understated looks but not thrilling to drive.

(Edit- i posted this on the wrong A3. My one is the facelifted version has a better interior and looks a bit better (2000- 2003)
reviewed by 1939aprilia on 17 February 2011
Write your review
Just reviewed...