Our Cars: 1995 Mazda Eunos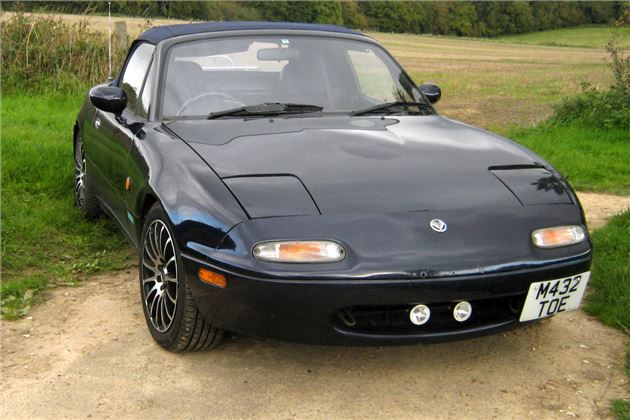 7 December 2015: Classic fun on a budget
The Details
| | |
| --- | --- |
| Current mileage | 110,320 |
| Actual economy | 33mpg |
| Costs so far | £260 |
| | |
OK I admit it, I'd been spoilt. Working as a new car journalist for the past six years I'd had regular use of a constant stream of brand new motors, everything from a Dacia Sandero to a Porsche 911 GT3.
But all that changed a year ago when I took a job on a classic car website. The Mazda Eunos I'd bought a few months earlier to use occasionally was about to become my everyday car.
The Japanese import was being sold by a friend for just £2,100, and was too much of a bargain to resist. Although it wasn't in pristine condition and had been lowered and the engine slightly uprated, it was a Mk 1 1.8, for me the ideal combination.
But how practical would a 20-year-old soft-top be to use through the winter? I was about to find out.
I did get one rather dramatic reminder that my car lacked certain safety aids. On an icy morning I slammed on the brakes to avoid a neighbour who'd pulled out of their drive without looking. Without ABS, the Eunos skidded for 100 yards before coming to a halt inches away from the edge of a ditch.
Aside from my need to re-adjust to classic car motoring, the Mazda has been impressively dependable and affordable to run. It sailed through its MoT in February without any advisories, and only suffered one breakdown a month later when the alternator packed up.
Sourcing the correct replacement was a little tricky, as the Eunos unit is slightly different due to the car's aircon system. But I found a new unit plus belts online for £150, and had it fitted in a few hours for £60.
The lack of safety kit and non-essential creature comforts has also turned out to be a good thing. It's not necessary to have a whole raft of gadgets, in fact it's more enjoyable to drive a simple car as it means you're less on auto-pilot and have to think more about how you drive in different weather conditions. So, I'm looking forward to my second year of classic motoring.
Later: Daily duties take their toll on our Mazda Eunos »
Updates

Mirror repairs required on Eunos as commute takes its toll.

7 December 2015: Classic fun on a budget
Introducing the latest addition to our fleet - a Mazda Eunos.